Vancouver Mission Star
This message was written by President and Sister Middleton. It also appears in the Vancouver Star, the weekly newsletter of the Vancouver Mission. It is sent to each companionship throughout the mission.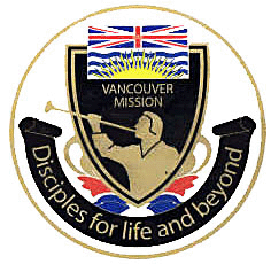 Canada
Vancouver
Mission
Newsletter
January
16, 2007
HARD WORK, THE SOURCE OF TRUE JOY
So many people in today's world try to obtain joy and happiness in their lives through the superficial life styles proclaimed as desirable by the media and many misguided but prominent sports figures, politicians, business leaders and others. Their message is beguiling and sounds glamorous and attractive, until we realize that a life of partying, promiscuity, and profligate high living ultimately leads to misery and woe. The Lord makes an important observation in this regard when He states, "The wages of sin is death" (Rom 6:23). Bishop David Smith, a wonderful bishop in Vernon and a practicing psychiatrist, made an important observation recently about people who need his professional services. While many of his patients develop mental problems through no fault of their own, Bishop Smith noted that a significant percentage of them would never have reached the point of anguish and despair which required his professional services if they had lived lives in compliance with the basic teachings of the Church.
Happiness Promised to Missionaries by the First Presidency
The First Presidency has placed an important message in the introduction to Preach My Gospel regarding the joy that will be ours through dedicated missionary labor. They note, "There is no more compelling work than this, nor any which brings greater satisfaction." Later in their introductory comments they note, "The Lord will reward and richly bless you as you humbly and prayerfully serve Him. More happiness awaits you than you have ever experienced as you labor among His children."
We read in 2 Nephi 2:25, "Men are, that they might have joy." The Lord gave further counsel on how His children might obtain that joy when He noted, "Verily I say, men should be anxiously engaged in a good cause…. And inasmuch as men do good they shall in nowise lose their reward" (D & C 58:27-28).
Have Fun as a Missionary
Please note that "anxiously engaged" is far different than being "anxious." The happiness in missionary work promised to us by the First Presidency in PMG is found in the joy in working hard and working smart. When we find, teach and baptize through hard, smart work, we will experience a joy that is beyond description. So work hard, but have fun proclaiming the Gospel. Two sister missionaries who have recently gone home, Sisters Hatch and Reed, had as one of their goals to make each other laugh at least 5 times each day. That wouldn't be a bad goal for each companionship to adopt.
Elder M. Russell Ballard Sends Counsel on How to Succeed
We received, as did all mission presidents, a wonderful letter written just before Christmas by Elder M. Russell Ballard. He makes some important observations about goal-setting and the direction of the work of all full-time missionaries if they are to achieve their greatest success. He noted, "Unless missionaries set a goal to baptize, they will not know how to plan their daily work. They need to always think about the number of new investigators they need to find and the number of lessons they need to teach in order to reach their baptismal goal."
Through study of the members in their ward or branch, through prayer and inspiration, with input from the bishop or branch president, ward mission leader and other local leaders, every companionship should establish a lofty but realistic goal for the number of baptisms they want to achieve during the transfer, and then should work mightily to realize those baptisms. Elder Ballard in his letter notes, "It is the missionary's responsibility to find new investigators using all sources outlined in Chapter 9 of Preach My Gospel." He notes further, "If you want to baptize more people you need to talk to more people." Elder Ballard also noted that success requires "talking to at least 10 more people every day," (which is our goal) "and asking after every lesson for others to teach will add many investigators to the teaching pool." He also stated, "Of course, finding by tracting will also help increase teaching opportunities." He also reminded each missionary companionship, "Under the direction of the bishop, work with the less-active members and secure referrals from them. Work hard focusing upon the Atonement of the Lord Jesus Christ." He urged that all of us missionaries "constantly review the check sheet on the inside back cover of Preach My Gospel entitled 'Remember This.'" We would urge that every companionship review that page at least weekly on your Planning Day, Friday, and use it to help set your goals for the coming week.
Finally, Elder Ballard in his letter stated, "Give our love to your missionaries, and have a great year."
May we join with Elder Ballard in wishing that each of you has a great year. Have fun, work hard (the two are closely related) and may the Lord pour out His richest blessings upon you. We love you!
--President and Sister Middleton
Reminder: Ask for a referral in every conversation with a member or non-member alike…
"Will you bring an acquaintance on a Tour, and when?"
Challenge members to Set-A-Date for a Tour or a Church event, which can be coupled with a Tour at least 3 times yearly.
Our goal is to find at least one new investigator each day.
Remember our mission goal: 10 Gospel contacts per day per missionary outside our usual finding and teaching duties. That includes a Gospel message to everyone you see.
"I know thy work, that thou art neither cold nor hot: I would thou wert cold or hot. So then because thou art lukewarm, and neither cold nor hot, I will spue thee out of my mouth" (Rev 3:15-16). That we might be white hot in His service is our prayer.
As weekly goals are set for each Key Indicator, pray for inspiration, and set goals that are lofty yet achievable. Our ultimate long-term goal is for at least 3 baptisms per companionship per transfer.
to read past messages.
---