Vancouver Mission Star
This message was written by President and Sister Middleton. It also appears in the Vancouver Star, the weekly newsletter of the Vancouver Mission. It is sent to each companionship throughout the mission.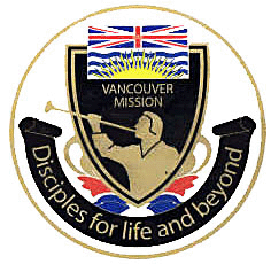 Canada
Vancouver
Mission
Newsletter
February 27, 2005
WHAT HAPPENS WHEN MEMBERS LEARN TO BECOME MEMBER MISSIONARIES
President Paul Christensen, in the Abbotsford Stake, has challenged each active family to commit to bringing 3 of their non-member friends on a Tour or in some other way introduce them to the Church per year. He has found in the Abbotsford Stake that 1 out of every 3 individuals who goes on a Tour goes on to be baptized. Conservatively, he feels that the Abbotsford Stake, once all members fully embrace the concept of being a member missionary and truly bring 3 or more non-member friends per year on a Tour or Church activity, that the Abbotsford Stake will realize 300 baptisms per year!
We feel that President Christensen is absolutely correct. His prediction of 300 baptisms per year is conservative, but is based upon the total and complete acceptance of being a member missionary into the mindset of every active member in the Abbotsford Stake.
Applying Member Missionary Mathematics to the Nanaimo Ward
Elders Coon and Palmer presented a zone leader training at the Nanaimo Zone Conference on February 16, 2006, in which they analyzed the missionary potential in their assigned Nanaimo Ward. In their ward they estimate there are 75 active members. They feel confident that each of those active members has at least 10 non-member acquaintances. Assuming that at least one of those 10 acquaintances agrees to come to the Church and go on a Tour, they note that of the 750 acquaintances that the 75 active members have, 75 will go on a Tour. We have BC – specific data outside of Abbotsford Stake, which demonstrates that there is 1 baptism for every 7 people brought on a Tour by a member. In recent months members of the Vernon Ward referred 42 non-member acquaintances to the missionaries, of which 6 went on to baptism, or 1 in 7. So Elders Coon and Palmer predict that of the 75 investigators who go on a Nanaimo Ward Tour 11 will go on to be baptized, using the more conservative 1 baptism for every 7 people going on a Tour, instead of the 1 in 3 noted in Abbotsford. Assuming that those 75 active members accept the challenge to bring 3 non-member acquaintances to the attention of the missionaries every year, the number of baptisms in the Nanaimo Ward will be 33 per year!
There is no reason to doubt these figures. The figures are based on data generated from the assumption that each of the active members truly, truly adopts the idea that they are a member missionary, which requires that they, in good faith, step forward boldly to ask their non-member acquaintances to join them on a Tour through the Church.
Applying Similar Logic to All of British Columbia
Using the same mathematical assumptions made by Elders Coon and Palmer for their Nanaimo Ward throughout British Columbia, we find the following:
Assuming an average ward in BC has 75 active members, and each brings 3 non-member acquaintances on a Tour each year, then each ward will average 33 baptisms per year. With 40 wards in BC we expect to see 1320 baptisms yearly in our wards!
We note further that there are 25 branches in British Columbia. We make the assumption that the average number of active members of each branch is 15 (that may well be too low), and each of the 15 brings 3 non-member acquaintances per year, or 45 investigators. Understanding that 1 out of 7 would go on to baptism, that means that each branch will have 6.5 baptisms per year on average. That translates to 162 baptisms in the branches alone, if each branch active member truly commits to becoming a member missionary and brings 3 of their non-member acquaintances per year to the missionaries for a Tour. Between the wards and branches, with the wards realizing 1320 baptisms per year and the branches realizing 162 baptisms per year, we would see a total of 1482 baptisms per year in British Columbia! We feel this math is conservative, and boldly underlines the importance of members truly becoming member missionaries. Considering further that in the history of the Canada Vancouver Mission there have never been over 300 convert baptisms in one year, we see vividly the contrast between tracting, which our full-time missionaries have done mostly until now, and members stepping forward as effective member missionaries as they will do from now on.
Our challenge as leaders in British Columbia is to convince each member that to be a true member missionary they need to give the missionaries what they truly need, and that is a referral of their non-member acquaintances. Our members are committed and dedicated to the Church, but haven't before understood how best to be member missionaries. Our job as full-time missionaries is to lovingly, patiently, show them the way.
New Mission Website Announced
The Canada Vancouver Mission website is now up and can be accessed at www.vancouvermissionmemories.com. It is an unofficial site and is designed to show Zone and other missionary photographs, Vancouver Stars sent each week, interesting photographs taken in our travels around British Columbia, plus other interesting mission data. One can link from it to the other historic Mt. Top Mission site as well, where biographical information on mission presidents and their wives back to the creation of the Canada Vancouver Mission can be found. Ours is a site in progress, and we hope will be a site through which all of our missionaries and interested others can communicate with each other life-long through its e-mail linking feature. We extend our heartfelt thanks to our son-in-law, Greg Lowe, who has set up the site and will help us maintain it. Enjoy!
We love each and every one of our missionaries, as we love each and every one of our members with whom we associate. That we all might step forward boldly in this the work that we're commanded to do as missionaries in His Church, we pray.
--President and Sister Middleton
Remember our mission goal: 10 Gospel contacts per missionary outside our usual finding and teaching duties.
That includes a Gospel message to everyone you see.
" Everyone who is familiar with this (missionary) work knows there is a better way (than tracting). That way is through the members of the Church. Whenever there is a member who introduces an investigator, there is an immediate support system."
President Gordon B. Hinckley
Reminder: We are praying for at least one baptism per companionship per transfer – more than one if you and your ward or branch is filled with faith. Set your baptismal goal prayerfully as a companionship, a goal that will stretch your faith and missionary abilities.
to read past messages.
---