Vancouver Mission Star
This message was written by President and Sister Middleton. It also appears in the Vancouver Star, the weekly newsletter of the Vancouver Mission. It is sent to each companionship throughout the mission.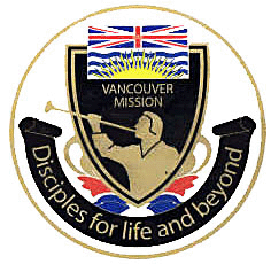 Canada
Vancouver
Mission
Newsletter
February
27, 2007
GREAT MISSIONARY TECHNIQUES DEVELOPED
BY MEMBERS AND FULL-TIME MISSIONARIES
Under the inspired guidance of the Lord our members and full-time missionaries are developing PMG inspired ideas that work wonderfully well. Herein we describe several in reports sent to us by our missionaries. If they will work well in your ward or branch, and their adoption should only be determined after careful and prayerful deliberation and discussion in your weekly Missionary Correlation Meeting, PEC and Ward Council, please use them. Our greatest success, and an important reason why we are blessed with a quickening of the missionary Spirit here in BC, is through sharing new missionary ideas with each other, then implementing the ideas where they will work.
Exchanges TWO NIGHTS EACH WEEK Are Accelerating the Abbotsford First Ward Missionary Work, by Elders Skylar Weeks (and Richard Ashton)
"The work has really picked up here in the Abbotsford 1st Ward with one of the main reasons being weekly exchanges with our Ward Missionaries on one night, and our High Priests on another night. It is amazing to see how much work can get done with these well-planned and executed exchanges, and Bishop Glenn Collingridge is very helpful in encouraging a personal or family missionary plan by all members. I have found that, on average, the weeks during which we schedule exchanges with both our Ward Missionaries and High Priests we are able to get 8–12 Full Lessons taught on just 2 nights of the week! This has truly helped the work here as investigators and less-actives are being met on a weekly basis. Also, the local members are feeling more involved in the work and we have received more referrals because of it. I believe the value of exchanges is greatly underestimated and when applied and tried, the Lord has and will bless us with increasing baptisms!"
Editor's Note: Exchanges weekly or more often is a fabulous idea, and we expect that when 2 or more nights each week are devoted to exchanges with members, more and more ward and branch members will come to truly embrace their role as member missionaries. A night each week devoted to an exchange with the Aaronic Priesthood youth (or to Young Women by our Sister missionaries) in addition to another exchange night with the Ward Missionaries, and still a third night with Melchizedek Priesthood holders could become an excellent ward or branch goal. Each exchange night accomplished doubles the number of investigators and/or members seen that night, and with 3 exchange nights weekly our force of 120 full-time missionaries grows effectively to many times that number. We are asking that every companionship establish at least one night weekly for exchanges, more nights each week if it will work in your ward or branch.
Dinner with Members and Their Non-Member Friend(s) During Prime Time are Successful, by Elders Richard Ashton( and Skylar Weeks)
"What we have discovered is that it is a misconception by the members to assume that dinners have been completely discontinued during the 5-9 prime time with the missionaries. When hearing complaints about the fact that we no longer have dinners, we simply have explained that we can have dinners as long as a non-member friend or acquaintance is present as well. This explanation has been received well, much like the Spiritual Tour system; dinners with potential investigators are very non-threatening and are excellent ways to help the members still feel like they're helping us out.
"We've experienced the fruits of this missionary technique. A couple of weeks ago we had dinner with two sisters in the Ward with their good friend present. After feasting, we sat down and proceeded to share the Restoration Lesson. The Spirit was strong, and the two sisters supported our message with their testimonies. At the moment, their friend is reading the Book of Mormon.
"We've shared this experience with a number of members and they like the idea. While feeding the missionaries, members have the opportunity to feed the work! If members don't feel inclined to set a date for a Spiritual Tour, perhaps a date for a dinner with a friend present would be of more interest to them initially which could be followed with a Spiritual Tour at a later date."
Love and Patience Changes Hearts and Leads to Baptisms, by Elder Brian and Sister Jennifer Hall
"In July of 2006 we had the privilege of teaching and baptizing a young woman. At that time she faced some harsh opposition from both her husband and her father-in-law. In fact, about three weeks after she was baptized her father-in-law decided that he would come to Church with her for the sole purpose of discouraging her and pointing out the things that were wrong with the doctrine we were teaching.
"He came for several weeks and began asking questions, then started to enjoy the Gospel Principles Class and attending Priesthood Meeting. Soon we began to ask him to participate in class. One day we received a strong prompting from the Spirit to invite him to be baptized. Whilst trying to ignore this prompting it began to press harder on our minds. So we did as we were told and it came as a great shock to him. He told us he had a lot of reservations still and quite a few concerns. We invited him to take the discussions so that we could address the concerns as they came along and he agreed.
"It was amazing to see the Spirit working with this man. He searched diligently the scriptures seeking answers to his questions. He sought answers to his prayers and fasted and prayed for a testimony of the Book of Mormon and the Restoration. He was baptized in November. We witnessed the mighty change of heart spoken of in the 'Book of Alma.' It was a wonderful experience for us, one we will treasure all the days of our lives.
"This story is not finished here. In December he baptized his son, the husband of the young woman we mentioned in the beginning of this account. Our hearts fill with joy when we see them all walk into Church every Sunday—three generations of a family on their way back to Heavenly Father. He has a calling; he is passing the sacrament and is actively joining in everything he can and loving it. His daughter-in-law tells us he is a changed man. The Lord can do that for all of us if we let Him."
That we might each of us become and remain anxiously engaged at all times, seeking constantly for ways in which we might join with faithful members in proclaiming His Gospel to the citizens of British Columbia, is our constant prayer. We love each of you.
--President and Sister Middleton
Reminder: Ask for a referral in every conversation with a member or non-member alike…
"Will you bring an acquaintance on a Tour, and when?"
Challenge members to Set-A-Date for a Tour or a Church event, which can be coupled with a Tour at least 3 times yearly.
Our goal is to find at least one new investigator each day.
Remember our mission goal: 10 Gospel contacts per day per missionary outside our usual finding and teaching duties. That includes a Gospel message to everyone you see.
"Be thou humble; and the Lord Thy God shall lead thee by the hand, and give thee answer to thy prayers." D&C 112:10
As weekly goals are set for each Key Indicator, pray for inspiration, and set goals that are lofty yet achievable. Our ultimate long-term goal is for at least 3 baptisms per companionship per transfer.
to read past messages.
---