Vancouver Mission Star
This message was written by President and Sister Middleton. It also appears in the Vancouver Star, the weekly newsletter of the Vancouver Mission. It is sent to each companionship throughout the mission.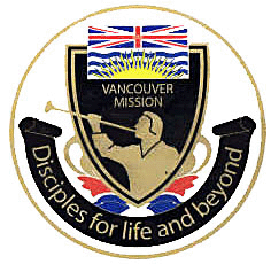 Canada
Vancouver
Mission
Newsletter
March
6, 2007
GREAT IDEAS FROM OUR MISSIONARIES
Under the inspired guidance of our Father in Heaven our missionaries often develop refinements in the finding and teaching methods outlined in PMG which make them more successful. We share in this Vancouver Star comments from our missionaries which may well be applicable in other wards and branches in BC, and we encourage all our missionaries to use them if they are a proper fit with your ward or branch.
Hard Focused Work Brings Many Investigators and Blessings, by Sisters Patricia Bland (and Golda Janes)
"On Sunday, February 11th, we had an excellent ward Missionary Fireside. Carson Noftle came from Abbotsford and spoke on Joseph Smith's history and the coming forth of the Book of Mormon. We had two of our investigators there and members brought 6 other non-member friends and family! We have also been receiving good referrals recently and have added 7 people to our investigator pool giving us 16 investigators we are currently teaching. We have three Tours scheduled for this week, which will hopefully add even more investigators. After working very hard in the Maple Ridge Ward the Lord is blessing us. I am so very grateful. We think we will have three baptisms in the near future, and more to follow. I love this ward and the people here."
Editor's note: The Senior Sisters continue to set the pace for all of us of all ages. Congratulations Sister Janes and Sister Bland!
Tracting Results in Member Referrals in Nanaimo, by Elders Brian Fisher (and Trenton Amann)
"Some may ask how in the world these two correlate. Here in Nanaimo we have seen great success from our personal finding (tracting) as people continue to allow us into their homes. As the members see us bring those to Church whom we have found through our own efforts, the results have been outstanding! The members realize that we are here to work and to bring to pass God's purposes in all possible ways. This has brought such a great increase in the missionary spirit! Members are getting involved in teaching or even just saying hi. They are getting excited about the work. Because of this increase in missionary zeal, member referrals are up, and it started at the top with the leadership gaining trust in us as hard-working, effective missionaries. Truly, personal finding is our meat and potatoes and it is just that much better with the 'gravy' of member referrals."
Editor's Note: From the above story of success through tracting in Nanaimo we understand the Lord's purpose in asking us to do personal finding (tracting) at least one hour daily. Not only does it lead us to the Lord's elect who might not yet be known by a member, but through seeing our dedicated efforts ward or branch members realize that they must boldly step forth to help the missionary effort by inviting their acquaintances to come see the ward through an activity or a Spiritual Tour. Members will also learn by observing that our personal finding is a matter of asking several to find the one, and they will come to understand that they too must ask several acquaintances to find the one prepared by the Lord to accept their invitation.
Hymns are Powerful Gospel Teachers on Spiritual Tours, by Elders Justin McAllister (and Stanley Peck)
"In Quesnel we are using music during the Spiritual Tour of the Chapel. We begin with a hymn. It does not matter which; if it is a member we have them pick a favorite. For a non-member we pick a hymn that focuses on the Savior. In the primary room we sing a primary song, either 'I am a Child of God' or 'Teach Me to Walk in the Light.' In front of the baptismal font we sing the primary song 'I like to look for Rainbows.' In the Chapel we sing a sacrament hymn prior to talking about the sacrament.
"Music is a powerful tool and often music can be a more powerful teacher than words alone. We find that singing is one of the best ways to bring the Spirit to the lesson we give on the Spiritual Tour."
Victoria 3rd Ward Mission Leader Martin Hall Develops Book of Mormon Reading Program for Investigators and Members, By Elders Adam Hassell (and Nathan Purser)
"I really love the Victoria 3rd Ward! It's a great ward with great leadership, especially our Ward Mission Leader, Brother Martin Hall. Just recently he has come up with an excellent Book of Mormon reading program to help investigators and less-actives alike to strengthen their testimony of the Book of Mormon. It is a compilation of queries from General Authorities about the importance of the Book of Mormon, partnered with a list of doctrinal chapters and verses of the Book of Mormon. He has given it the title, 'Experiment upon the Word.' I feel that it's a great way to help people establish their own personal habit of reading the Book of Mormon and then praying about it. This is key for building a testimony for those who do not already have one, and rekindling a testimony for those who once had one but have now lost it. I surely do love this work."
Pearl of Great Price Reading Assignment
Having completed our "Doctrine and Covenants Dash," we are going to ask each companionship to begin reading the "Pearl of Great Price Ponder." Start reading on March 12, 2007. Read each day aloud in companionship study, taking turns, but resting on Sunday. Read for spiritual uplift and gospel knowledge, but have fun and enjoy the reading !
From the above we learn again that hard work lies at the heart of all missionary success. By combining hard, focused, smart work with the ideas presented in this Vancouver Star by our missionaries, all of our missionaries and members can enjoy the blessings of Church growth promised by the Lord. We love you.
--President and Sister Middleton
Reminder: Ask for a referral in every conversation with a member or non-member alike…
"Will you bring an acquaintance on a Tour, and when?"
Challenge members to Set-A-Date for a Tour or a Church event, which can be coupled with a Tour at least 3 times yearly.
Our goal is to find at least one new investigator each day.
Remember our mission goal: 10 Gospel contacts per day per missionary outside our usual finding and teaching duties. That includes a Gospel message to everyone you see.
"For I the Lord thy God will hold thy right hand, saying unto thee, Fear not; I will help thee." Isaiah 41:13
As weekly goals are set for each Key Indicator, pray for inspiration, and set goals that are lofty yet achievable. Our ultimate long-term goal is for at least 3 baptisms per companionship per transfer.
to read past messages.
---