Vancouver Mission Star
This message was written by President and Sister Middleton. It also appears in the Vancouver Star, the weekly newsletter of the Vancouver Mission. It is sent to each companionship throughout the mission.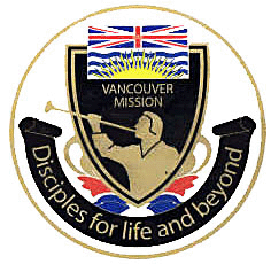 Canada
Vancouver
Mission
Newsletter
March
13, 2007
A WONDERFUL TOUR WITH ELDER AND SISTER NASH
We have received wonderful, inspired counsel and teaching by Elder Marcus B. Nash and his wife, Sister Shelley Nash, this past week. In a whirlwind Mission Tour, they met and spoke with each of our missionaries in their March 4-9th Tour, and gave four Zone Conferences in four days. What a marvelous, inspiring and uplifting week it was!!
The Lord sent Elder and Sister Nash with His perfect timing, in our view. Our missionaries had achieved a plateau in which we were with rare exception exactly obedient in the morning, with wake-up by 6:15, 30 minutes of vigorous exercise, and two hours (or three hours for language missionaries) of focused, meaningful personal and companion study. Our average full lessons given have been well over 15 per week for many weeks now. Eighty-seven percent of our companionships attend their entire ward or branch PEC meetings and 81% are present through all of ward council; all who do find attendance very useful for a number of reasons. However, our baptisms seemed to have reached a plateau at a level of a little over 200 per year projecting forward, while we feel that five times that number can and should be reached. As we pleaded with the Lord for guidance on how to grow the Church in BC more rapidly, He sent the Nashes in answer to our prayer. They have given us inspired counsel as to where the Lord would have us go, which we will review in this and subsequent Vancouver Stars.
Elder Nash's Inspired Directives
The first point Elder Nash made and repeated many times, was that we have come far and must continue to achieve our current goals: to remain anxiously engaged, managing the day well as outlined above, making many phone calls every evening to assure that the next day is filled, spending no more than one hour in any given lesson, aiming toward 15 or more full lessons each week. All are essential for Elder Nash's added initiatives to work.
In Each Personal Encounter with Anyone, Be Sure That Our Purpose is Evident in our Message
Elder Nash powerfully taught us that every encounter we have with anyone must reflect Our Purpose, as stated on Page 1 of PMG: "I invite others to come unto Christ by helping them receive the restored gospel through faith in Jesus Christ and His Atonement, repentance, baptism, receiving the gift of the Holy Ghost, and enduring to the end." He taught us that every encounter must be guided by Our Purpose, and each of us must strive to have the person with whom we speak see and feel the power and urgency of our message, and they must feel the warmth and love of the commitment(s) we seek. That person with whom we speak must become inspired, instructed and lifted so that our initiative to them to commit to act will be gladly accepted and will be accomplished.
Better Prepare to Teach by Preparing and Practicing Several Versions of Each Lesson
Elder Nash noted that as we repeatedly give the lesson of the Restoration, which presents the heart and soul of our religion, we have become a little stale, with each missionary having developed their own lesson plan from PMG and then giving their lesson the same each time. His training leads us to realize that we must each outline at least four or more different versions of each lesson, each reciting a different set of scriptures, each given somewhat differently. We are asking each missionary to outline at least four versions of each lesson, then practice each version in companion study and with members and investigators. Of course every Restoration Lesson must include the First Vision in Joseph Smith's words, given in the "Elder Kikuchi style." But we should develop new and compelling ways to explain the Atonement and to explain the apostasy so that each investigator understands clearly the need for a Restoration instead of a reformation. Continue to plan each lesson such that the Spirit is invited as you give it, that at a specific part of each lesson the Spirit is clearly and powerfully felt by all. Practice giving each version of your lesson in at least three Spiritual Tours of your Chapel weekly.
Develop Eight "Elevator Speeches"
Elder Nash challenged us to each develop eight different approaches we might use with a potential investigator which can be delivered in 30 seconds or less, "in the time it takes for the elevator to reach the 30th floor." We then would have "eight arrows in our quiver," and could use whichever one that we are inspired would work best for a given individual. A commitment for a Spiritual Tour should become our most frequently sought objective from this short approach, and commitments from members, part-member families, and investigators should be obtained by these short approaches.. We will test every missionary in our next round of zone conferences to be sure each of you has at least eight. Once the eight are learned, we will ask you to practice them often to keep them fresh, and practice giving all eight during the hour or more of personal finding each day.
Better Planning for Specific Lessons
Elder Nash shared an inspiring DVD which was taken as missionaries in the field prepared to teach a Word of Wisdom lesson to their actual investigators. It demonstrated the power of prayerfully planning the lesson in Companionship Study, then giving that lesson with power and love. Each of us must plan specifically for specific investigators, tailoring the lesson we give to their specific needs. We learned that as your companion is speaking in any lesson or encounter, you must be offering up a silent prayer for him or her that they will speak inspired words from their heart. By so doing it allows us to clearly link each lesson with Our Purpose stated in PMG, and brings compellingly great Spiritual power to the lesson.
We ask that every missionary adopt and incorporate these inspired directions from Elder and Sister Nash. They have brought to us, from the Lord, the means by which we will take Church growth in British Columbia to that higher level prophesied by Elder Henry B. Eyring. We love each of you!
--President and Sister Middleton
Reminder: Ask for a referral in every conversation with a member or non-member alike…
"Will you bring an acquaintance on a Tour, and when?"
Challenge members to Set-A-Date for a Tour or a Church event, which can be coupled with a Tour at least 3 times yearly.
Our goal is to find at least one new investigator each day.
Remember our mission goal: 10 Gospel contacts per day per missionary outside our usual finding and teaching duties. That includes a Gospel message to everyone you see.
"For I the Lord thy God will hold thy right hand, saying unto thee, Fear not; I will help thee." Isaiah 41:13
As weekly goals are set for each Key Indicator, pray for inspiration, and set goals that are lofty yet achievable. Our ultimate long-term goal is for at least 3 baptisms per companionship per transfer.
(Check off weekly whether you have achieved each of the nine goals above)
to read past messages.
---