Vancouver Mission Star
This message was written by President and Sister Middleton. It also appears in the Vancouver Star, the weekly newsletter of the Vancouver Mission. It is sent to each companionship throughout the mission.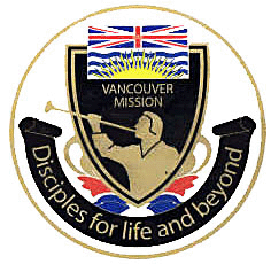 Canada
Vancouver
Mission
Newsletter
April 17, 2005
INSPIRING COUNSEL FROM ELDER RASBAND
On April 7, 2006 there was a Mission President's Seminar in Seattle for all nine of the Area Mission Presidents, which we attended. Elder Ronald Rasband who is one of the seven Presidents of the Seventies, and also is assigned to oversee our Area, presided. Many wonderful ideas were brought forth in that seminar, a few of which we will share with you. Of particular highlight was a conference call in which we heard from Elder M. Russell Ballard and Elder Quentin Cook, both of whom are overseeing the worldwide missionary efforts of the Church.
Some excellent ideas brought forth were the following:
1. Full time missionaries should meet with the bishop or branch president weekly, in a relatively brief meeting to which they should take their Daily Planner as well as Area Book for review with the bishop or branch president. At the meeting they should find specific ward or branch issues that they need to address and also to co-ordinate their efforts to match members to the investigators for fellowshipping purposes, to assure that the investigators who are invited to Sacrament Meeting were either picked up or joined by a member to lead them over to Sacrament Meeting, to assure that the needs of the ward or branch in regard to ____________are being addressed properly.
2. Zone Leaders should meet with the stake or district president monthly. The issues discussed should be similar to what are discussed as mentioned above with ward or branch leaders.
3. Work vigorously to see that stake, district, ward and branch members write a dynamic Mission Plan, which has the characteristics outlined by our stake presidents – simple and short, involve every member, and has measurable goals.
4. Have the bishop or branch president give 2nd interviews of investigators when needed, so that they can better know them prior to baptism. In the Handbook it suggests that the mission president or counselor give a 2nd interview which, in many instances, is not physically possible because of the ________________ distance involved. A better idea in every instance is to have the interview done by the local Church leader for the reasons mentioned above.
5. Go over Chapter 13 of Preach My Gospel in ward council and missionary correlation meetings, to be sure that all ward and branch leaders understand their role in making missionary efforts successful.
6. Welcome strangers to each ward or branch meeting. Reports are repeatedly heard of individuals unknown to ward or branch members attending a Church service and never being welcomed or greeted by anybody. Continually remind in PEC, ward council and other meetings of the critically importance of proper welcome.
7. Be sure that each ward or branch has a dynamic insightful Mission Leader. It was shared with us the solution that Elder Tom Perry of the Quorum of the Twelve suggested to insure that the Mission Leader be the proper individual - that each bishopric or branch presidency release the First Counselor to become the ward or branch Mission Leader. While that probably isn't necessary in most cases, it underlines the importance the Brethren feel to be placed on having the most capable individuals to head the ward or branch missionary efforts.
8. Comply with the directions of Preach My Gospel in order to keep the missionary work simple. Elder Ballard made a strong point that when local leaders write intricate, lengthy and complex missionary suggestions or Plans that all they do is confuse the members and immerse yourself in and basically very simple work doesn't get done. He urged also that we use the short well-done pamphlets, which tie into each of the lessons in PMG to help get the basic message we bear to investigators.
9. Elder Ballard urged that the wall that seems to have crept up between members and full time missionaries through the years is a creation of Satan, and must be broken down at all costs. He urged that missionaries and members must be seamlessly integrated into a single effective missionary effort.
10. As PMG urges, missionary companionships should aim toward a minimum of 15 lessons per week, and should include all 4 of the first lessons among that number. There is no better method for giving compelling inviting lessons than to simply be giving them repeatedly, according to Elder Ballard, something we strongly urge all companionships to accomplish.
11. When missionaries have the investigators pray, it would be helpful to ask the investigator to "pray for us as well as to know that the lesson we've learned is true". By inviting the investigator to pray for each missionary companionship it invites them to understand that they and their referrals are part of the important finding process.
12. Elder Ballard urged that the model for training outlined in PMG be used and used repeatedly. That model should be used by Zone Leaders every time they do exchanges, by District Leaders every time they have district meetings. It consists of explaining what a lesson should look like, and then demonstrating the lesson, then having the missionary companionships practice the lesson giving it to you, and then evaluate how they do it looking toward improvement. All Zone Leaders and District Leaders should do exchanges for no less than 24 hours, so that all aspects of the missionaries' habits and obedience are properly evaluated.
13. Elders Ballard and Cook made an important observation that every time a missionary companionship teaches an investigator they should ask for a referral, and should do so with every lesson they give. The dialogue should be something to the effect, "Who else would you like to have here with you in a lesson?"
14. Observe that President Gordon B. Hinckley has called for there to be a doubling of the number of baptisms yearly. When asked how that would occur, he responded that, "When the faith of the leaders and members equals that of the Prophet the baptisms will double". Clearly members and missionaries alike must step forward, and must step forward boldly and together. There is no question that the old statement that "united we stand, divided we fall" is extremely appropriate to successful missionary work.
That we all might heed the inspired sound advice of the General Authority leaders who have given it to us, that we might step forth boldly and with faith to accomplish the goal that our Prophet has given us that we double our baptisms is our constant prayer. We love you and love working with you.
--President and Sister Middleton
to read past messages.
---