Vancouver Mission Star
This message was written by President and Sister Middleton. It also appears in the Vancouver Star, the weekly newsletter of the Vancouver Mission. It is sent to each companionship throughout the mission.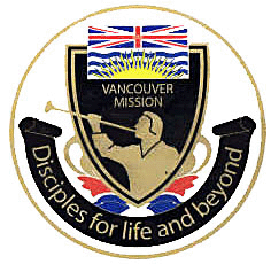 Canada
Vancouver
Mission
Newsletter
April
24, 2007
LET'S TAKE IT TO THE NEXT LEVEL
The Lord has promised, "I, the Lord, am bound when ye do what I say; but when ye do not what I say, ye have no promise" (DC 82:10). In other words, through exact obedience and compliance with all that we have been asked to do as missionaries, the Lord will shower us with blessings. Our understanding of the Lord's request of us requires that we each work hard—all of us would surely agree that to work hard is what the Lord expects of us. But the Lord requires something more of us—that we work "smart" as we work hard. Our Purpose requires that we bring people unto the Church, that we baptize.
Benchmarks Are Given by the Brethren to Help Us Work Smart
When Elder Yoshihiko Kikuchi asked that each companionship in our mission achieve 15 or more Full Lessons each week, he pointed out that when he served as a Mission President and made a similar challenge, each companionship which accomplished the goal weekly was blessed with at least one baptism each month. At his urging we have established a minimal goal of 15 Full Lessons weekly. In practice we are finding that each companionship which manages the day well, consistent with what Chapter 8 in PMG teaches us, is easily reaching 15 Full Lessons weekly, and most are exceeding 20 each week. How? When several calls are made each evening to assure that the appointments in the Daily Planner for the next day are filled (and then some with specific backup plans listed in the Planner), it will result in four or more Lessons or Tours the next day. When a goal of striving to make each planned Lesson or Tour a Full Lesson, most companionships will exceed 20 Full Lessons weekly.
Revitalize Spiritual Chapel Tours
Elder M. Russell Ballard has requested that our mission use Spiritual Chapel Tours to reach toward the success enjoyed by the Washington Tacoma Mission, which pioneered the use of the Tour. Understanding that each companionship must give three Tours weekly to retain their Tour-giving skills, we need to step up to the challenge. Few if any active Church members will refuse to be taken on a Spiritual Chapel Tour when we explain to them that we need them to go with us to help improve our skills and when we ask them to come on the Tour prepared to offer suggestions as to how we might make our Tour better. Further, if we can draw the Spirit powerfully to the Lesson we give on the Tour, the members who come with us will be strongly motivated to follow through with the commitment they make with us at the Tour's conclusion to ask as many acquaintances as it takes to find a non-member acquaintance who will return with them for a subsequent Tour or Church activity. We must teach members as we obtain their commitment that all missionary work consists of "asking several to find the one," and teach them that they can and should issue an invitation to 'come and see' in the middle of a conversation with an acquaintance on any subject. They need to understand that the chances are high that several friends will decline their invitation to come on a Tour before they find the one who says, "Yes, I'd like to come see." We need to teach members this concept, and assure them that they will never lose a friend through asking. We also must teach each member the concept noted by President Spencer W. Kimball and more recently by Elder Gene R. Cook that every member of the Church, today as you read this STAR, knows someone who has been prepared by life's circumstances to say yes to an invitation from their member friend to come see what the Church is all about. They must be taught and learn to accept the Lord's promise made to each member in D & C 29:7, "Ye are called to bring to pass the gathering of mine elect; for mine elect hear my voice." Each member knows now someone among their hundreds of acquaintances who is the Lord's "elect," but they will need to learn to embrace the concept that they will need to "invite several until they find the one."
Our Morning Management Predicts the Effectiveness of the Day
All of our General Authority visitors have emphasized the importance of managing our mornings well, as outlined in PMG. Elder Kikuchi, Elder Richards and Elder Nash all noted that if the morning essentials are not achieved with exact obedience, the rest of the day likely will be non-productive and the Lord will not bless us with success. So each of us must "find our sacred grove" to obtain the Lord's blessings and guidance each morning, then we must exercise for 30 minutes, then accomplish our personal and companionship studies with intensity and focus, that we might learn and prepare as the Lord has asked of us. Then, and only then, will the rest of the day be productive. It will be productive with this type of preparation—the Lord makes us that promise.
We are Seeking the Spirit in all We Do, by Sisters Kimberly Wilcox (and Crystal Lynn Caribou)
"We have been working hard to incorporate the things that Elder Nash talked about when he was here, and we are slowly seeing results; no, quickly seeing results! We are finding more people to teach. Honestly we have really been striving to have the Spirit with us more often, and to bring the Spirit into every lesson. I feel like the Lord has really been helping me to achieve that goal and I will tell you it is exhausting! Feeling the Spirit more often really is tiring and I fall into bed exhausted at night and half the time wake up tired as well. But President, it feels so good! And the Lord is giving me more strength. As I have tried to be better at truly inviting people to come to Christ, I have seen a big difference in the people we teach. My study has also changed because I know I need the Spirit and so I study more to feel the Spirit instead of studying to fill up that hour of study time.
"The most amazing thing happened this week. We were driving to the track to go exercise Saturday morning and we saw a man walking on the street. We felt like we should stop and talk to him and did so. He came to Church today and afterwards he said he just wanted to cry the whole time. He couldn't explain it but he felt an awakening. When we met him he was walking home from the hospital after a heart attack just wondering about life and where he was going. We called him after Church and he said, 'What do I have to do to get baptized?' It was so awesome! He is in the process of cleaning up his life. He was previously on cocaine and on alcohol, but has been in programs for both of those the past couple of months. Anyway, we are going to start teaching him and start helping him finish cleaning up his life. It was so awesome. We have also been getting a large number of contacts this week.
"We have been trying to apply the things that Elder Nash said and we are just seeing miracles everywhere."
That we all might "take it to the next level" with our newly focused and intense efforts is our constant prayer. We love each of you, and love the Lord mightily, as do you.
President and Sister Middleton
(Check off weekly whether you have achieved each of the eight goals below.)
q Ask for a referral name in every conversation with a member or non-member alike… "Will you bring an acquaintance on a Spiritual Tour?"
q Challenge members to Set-A-Date for a Spiritual Tour or a Church event which can be coupled with a Spiritual Tour with their non-member friend at least 3 times yearly.
q Our goal is to find at least one new investigator daily.
q Our goal is to teach 15 or more full lessons weekly…
q …with at least 3 Spiritual Tours weekly.
q Extend at least one baptismal invitation and commitment each week.
q Remember our mission goal: 10 Gospel contacts per day per missionary outside our usual finding and teaching duties. That includes a Gospel message to everyone you see.
q As weekly goals are set for each Key Indicator, pray for inspiration, and set goals that are lofty yet achievable. Our ultimate long-term goal is for at least 3 baptisms per companionship per transfer.
"They did wax stronger and stronger in their humility, and firmer and firmer in the faith of Christ, unto the filling their souls with joy and consolation, yea, even to the purifying and the sanctification of their hearts, which sanctification cometh because of their yielding their hearts unto God" (Helaman 3:35).
to read past messages.
---