Vancouver Mission Star
This message was written by President and Sister Middleton. It also appears in the Vancouver Star, the weekly newsletter of the Vancouver Mission. It is sent to each companionship throughout the mission.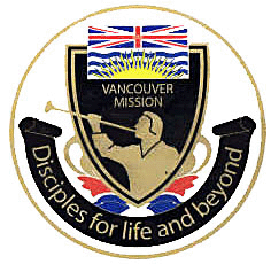 Canada
Vancouver
Mission
Newsletter
ay 2, 2007
HOLDING THE PRIESTHOOD MAKES US MISSIONARIES
Elder David A. Bednar of the Quorum of the Twelve made the important observation that by virtue of holding the Priesthood of God we are expected by Him to become and remain missionaries, lifelong. Elder Bednar noted, "Our labors as missionaries certainly are not confined to the short period of time devoted to full-time missionary service in our youth or in our mature years. Rather, the obligation to proclaim the restored Gospel of Jesus Christ is inherent in the oath and covenant of the priesthood into which we enter. All of us who hold the priesthood are the Lord's authorized servants on the earth and are missionaries at all times and in all places—and we always will be" (Ensign, "Becoming a Missionary," Nov. 2005).
Help Members Become Member Missionaries
Understanding and, more importantly, incorporating into our daily practice this member missionary mind-set as outlined beautifully by Elder Bednar will be the means by which the accelerating growth of our wards and branches which was prophesied by Elder Henry B. Eyring will occur. Most of our members do not yet understand how to be effective member missionaries, and an important facet of our work as full-time missionaries is to lovingly teach them how. We must share with members as they go with us on a Spiritual Tour of their chapel the Church study which found that on average every member knows 112 non-member acquaintances. We must teach them in faith that at least one, and more likely several, of those 112 non-members they know has been prepared through life's experiences to say yes to their invitation to come on a Spiritual Tour of the chapel, or to a ward or branch activity. They are the "Lord's elect" spoken of in D & C 29:7; they simply need an invitation from their member friend.
Teach Members to Ask Several to Find the One
Lovingly, patiently, we must teach members that they can easily issue a simple invitation to come and see— "Hey, Dorothy (or Sam or John), you know that I am a Mormon. Could you come with me on a Tour of my chapel to see what it's about?" We must teach members that realistically most of their friends will decline to come just then. However, the friend they ask will remain a friend even if they choose not to come, and no member will lose a friend through inviting them to come and see. By inviting each of those 112 non-member friends the member will find those who are the "Lord's elect," and those elect will come and see. We need to teach each member another concept, which is true in all missionary work, and that is that we must ask several to find the one. Once a member understands and embraces this all-important member missionary concept, the Church growth in BC prophesied by Elder Eyring will come to pass. We must teach each member that they have accomplished all that the Lord has asked of them when they invite. They cannot judge whether or not they are good missionaries by whether a friend they invite goes on to baptism—that is determined by their friend's own free agency. The members need to understand that all they need to do is issue the invitation to "come and see."
A Great Spiritual Tour of the Chapel for the Kamloops 2nd Ward Youth, by Elders Kyle Foster (and Adam Hassell)
"The Kamloops 2nd Ward recently planned and executed a massive youth Tour. Kamloops 2nd Ward has, on average, about 36 active youth. All of them came to youth night for a Tour, and even brought 7 non-member friends, for a total of 43 youth! That's not including all of the auxiliary presidencies, parents, and the bishop. The bishop even opened his office and gave a description of what he does! The tour groups were split up to make it possible to fit them in rooms, and it was well received. The high points in all the Tours were the First Vision in the foyer, the explanation of the youth program in the Young Women's room, and the chapel, where we met all together, recapped our experiences, and blessed the refreshments.
"It was interesting to again note that there were absolutely no apparent feelings that the Church was pushed excessively through our Tour, but rather the tone was one of gratitude for the great lessons of the Gospel, fellowship of the members and the beauty of the building. As if that wasn't enough, a non-member family showed up that night to be with the 11-year-old scouts, and when they saw and heard what we were doing they expressed an interest in going on a Spiritual Tour themselves! A member at the scout meeting promptly introduced us, and we will be arranging a Tour shortly. The blessings of the Lord are truly breaking forth in Kamloops."
Missionary 'Kit' for each Member Family in Smithers; Youth Are Becoming Great Member Missionaries, by Elders Noueru Shibayama (and Spencer Lassetter)
"In Smithers, President Dana Gorbahn has prepared a missionary kit for every member and member family. We are going to visit them individually and teach them how to be a member missionary.
In the Smithers Branch, we have a time during Church to share missionary moments. Members tell of opportunities they have had at the beginning of Priesthood Meeting. This is really good to stimulate a focus on sharing the Gospel during the week. In Smithers, the youth are becoming good missionaries and are excited to share the Gospel with their friends."
That we might be successful in teaching the members of the wards and branches in which we serve the simple process of inviting each of their non-member acquaintances to "come and see" is our constant prayer. We love you.
President and Sister Middleton
WELCOME NEW MISSIONARIES
Elders: Geoffrey David Thompson-SPAN (Idaho Falls, ID); Laric Tolleson-SPAN (St. George, UT); Jeffrey David Curtis-KOR (West Jordan, UT)
FAREWELL TO THE FOLLOWING
Sister Jill Berrett
I have fought the fight; I have finished my course; I have kept the faith; I have served my time and now it is time for the rest of you to do the same… so do it well.
Sister Patricia Bland
A mission gives us numerous moments to feel the Spirit. These many times have increased my faith and testimony. In an eternal life, I would like to enjoy such feelings all the time. In the meantime, this true church is the Kingdom of God on earth.
Elder Larsen Boyer
We accepted our mission call with real intent to enjoy ourselves and to lighten the load of the bishop. We have grown in Heavenly Father's service, learning better to recognize and to receive the Spirit's confirming guidance. Our joy now exceeds all anticipation! Any good accomplished will hopefully last even into eternity where we may further share our cherished British Columbia friendships.
Sister Maurine Boyer
Proverbs 3:5-6 "Trust in the Lord with all thine heart; and lean not unto thine own understanding. In all thy ways acknowledge him, and he shall direct thy paths." I am so grateful for the opportunity to serve.
Elder Craig Carter
Alma 5:26 "And now behold, I say unto you, my brethren, if ye have experienced a change of heart, and if ye have felt to sing the song of redeeming love, I would ask, can ye feel so now?"
Elder Austin Graff
I think Moroni said it best when he said, "I, Moroni, will not deny the Christ…." I cannot deny Him either for I know He lives. This is His Church; He leads, guides, and directs it. Your mission will only be what you make it. Only one person decides if it will be great or terrible and that person is you. God bless.
Elder Jose Guerrero
"For I, the Lord God, created all things…spiritually before they were naturally upon the face of the earth…. Wherefore…all things unto me are spiritual" (Moses 3:5; DC 29:34). We are not humans having a spiritual experience; we are spirits having a human experience. This is a spiritual work. All things must be done in His Spirit. Christ lives! He loves us and I love Him! Thank you. This is only the beginning!
Elder Frederick Masten
As a convert I waited for forty-eight years to serve a mission, but the Lord took this time to teach me. May I always be teachable. I am ever in His debt. Mosiah 2:17
Sister Kristina Masten
To assist our Heavenly Father in His work and His glory, to bring to pass the immortality and eternal life of man (Moses 1:39) has been the most wonderful experience in my life. My testimony of my Savior and the scriptures has grown much stronger, and I am grateful to have had this opportunity to serve.
Sister Coleen Murray
Because you have been enlightened, you owe it to those who follow to be the best example you can be. We have been blessed with the light of the gospel of Jesus Christ in our lives. It is up to us to diligently continue to light the way for others. Remember who you are and how much you are loved!
Sister Maria Slack
Ezra Taft Benson said, "Men and women who turn their lives over to God will discover that he can make a lot more out of their lives than they can." The Lord truly magnifies us within our callings, especially as missionaries. We work like God will always make up the difference for us, "but if not" we keep working and trusting anyway. Keep it tight! (Daniel 3:15-18)
NEW CONVERTS
Abbotsford: Pearl Kelly, Laura Pederson, Jordan Slater, Madeleine Slater
Prince George: Cassia Gauthier, Telise Gauthier, Dorothy Hockett
Nanaimo: Scott Snyder
Surrey: John Meier, Tanya Zand
Vernon: Josh Noble
Victoria: Donna Smith, Kyle Jesney
FROM THE ASSISTANTS—ELDERS LA SALLE & PUGSLEY
We have a lot of work ahead of us in this vineyard of the Lord's, and with our increased efforts we will see many miracles. As we go from Spring to Summer we hope we can all heat things up in this beautiful Canada Vancouver Mission. We have been given the tools to increase the work, but must utilize them effectively. We want to remind everybody to use our sling and Maquahuitls with power and accuracy. Focus ourselves on the Lord's work by remembering who we are and what we have committed ourselves to do. "The harvest is the Lord's; our job is to thrust in the sickle."
UPCOMING ZONE CONFERENCES FOR MAY-JUNE
May 10 – Van/Van Lang May 17 – Surrey/Sur Lang/Abbots (Surrey Stk Cntr) May 24 – Nanaimo/Victoria
May 30 – Vernon Jun 1 – Prince George
(Check off weekly whether you have achieved each of the eight goals below.)
q Ask for a referral name in every conversation with a member or non-member alike… "Will you bring an acquaintance on a Spiritual Tour?"
q Challenge members to Set-A-Date for a Spiritual Tour or a Church event which can be coupled with a Spiritual Tour with their non-member friend at least 3 times yearly.
q Our goal is to find at least one new investigator daily.
q Our goal is to teach 15 or more full lessons weekly…
q …with at least 3 Spiritual Tours weekly.
q Extend at least one baptismal invitation and commitment each week.
q Remember our mission goal: 10 Gospel contacts per day per missionary outside our usual finding and teaching duties. That includes a Gospel message to everyone you see.
q As weekly goals are set for each Key Indicator, pray for inspiration, and set goals that are lofty yet achievable. Our ultimate long-term goal is for at least 3 baptisms per companionship per transfer.
"Then Jesus saith unto them, what seek ye? They said unto him, where dwellest thou? He saith unto them, come and see" (John 1:38-39).
to read past messages.
---