Vancouver Mission Star
This message was written by President and Sister Middleton. It also appears in the Vancouver Star, the weekly newsletter of the Vancouver Mission. It is sent to each companionship throughout the mission.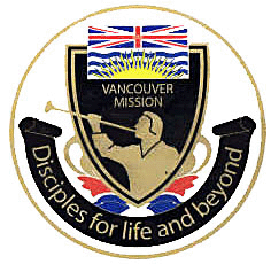 Canada
Vancouver
Mission
Newsletter
May
8, 2007
HELP THE BISHOP, HELP THE LORD
Preach My Gospel places the success of missionary efforts within a ward or branch in the hands of the bishop or branch president. "The bishop [or branch president] is responsible for missionary, retention, and activation efforts in the ward [or branch]. His personal participation and leadership are essential" (PMG, pg. 218). We are extremely grateful to our BC bishops and branch presidents for all they are doing on behalf of missionary work, as busy as their lives are with their multiple responsibilities. To better determine how we full-time missionaries might help the bishop grow his ward, over the past six weeks we have been polling each of our missionary companionships about their integration into their assigned ward or branch. Of the 54 companionships polled, we find that 89% are invited to the full PEC Meeting, and 89% are part of the full Ward (or Branch) Council. One companionship is invited into PEC and Ward Council just long enough to give a brief report, and then is asked to leave. Eleven percent of our companionships are not invited to attend either PEC or Ward Council.
Most Find PEC and Ward Council Attendance Wholly Positive
When polled we found that of those companionships who do attend PEC and Ward Council, 67% found the time spent to be wholly positive. They reported that they were dialoguing and interfacing with ward or branch leaders about missionary-related matters frequently throughout the meeting, or gaining excellent leadership training as they observed how leadership principles are applied to matters not strictly missionary related. Thirty-five % of missionaries who attend the full PEC and Ward Council Meetings report that it is mostly a productive use of their time, but it could be better. When asked how it could be better, an illustration was cited in the difference missionaries noted in two wards meeting in the same building—in the one ward missionary links were made to the discussions about each of the priesthood and auxiliary organizations, while in the other ward a "missionary report" was the last agenda item and was usually a five-minute monologue by the ward mission leader or missionaries with no discussion. The contrast was stark.
The full-time missionaries who are not invited to PEC or Ward Council Meetings or who attend just to give a report and then are dismissed tell us the reason used by ward or branch leaders to excuse them is the idea that "sensitive issues may be discussed." In our view, learning how to be a Church leader, which mission presidents are charged to teach all full-time missionaries, entails learning to keep confidences. Bishop Darcy Dyck of the Quesnel Ward includes full-time missionaries in his PEC and Ward Council Meetings and discussions, and has been known to counsel his full-time missionaries when a sensitive issue was to be discussed that the comments in those meetings are not to go beyond the room. The missionaries so counseled have learned an important facet of Church leadership, and the confidences have remained secret. All of our bishops/branch presidents who have full-time missionaries present and engaged in the discussions throughout their PEC and Ward Council Meetings are teaching the value of keeping confidences, as best as we can tell.
Discuss the Weekly Key Indicators With the Bishop and Ward Missionaries
We e-mail the week's Key Indicators to each bishop and branch president, and will soon send them to each Ward Mission Leader. To help them know how to interpret these Key Indicators, we would ask that you teach them how, if they don't already know, from PMG, pages 138 and 139. Our survey found that just 42% of our missionaries review the Key Indicators weekly with the bishop; we can be far more successful and helpful to the bishop if we strive for 100%. We can review them with each bishop or branch president in only 5-10 minutes at most. They serve as a snapshot of ward/branch missionary activity for the week, and are very helpful in planning and directing. Similarly, we suggest that Zone Leaders discuss Key Indicators for all wards and branches in the stake during your regular meeting with stake presidents.
Weekly Missionary Correlation Meeting is being held in 84% of our wards and branches covered by missionaries, and the Key Indicators will be helpful in that meeting, helping to guide the assignments made for exchanges with the ward missionaries, Aaronic Priesthood or Young Women youth, and with member leaders. Mention the importance of having a representative from the leadership of the priesthood quorums and auxiliaries present at the Correlation Meeting as well, as each of those organizations can and should play an important missionary role (PMG, pg. 219).
Currently only 30% of wards/branches have a weekly exchange with members—let's try to approach 100% of wards having weekly member exchanges because they are so valuable. In addition to the Ward Mission Leader, our survey found that various wards have up to 10 members called as ward or branch missionaries, some without clear instructions of what to do with their calling. We need to help involve them in exchanges with the full-time missionaries or with each other weekly. We can assist in helping the bishop and Ward Mission Leader deploy ward missionaries usefully; they will prove to be a valuable ward resource when fully integrated into the ward/branch missionary efforts.
Concentrate on the Bishop's Five Names
Most wards and branches have adopted the memorandum sent last August from Elder Earl C. Tingey of the Missionary Executive Council, which called for the bishop and ward council to prayerfully select 5 people who are less-active for the full-time missionaries to activate. We are to include them in our Area Book and on the Progress Record we pass out to all in attendance at PEC and Ward Council Meetings. These five should be taught regularly, should be asked for referrals, and should be linked to active ward fellowshippers by having them visit the five during the regular weekly exchanges we do with members. This approach has been very successful world wide, and we need to help our ward or branch leaders implement the approach.
Our prayer is that we full-time missionaries might continuously strive to strengthen our bond with members and become an indispensable resource for the bishops and branch presidents. We love each of you, and love serving with you in His service.
President and Sister Middleton
(Check off weekly whether you have achieved each of the eight goals below.)
q Ask for a referral name in every conversation with a member or non-member alike… "Will you bring an acquaintance on a Spiritual Tour?"
q Challenge members to Set-A-Date for a Spiritual Tour or a Church event which can be coupled with a Spiritual Tour with their non-member friend at least 3 times yearly.
q Our goal is to find at least one new investigator daily.
q Our goal is to teach 15 or more full lessons weekly…
q …with at least 3 Spiritual Tours weekly.
q Extend at least one baptismal invitation and commitment each week.
q Remember our mission goal: 10 Gospel contacts per day per missionary outside our usual finding and teaching duties. That includes a Gospel message to everyone you see.
q As weekly goals are set for each Key Indicator, pray for inspiration, and set goals that are lofty yet achievable. Our ultimate long-term goal is for at least 3 baptisms per companionship per transfer.
"Without me ye can do nothing" (John 15:5).
to read past messages.
---