Vancouver Mission Star
This message was written by President and Sister Middleton. It also appears in the Vancouver Star, the weekly newsletter of the Vancouver Mission. It is sent to each companionship throughout the mission.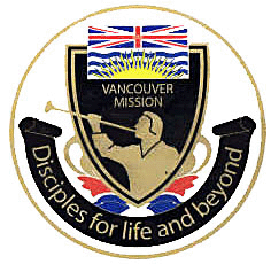 Canada
Vancouver
Mission
Newsletter
May
15, 2007
INVITE EVERY NON-MEMBER ACQUAINTANCE TO COME AND SEE
Early in the Savior's ministry in the Old World He taught us the simple language we must use to become an effective member missionary. In John 1:39 we read, "He saith unto them, come and see." For us to invite each of our many non-member acquaintances to "come and see" is extraordinarily easy to do, and is the profoundly simple yet extremely effective method by which we can accomplish the Lord's admonition to each of us to become an excellent, faithful member missionary. Recently the Forin family in the Courtney Ward embraced this concept, as reported by Elders Johnson and Perkins:
Forin Family Invites Their Friends using Bishop McKenzie's Invitation Technique (by Elders Austin Johnson and Brian Perkins)
"The Forin Family in the Courtney Ward has recently embraced the concept of how to become effective member missionaries. They heard of Bishop Neil McKenzie's 'no-sweat member missionary technique' at the recent Nanaimo Stake Conference, in which a member starts a conversation with a non-member acquaintance on any topic of interest. Midway through the conversation they state, 'Hey Joe, (or whomever), you know that I'm a Mormon. Could I invite you to come on a Tour of my chapel with me to learn about it?' They have also grasped the 'ask several to find the one' concept. The Forins were nervous as they asked the first couple of friends, but found that it was very easy to invite this way, and even when their friends chose not to go on a Tour, they remained as friendly as before the question was asked – they did not lose a friend. The Forins resolved after the Stake Conference that they would ask their friends, neighbors and co-workers, and of the 13 they have invited so far 5 have gone on a Tour!"
Editor's Note: Congratulations to the Forin Family! The simple invitation they make to their non-member friends is simple to do, and does not risk losing a friendship. This asking concept has proven very effective for Bishop Neil McKenzie, bishop of the Willoughby Ward; Bishop Frank Hitchmough of the Victoria 2nd Ward has been inviting his friends using a similar question, and Sister Lena Ma of the Wah Yan Chinese Ward has been inviting essentially all of her non-member acquaintances for the past 10 years and has been responsible for 20 baptisms during that time! We must patiently teach all BC Church members this concept. We must teach members that their success is not measured by how many of their friends become baptized, but rather how many of their non-member friends they have invited—every non-member acquaintance needs to be invited. Spotlighting the invitations made is where the emphasis must lie. Members must be lovingly taught that most of those they ask will decline to come, as that is the nature of missionary efforts at any level. But the invitation must be made to effectively sift through member's friends to find those who are the elect of the Lord (D&C 29:7). Ask several to find the one is the philosophy members should embrace. It works!
The Power of Chapel Tours and Hard Work (by Sisters Kristiana Bardardottir and Colleen Murray)
"This week has been amazing! We took the challenge to 'have 20 Full Lessons both this week and next.' We managed to reach that goal through a lot of prayer and dedication to the work. It was amazing how many appointments we got in every planning session at the end of the day.
"One of the blessings that we gained as we took this challenge was an amazing Tour, one of the best Tours that I have had on my mission, given to a girl named Katie. Katie is 20 years old, and a member invited her to come on a Tour. That member used to baby sit Katie when she was a little girl, and she used to bring her to Church when she was about 5 years old. As she took the Tour she told us how much peace she felt in the Church building. She recognized that her feelings were the same feelings that she had had when she used to come to Church when she was only 5! We asked her after the Tour and after giving her a Book of Mormon what stood out the most as we gave her the Tour. She said that it was when we told her about Joseph Smith—I know that it was definitely the First Vision that made it so special. 'One of them spake unto me, calling me by name and said, pointing to the other, this is my beloved Son, hear Him.' The Spirit was so strong when these words were spoken! As a result of us working really hard Bishop Housholder now trusts us completely and supports us."
Editor's Note: Sisters Bardardottir and Murray mention the challenge to have 20 Full Lessons two weeks in a row at the start of each transfer. The advantage to every companionship of aiming toward 20 or more Full Lessons in each of the first two weeks at the start of each Transfer is clear—through those 20 or more Full Lessons we can connect with most of the ward or branch leadership, lifting them spiritually, gaining their respect for each of us as excellent teachers of the Gospel, and receiving commitments from them. If a missionary is new to the ward or branch, it will introduce him or her to the members—better than any other method might. Make three or more of these 20 plus Full Lessons be Spiritual Chapel Tours that your Tour-giving skills might improve!
A Good Area Book Leads to Many New Investigators, (by Elders Carlton Taylor and James Corey)
"This has been one of the best weeks of my mission. Elder Corey and I are working extremely hard. I also believe that we are working really smart. We have thoroughly gone through our Area Books for Penticton, Oliver and Osoyoos. Past missionaries have kept very good records, and we have benefited from looking up the people that they were teaching. We couldn't contact everyone just yet, but the people that we did contact were great! We have been able to find many new investigators from these two area books. It was also very cool that Elder Corey and I had the opportunity to see two less-active members that we have been working with come to Church on Sunday in addition to six of our investigators!"
Elders Taylor and Corey have perfectly illustrated how important it is to keep each Area Book current. As we visit with members please share with them the story of the Forin family learning to invite with the 'Bishop Neil McKenzie No-Sweat Member Missionary Technique,' and challenge them to become the good member missionaries they are capable of becoming. Thanks for all you do. We love each of you.
President and Sister Middleton
(Check off weekly whether you have achieved each of the eight goals below.)
q Ask for a referral name in every conversation with a member or non-member alike… "Will you bring an acquaintance on a Spiritual Tour?"
q Challenge members to Set-A-Date for a Spiritual Tour or a Church event which can be coupled with a Spiritual Tour with their non-member friend at least 3 times yearly.
q Our goal is to find at least one new investigator daily.
q Our goal is to teach 15 or more full lessons weekly…
q …with at least 3 Spiritual Tours weekly.
q Extend at least one baptismal invitation and commitment each week.
q Remember our mission goal: 10 Gospel contacts per day per missionary outside our usual finding and teaching duties. That includes a Gospel message to everyone you see.
q As weekly goals are set for each Key Indicator, pray for inspiration, and set goals that are lofty yet achievable. Our ultimate long-term goal is for at least 3 baptisms per companionship per transfer.
"And thou must open thy mouth at all times, declaring my gospel with the sound of rejoicing." (D&C 28:16)
to read past messages.
---