Vancouver Mission Star
This message was written by President and Sister Middleton. It also appears in the Vancouver Star, the weekly newsletter of the Vancouver Mission. It is sent to each companionship throughout the mission.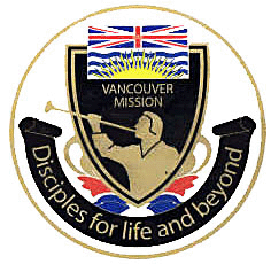 Canada
Vancouver
Mission
Newsletter
May
22, 2007
HOW THE SPOKANE 1ST WARD ACHIEVED 20 BAPTISMS IN 2006
We learned from President David Clarke of the Washington Spokane Mission at the Mission Presidents' Seminar in Seattle in April, 2007, of the spectacular success of a ward in Spokane, the Spokane 1st Ward. Bishop David Kulisch had seen limited missionary success in his Spokane 1st Ward, with no baptisms in 2002 and none in 2003. In September of 2004 he called a dynamic, bold Ward Mission Leader, Matt Borders, and in 2004 they saw one baptism. Thinking boldly and with faith, together they then set the goal of 12 baptisms in 2005 and achieved 6. With Preach My Gospel becoming better understood and assimilated, and with faith, Bishop Kulish and Brother Borders set a goal of 20 baptisms for 2006, twenty fold what they had seen in 2004! Long story short, they achieved that goal.
One Ward, Same Members, Same Geographic Area, Plus Fired-up Enthusiasm on the Part of Every Member Equals Twenty Times the Number of Baptisms
The 20 baptisms in 2006 would have been impossible for Bishop Kulisch and Brother Borders to have achieved by themselves. Instead, through organizing the ward along principles outlined beautifully in Preach My Gospel, and most importantly by infusing within each member a vision and fire that the ward could and would achieve, they succeeded in reaching that goal. It was necessary that every member capture the vision and be taught the skills to become a member missionary, and even more importantly, it was necessary for those members to embrace their important role.
Areas of Focus in the Spokane 1St Ward Missionary Success in 2006
Brother Border, Bishop Kulisch, and the ward missionaries, plus all those who meet in the Ward Council established these areas of focus by which they could reach twenty baptisms in 2006:
· Part-member and Less-Actives—inaugurate a ward blitz to visit each of them two to four times per year, plus have home teachers in the homes of each who would accept them.
· Five Less-Active-Family focus of the ward, prayerfully chosen by the bishop, as outlined by Elder Earl Tingey for all the wards in the Church, and vigorously and repeatedly pursued.
· 100% "Team Teaching." By this they meant that no lesson should be given by the full-time missionaries without a member present, and all ward members rallied around to come, even on very short notice, to be present at each lesson.
· 100% "Home-Court Advantage." The goal was to teach each investigator either at the ward Chapel or in a member's home. An emphasis on Spiritual Chapel Tours was made, which they nicknamed "Nickel Tours," with the missionaries achieving five to six Tours weekly, all with a member present.
· 100% retention of newly-baptized members.
· Every active member finds a family to teach.
To achieve these important objectives required that every member play their important part. Initially, they called fourteen ward missionaries, and each ward missionary was given three part-member and less-active families to visit monthly as past of their ward missionary duties. The number of ward missionaries later was reduced to eight, with one couple out of that eight assigned to visit ward members once or twice monthly to follow through on commitments they had made to teach non-members and to follow their performance on other commitments.
Missionary Correlation Meeting was held weekly, with the full-time missionaries, with all of the ward missionaries present along with the Ward Mission Leader. It became necessary to call a second ward mission leader, who was assigned to speak with the full-time missionaries frequently, averaging two to four times weekly, but often more frequently, correlating the full-time missionaries' and the members' schedules to achieve the goals of 100% "team teaching" and 100% "home court advantage." A competition was set up between the ward missionaries and the full-time missionaries to see who could set up the most Tours of the Chapel, and who could achieve other objectives they had determined.
A Member Missionary Class was Inaugurated
A Member Missionary Class was started in which two to three couples were called to attend a three-week course to be given during Sunday School. Each member attending is committed to find and bring one of their non-member acquaintances and is taught how to become a member missionary, using role plays to teach them appropriate simple methods such as the "Bishop Neil McKenzie invitation" technique. Along with this effort a unified ward effort was begun on everybody's part to ponder, pray and fast regularly to grow the ward through missionary activity.
Accountability and Consistency of the Ward Missionaries Became Central
Frequent follow up by one of the ward missionaries was necessary for all ward members to be certain that everybody was accomplishing their respective goals effectively. Daily contact was usually necessary between the ward mission leader and the full-time missionaries to achieve the goal.
The Primary Becomes Central to Achieving the Ward Growth Goals
The ward Primary presidency committed to challenging every teacher in the Primary to reactivate or fellowship at least one child, and the Primary presidency checked up monthly with every teacher to see if they had accomplished that goal. Interestingly, 50% of the baptisms in 2006 in the Spokane 1st Ward came from part-member families with children ages 9 through 11 years of age.
The important achievements of the Spokane 1st Ward were accomplished simply using the principles already outlined in Preach My Gospel. There is no reason why similar goals would not succeed in any ward or branch in British Columbia where a bishop or branch president in concert with a bold and visionary Ward Mission Leader could set a goal and establish that essentially every ward member step forth and become the member missionary that our Father in Heaven has asked us to become. If what was achieved in the Spokane 1st Ward would work for you, prayerfully and faithfully adopt it, altering where necessary, but embracing the principles which have brought such blessed success.
May the Lord bless us as we go forth to achieve what our Father in Heaven would have us achieve. We love each of you.
President and Sister Middleton
(Check off weekly whether you have achieved each of the eight goals below.)
q Ask for a referral name in every conversation with a member or non-member alike… "Will you bring an acquaintance on a Spiritual Tour?"
q Challenge members to Set-A-Date for a Spiritual Tour or a Church event which can be coupled with a Spiritual Tour with their non-member friend at least 3 times yearly.
q Our goal is to find at least one new investigator daily.
q Our goal is to teach 15 or more full lessons weekly…
q …with at least 3 Spiritual Tours weekly.
q Extend at least one baptismal invitation and commitment each week.
q Remember our mission goal: 10 Gospel contacts per day per missionary outside our usual finding and teaching duties. That includes a Gospel message to everyone you see.
q As weekly goals are set for each Key Indicator, pray for inspiration, and set goals that are lofty yet achievable. Our ultimate long-term goal is for at least 3 baptisms per companionship per transfer.
"I, the Lord, am bound when ye do what I say; but when ye do not what I say, ye have no promise." (D&C 82:10)
to read past messages.
---