Vancouver Mission Star
This message was written by President and Sister Middleton. It also appears in the Vancouver Star, the weekly newsletter of the Vancouver Mission. It is sent to each companionship throughout the mission.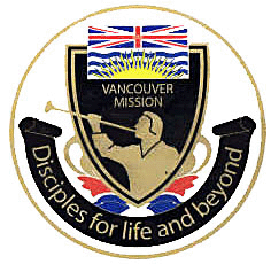 Canada
Vancouver
Mission
Newsletter
May
29, 2007
GREAT OBSERVATIONS BY OUR EXCELLENT MISSIONARIES
This letter is devoted completely to comments from our missionaries. As they have great success or observe successful activities within their areas, we are anxious to share their experiences throughout the mission. We feel that doing so allows all of our missionaries as well as members to gain new insights and ideas as to how we might grow the Church better, as many of the ideas found successful in one area find application in another. We are so appreciative and grateful to our full-time missionaries who are "anxiously engaged" and are not only working hard, but are learning to work smart. We are also most indebted to our wonderful members who have captured the Preach My Gospel vision of how to proclaim our Father in Heaven's gospel here in British Columbia, that their wards and branches might grow rapidly.
A Pledge to Ward Members to Work Hard Builds Their Trust, by Elders Taylor Zmoos (and Scott Allen)
"As I'm getting oriented here in Victoria, and as I understand the work that has been going on here, I can see the huge potential that the Victoria 2nd Ward has. The ward here is so on board. I've made lots of calls, and this upcoming week looks great. It's awesome. All is well in Zion. I'm doing my language study when it's convenient. We're keeping detailed records of member visits and their Tour dates.
"One thing we're doing that has seemed effective is that when we meet with members the first time we commit ourselves to them and tell them we're here to work. We promise them that we will do all within our power to build their ward. We find that this pledge has helped us quickly gain the trust of the members."
Investigator Found Through OYM, by Elders Carlton Taylor (and James Corey)
"On Monday the Vernon and Kelowna Zones got together for some paintball for our preparation-day activity. We all had a great time and strengthened friendships one with another. While there we brought one of the investigators that we are teaching. He had a great time and was able to meet several missionaries. Also, one of the less-actives that we are working with came. Another person who came was not a member, nor did he know anybody in the Church. He just showed up for paintball.
"We introduced ourselves and told him a little more about what we do. We then invited him to learn more about the Church for himself. We had our first lesson on Wednesday, and we had a second appointment two days later. Finding and meeting this investigator strengthened my testimony of how important it is to open our mouths and to be an example at all times."
Two Bold "Elevator Speech" Approaches Work Well, by Sister Julianna Little (and Lisa Falk)
"This week we were visiting with some of our members, Brother Kyle and Sister Amber McAdam, and we began talking about his mission. Having served in Southern California, he told us of a tracting technique that an Apostle told them to use in the field. It went something like this: 'Hi, we are representatives of Jesus Christ, and He has sent us here to prepare you and your family to be baptized. Will you let us come in and start preparing you for that?' Or, as an alternative, we might say, 'Hi, we are representatives of Jesus Christ and we have been sent here to leave a blessing on your home. Will you allow us to come in and do that?' We would then go in, drop to our knees, and in the name of Jesus Christ (Elders would also say, 'and by the Holy Melchizedek Priesthood which we hold'), we leave a blessing on their home… etc.
"It seemed bold but I wanted to try it. We left the McAdam's home promising to report back. We tried it as moved by the Spirit. We used the approach not every time, but of those we asked in this way we received eight follow-up appointments. One of those appointments was from a family with whom I finally got the courage to use the 'blessing-on-your-home approach.' He let us in. We did not drop to our knees right away, but we went in the living room and asked him to turn off his television. The gentleman's wife was in the kitchen and his mom was on the couch. As soon as I said the prayer, the house was completely silent. The Spirit was so strong! After the prayer I looked at the head of household, Ike, and the look on his face was priceless. You could tell he felt the Spirit and was close to tears. We thanked them and gave them contact information and left.
"The Lord is so good to us. I love this work. We are going to use this approach more often!"
Success through Focusing Lessons on Bringing People to Christ, by Elders James Corey (and Carlton Taylor)
"Things are going so well. Our baptismal dates are moving along smoothly. We also are having a good time when we go to the branch and ward for Church. We have been particularly attentive to the purpose of why we are teaching them. We can feel in our lessons that every point is focused on bringing them closer to Christ, rather than whetting their appetite with 'another religion.' Usually we do this by first asking them how religion has played a key role in their life. Odds are they answer in one of two ways – that they have very little concept, or were studying/practicing another religion. We then tell them that we are not called here to reason with opinions, but to show them what God wants us to do here on earth. Then we explain that we will push all of our previous knowledge of religion aside, including the Church, and proceed to give the first lesson more as a history lesson, which in fact it is. Then after Joseph Smith's experience is recounted, they are able to see more simply that we're not here for any reason other than to grow their relationship with God. This format has given the commitments we extend to read and pray much more meaning because they now feel they are on a quest for truth rather than a quest for religion."
We love receiving your Weekly Reports and love sharing your great proselyting ideas throughout the Mission through the Star.
President and Sister Middleton
(Check off weekly whether you have achieved each of the eight goals below.)
q Ask for a referral name in every conversation with a member or non-member alike… "Will you bring an acquaintance on a Spiritual Tour?"
q Challenge members to Set-A-Date for a Spiritual Tour or a Church event which can be coupled with a Spiritual Tour with their non-member friend at least 3 times yearly.
q Our goal is to find at least one new investigator daily.
q Our goal is to teach 15 or more full lessons weekly…
q …with at least 3 Spiritual Tours weekly.
q Extend at least one baptismal invitation and commitment each week.
q Remember our mission goal: 10 Gospel contacts per day per missionary outside our usual finding and teaching duties. That includes a Gospel message to everyone you see.
q As weekly goals are set for each Key Indicator, pray for inspiration, and set goals that are lofty yet achievable. Our ultimate long-term goal is for at least 3 baptisms per companionship per transfer.
"For I am not ashamed of the gospel of Christ: for it is the power of God unto salvation to everyone that believeth…." (Romans 1:16)
to read past messages.
---