Vancouver Mission Star
This message was written by President and Sister Middleton. It also appears in the Vancouver Star, the weekly newsletter of the Vancouver Mission. It is sent to each companionship throughout the mission.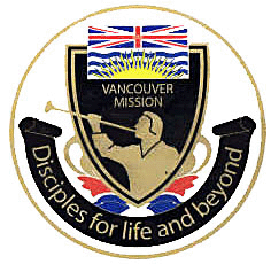 Canada
Vancouver
Mission
Newsletter
June
5, 2007
THE BISHOP IS RESPONSIBLE FOR MISSIONARY EFFORTS
In Preach My Gospel we read, "The bishop (or branch president) is responsible for missionary, retention and activation efforts in the ward (or branch). His personal participation and leadership are essential" (PMG, pg. 218). The understanding and implementation of this concept lies at the heart and soul of how President Gordon B. Hinckley has asked us to accomplish missionary work. It calls for a major change in thinking on the part of our member leaders and all members as well as our full-time missionaries when compared to how missionary work was done prior to PMG, and truly represents the mind and will of our Father in Heaven.
The Bishop or Branch President is in Charge of the Missionary Work in His Ward or Branch
Last week we shared in the Star how effective this PMG-outlined, bishop-led ward missionary effort can be when we noted that the Spokane 1st Ward went from no baptisms in 2002 and 2003, to one baptism in 2004, to six baptisms in 2005, to 20 baptisms in 2006! It happened because Bishop David Kulisch took his missionary oversight duties as described in PMG seriously. He called a bold, dynamic Ward Mission leader, Matt Borders. The two of them instilled a missionary fire and passion in all ward members. They taught them how to simply become inviting member missionaries. They taught them how to invite all of their non-member acquaintances, and through a three-week training course taught during Sunday School they patiently, lovingly taught members how to invite all without losing any friendships.
The success in the Spokane 1st Ward was not related to full-time missionary super-stars, as good (but not spectacular) missionaries rotated through the ward during 2006. Their success was related to Bishop Kulisch developing a system of organizational oversight and accountability that involved and linked both members and full-time missionaries. It works! There is no reason we can think of why this PMG concept will not work in any ward or branch in BC.
Ask the Bishops/ Branch Presidents How You Can Help
Because the success of this new PMG concept depends so heavily upon enlightened, bold, and vibrant bishop/branch president oversight, we are asking each companionship to meet with the bishop or branch president often to help him accomplish in his ward or branch what Bishop Kulisch did in the Spokane 1st Ward. We must offer to help our bishop and branch president in any and all ways. Accept his righteous oversight and guidance. Ask him often for his guidance. Share with him the weekly Key Indicators, which give an important measure of the week's missionary success or lack thereof, and together with him determine how you and he can grow the ward or branch best. We urge that you speak with your bishop or branch president at least three times each week either in person or by phone, to advise him of your progress in the assignments he has given, to ask if he has additional assignments or insights, and most of all to develop the trust and bond between the three of you that is essential for success.
Elder Jeffrey R. Holland Underlines the Urgency of Our Missionary Work
Brother Matt Borders shared with us the words of Elder Holland which he gave to a conference of mission presidents in Paris, France in 1995:
"Brethren, the spirit of the work is urgent and we must imbue our missionaries and members with the spirit of now. NOW! We are not just waiting for natural slow growth. We must move more rapidly. We must take things up a notch. If we have to call down miracles or angels, then call them down….I feel an incredible burden of urgency, I feel a sense of urgency in my chest. I can hardly breathe! The gifts of heaven are there. That we should have miracles, revelations, help from the Lord is known intellectually, but it is not enough practiced and remembered."
The urgency voiced then by Elder Holland applies equally to British Columbia here and now.
Broadcasting Our Message over a Local Radio Station, by Elders Austin Johnson (and Brian Perkins)
"We were able to speak on a local island radio station and explain the Restoration and our Church. Hopefully hearing of the Church this way will lead to interested investigators. We are also making 'missionary packets' to help the members become more missionary-minded. Each packet has several missionary supplies bundled together, such as pass along cards, Book of Mormons and other items, which we leave with member families as we obtain a commitment from them in invite their non-member friends."
Editor's note: If you can speak about the Church on a local radio station, do so, giving your phone number and Chapel address. Congratulations to Elders Johnson and Perkins for taking the initiative.
Use the Vancouver Temple as a Screensaver, as reported by Blair Parowski, the Abbotsford 1st Ward Mission Leader
"Liana Rudolph in the Abbotsford 1st Ward has found a creative way to initiate gospel discussions. She placed a picture of the new temple on her work computer as a screen saver. Many co-workers have already shown interest in asking what building it is and provided her the opportunity to explain a little about her faith and why the temple is such an important place. The clever thing is that they are the ones initiating the conversation."
That we each might be inspired to grasp the vision of how our Bishop or Branch President is leading the missionary efforts in his ward or branch and then step forth to help him boldly and with vision is our constant prayer. We love each of you.
President and Sister Middleton
(Check off weekly whether you have achieved each of the eight goals below.)
q Ask for a referral name in every conversation with a member or non-member alike… "Will you bring an acquaintance on a Spiritual Tour?"
q Challenge members to Set-A-Date for a Spiritual Tour or a Church event which can be coupled with a Spiritual Tour with their non-member friend at least 3 times yearly.
q Our goal is to find at least one new investigator daily.
q Our goal is to teach 15 or more full lessons weekly…
q …with at least 3 Spiritual Tours weekly.
q Extend at least one baptismal invitation and commitment each week.
q Remember our mission goal: 10 Gospel contacts per day per missionary outside our usual finding and teaching duties. That includes a Gospel message to everyone you see.
q As weekly goals are set for each Key Indicator, pray for inspiration, and set goals that are lofty yet achievable. Our ultimate long-term goal is for at least 3 baptisms per companionship per transfer.
"For I am not ashamed of the gospel of Christ: for it is the power of God unto salvation to everyone that believeth…." (Romans 1:16)
to read past messages.
---