Vancouver Mission Star
This message was written by President and Sister Middleton. It also appears in the Vancouver Star, the weekly newsletter of the Vancouver Mission. It is sent to each companionship throughout the mission.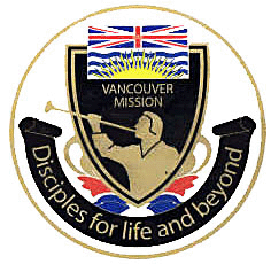 Canada
Vancouver
Mission
Newsletter
June
13, 2007
GREAT IDEAS FROM OUR MEMBERS AND MISSIONARIES
Using Service to Present the Gospel in the Surrey 1st Ward, by Sister Jacquie Martin­
"We had an awesome service project for our neighbors on Saturday. We had six elders and two sisters here helping pull out some hedges. My husband and the missionaries used hatchets/axes and took those hedges out the hard way. We (and our neighbors) were so impressed with their effort and were pleased to have our neighbor's son come to Church at the Surrey 1st Ward with us on Sunday! It really opened a door for us and I took the opportunity to talk to his mom about the Church after the missionaries left. It was so natural to talk about the Church because she had just witnessed young people hard at work on her lawn who represent Jesus, and she is recovering from an accident and couldn't do much to help. Other people on our block noticed the young people out on our neighbors' lawn and asked about them afterward. The neighbor's son, Jeremy Blow, is excited to come to Mutual this Thursday and has committed to help with a fundraiser on Saturday for Girls' Camp and go on a hike with the Young Men. Today his mom came over to thank us for bringing him to Church with us and said she had gone out to get him new slacks and dress shoes because he wants to come again next Sunday. We are thrilled! We are looking forward to inviting them to our Ward's Missionary Sunday on the 10th of June. We want to tell you how pleased we are with the hard work the missionaries put forth."
Victoria 2nd Ward Members Are Becoming Great Missionaries; Thank You Notes to Investigators, by Elders Kyle Shaw (and Scott Allen)
"The Victoria 2nd Ward is the greatest! Thank you so much for the opportunity to serve here and with Elder Allen—truly a blessing! Sass Anderson has been so close to baptism for so long; Elder Allen and I consulted with the Lord and He has truly blessed us, giving us the words to say. Much of our time and energy has been spent helping and supporting her this week, and we were able to overcome obstacles and concerns of hers and she now has a baptismal date for June! Serving with Elder Allen, I've come more fully, more deeply to feel of the great love our Father in Heaven has for His children such as Sass. How glorious it is!
"Elder Allen and I have been blessed to see a nice upsurge in member work. We've planned a series of lessons based on Elder Nash's counsel at Zone Conference and in the Fireside as well which, when coupled with Elder Henry B. Eyring's prophecy, helps the members to see that grand and specific blessings are promised to those in this area who, whether full-time or member missionary, are committed to the purpose of missionary work. We've planned to follow that lesson up with one based on Elder Perkins' and your remarks at Stake Conference here in Victoria, helping to excite them to help others receive and invite others to come unto Christ. Of course, every lesson is tied together with our testimonies of Joseph Smith and the Restoration, and Christ who stands as our Savior at the head and helm of this work.
"At our Ward Mission Leader Brother Mike Mulholland's request, we've even written thank-you notes to those we teach, encouraging them to keep inviting, encouraging them to rely on the Lord as they prayerfully approach the dates that some of them set. We always drop these off a few days later, and plan to drop them off in geographically close clusters instead of bouncing all over town so that we don't waste any travel time. The members' response to this has been great—they say it brightens their days and helps to remind them of the important things, the peaceable things of the kingdom, which so often gets crowded out of busy lives."
A Mennonite Pastor in Vanderhoof Learns About Mormonism by Watching How We Live Our Lives, by Elders Matthew Klekas (and Andrew Johnson)­
"Recently we attended a Mennonite/Mormon funeral in Vanderhoof. It was really interesting to see how both of the religions interacted. We started talking to one of the Mennonites who happened to be the Pastor. We asked him about his religion, and he was very nice to explain their beliefs to us. We started talking about our religion and I invited him to come on a Church Tour. He told me no, and that he was reading a book about the Church. I asked him what the book was called (concerned because there is so much anti-Mormon literature), but he wouldn't tell me. I was somewhat nervous about what book he was reading, but we kept on talking about our religions and toward the end of our conversation he told me that he wasn't actually reading a book but he was watching the members, and that they served as his book to see how members of the Church were living their lives and learn thereby what our teachings were. It certainly underlines how important it is that we live as Christ would have us live."
Exchanges with Members Are Awesome; Vigorous Street Contacting Works, by Elders Noueru Shibayama (and Joel Asay)
"Last week Elder Asay and I had an exchange with the Elder's Quorum President and 2nd Councilor. The exchange was Thursday night, which is usually a sports night in this ward. They sacrificed their basketball evening and instead went on the exchange. It was great! We had a great missionary conversation with one family, and we got to know each other well. One less-active member agreed to have us come over again.
"Last week we exchanged with our Zone Leaders and the North Vancouver Elders. Elder Brian Fisher has a strong faith to find people, and he has developed many 'arrows' to use. We found two potential investigators during our exchange. Since then, I have tried to find investigators like he does. I ask a question and then teach immediately, and our 'other lessons' number has increased considerably by this bold approach. More people have received pass-along cards, and we have obtained many phone numbers too."
Many of our most productive missionary tools have been pioneered by inspired members and faithful, innovative, full-time missionaries. Continue to seek for inspiration in all you do, working hard and working smart. We love you!
President and Sister Middleton
WELCOME NEW MISSIONARIES
Elders: Jeffrey Curtis-KOR (West Jordan, UT); Benjamin White-SPAN (Murray, UT)
Couple: Elder Daniel & Betty Stevens (Smithfield, UT)
FAREWELL TO THE FOLLOWING
Elder Alex Bitting
"Here then brethren, is a work to engage worthy of archangels—a work which will cast into the shade the things which kings and prophets and righteous men in former ages have sought, expected, and earnestly desired to see, but died without the sight; and well will it be for those who shall aid in carrying into effect the mighty operations of Jehova" (HC 4:187 Joseph Smith). I love this work! There is so much more than young 19-year-old men in white shirts and ties. We are bringing to pass the gathering of the elect of God! (D&C 29:4—7)
Sister Golda Janes
Missions are hard, but they are supposed to be hard. If they were easy we wouldn't learn and grow. Enjoy your time here. It will pass too fast. Work hard, be obedient and love and serve these people and you will be a successful missionary
Elder Sean Tavernini
Warriors of light, defenders of truth, servants of God, remember the promise: In life what you are and do is all that matters. "I am out like a light!"
NEW CONVERTS
Abbotsford: Blair McDaniel, Linda Reiter
Nanaimo: Roderiqe Gagnon, Jordan Oleksiuk, Malcolm Oleksiuk, Laura Potts
Prince George: Tom Dolvin, Katherine Dolvin
Surrey: Karla Figueroa Barba, Jorge Barba Gutierrez, Matthew Doyle, Heather Gibney, Sandra Gomes, John Plett
Surrey Lang: Antonia Tong
Vancouver: TJ Brule, Nina Elita, Rajendra Mani
Van Lang: Wan Hyuk Bhang, Jong Heon Kim, Candy Liang
Vernon: Savannah Blackstock, Ronda Chard, Carly Marchand, Mervyn Stacey
FROM THE ASSISTANTS—ELDERS PUGSLEY & ANDERSON
Thank you all for a great round of Zone Conferences. We hope that you can all remember the feelings to work hard and to do the things that you are supposed to do as missionaries and representatives of the Lord and Savior Jesus Christ. We hope that you all remember the six points that we discussed in our training. If not, we will review them: 1) Mighty prayer two times a day, 2) Two hours of focused, meaningful study, 3) Use the time set aside for planning to PLAN, 4) Personal finding at least one hour each day, 5) Get rid of the things that keep the Spirit away, 6) Forget yourself and serve. We promised you great things. Put our words to the test. We love and appreciate each of you. Thank you for your decision to serve the Lord. Now let's serve Him. Remember to be missionaries to match our glorious message.
REMEMBER:
* When traveling to an area, don't be in such a hurry that you overlook the hundreds of people you pass along the way.*
How you act on P-day is a direct reflection of how you will act when you are a returned missionary.*
Members won't be transferred on Thursday, but you might be. Make sure investigators get attached to members rather than you.
*If you don't approach the stranger on the street, the answer is already no.*
On the last page of your copy of the Book of Mormon, record the dates that you finish reading it. This will help you keep track of the number of times you read it during your mission.*
*When a big dog chases you, remember you only have to outrun your companion, not the dog.*
UPCOMING ZONE CONFERENCES FOR JUNE-JULY
June 21 – Van/Van Lang June 28 – Surrey/Sur Lang/Abbots (Abbots Stk Cntr) July 5 – Nanaimo/Victoria
July 11 – Vernon/Kelowna (new Westbank Chapel) July 13 – Prince George
(Check off weekly whether you have achieved each of the eight goals below.)
q Ask for a referral name in every conversation with a member or non-member alike… "Will you bring an acquaintance on a Spiritual Tour?"
q Challenge members to Set-A-Date for a Spiritual Tour or a Church event which can be coupled with a Spiritual Tour with their non-member friend at least 3 times yearly.
q Our goal is to find at least one new investigator daily.
q Our goal is to teach 15 or more full lessons weekly…
q …with at least 3 Spiritual Tours weekly.
q Extend at least one baptismal invitation and commitment each week.
q Remember our mission goal: 10 Gospel contacts per day per missionary outside our usual finding and teaching duties. That includes a Gospel message to everyone you see.
q As weekly goals are set for each Key Indicator, pray for inspiration, and set goals that are lofty yet achievable. Our ultimate long-term goal is for at least 3 baptisms per companionship per transfer.
"Blessed are they that hear the word of God" (Luke 11:28).
to read past messages.
---