Vancouver Mission Star
This message was written by President and Sister Middleton. It also appears in the Vancouver Star, the weekly newsletter of the Vancouver Mission. It is sent to each companionship throughout the mission.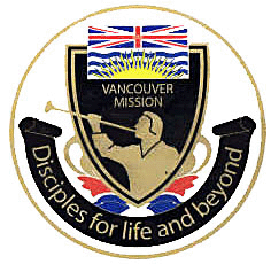 Canada
Vancouver
Mission
Newsletter
July 24
, 2007
THIS IS THE PLACE
History tells us that on July 24, 1847, Brigham Young first set eyes on the Salt Lake Valley. Ill with mountain fever, Brigham Young was riding in the covered wagon of Wilford Woodruff, who turned his wagon so that President Young might see the whole valley. Woodruff wrote that President Young "was enwrapped in vision for several minutes" before he said, "This is the right place. Drive on." The subsequent settlement of the Great Basin and the West is part of our glorious history.
Today we know that British Columbia is "The Place." Through revelation we know that now the Lord wants his saints to sink roots wherever they are living, to succeed there as families, to succeed in their chosen professions and to become integral members of the community in every way, and thereby help the Church flourish. Our role as missionaries is to assist in that process, to integrate ourselves into each ward or branch in which we serve, to do all within our power to help the bishop or branch president grow the Church.
Set a Baptismal Goal
In the July 3rd, 2007 Vancouver Star we noted that our purpose distilled down to one word is to baptize. We urge that each companionship prayerfully set a goal for number of baptisms. Note that PMG asks each companionship to set goals, and that goals are not a quota. PMG also notes, "Your purpose is to help others come unto Him through baptism and confirmation" (pg. 137, underlining added). For your Daily Planner the page on which you plan for and list your "Weekly Goals" has a box calling for each missionary to enter their goal for baptisms in the week (PMG, pg 144). Our instructions from the head of our Church, the Lord and Savior Jesus Christ, are also clear as we read the last instruction He gave His disciples in the Holy Land before ascending into heaven, "Go ye therefore, and teach all nations, baptizing them…" (Matt. 28:19). We have therefore given all missionaries as one of their weekly check off boxes at the bottom of the STAR this: As weekly goals are set for each Key Indicator, pray for inspiration, and set goals that are lofty yet achievable. Our ultimate long-term goal is for at least 3 baptisms per companionship per transfer."
The Mission Ward Leadership is With Us, by Elders Andrew Bristow (and Nicholas Ramirez)
"I am very impressed with the Leadership and dedication of our bishop here in Mission, Bishop Pat Croonan. As we sat down with him and his councilors in PEC he explained that the first Sunday of the month (in PEC) is dedicated to missionary work. He then turned the majority of the time, almost thirty minutes, to us missionaries. I took this opportunity to explain to the PEC our past Zone Conference, and the goals which were set. Such goals as: fifteen or more full lessons, 1 hour or more personal finding a day, and 3 Spiritual Tours per week. I then discussed our companionship goals which were: twenty Full Lessons per week, 2 hours personal finding daily, and 7 Spiritual Tours per week. I explained that our goals were very high, yet achievable with the ward's help. I asked the Bishop for his approval to invite all the active members on a Tour within the next 2 months. His reply: 'You have our support and we will help you.' He continued later in the meeting, 'You are called to teach, we are to provide for you…'
"We also explained the importance of Spiritual Tours and how even if the member can't bring a non-member friend that the member should still come. This would enable them to feel the Spirit and gain a testimony of its power as a missionary tool. The 1st Councilor of the Bishopric, Brother Michal Ursaki, explained, 'We have no excuse. I put up a fence with my neighbor a while back, and he needs to know what goes on on our side of the fence.'
"The PEC is truly on board. With their help the ward will be on board and Mission will be on FIRE!"
Member Missionary Work in British Columbia featured in Ensign and Liahona
The August edition of both the Ensign and Liahona feature the article, "How to Be a Great Member Missionary." On page 50 in the Ensign and page 38 in the Liahona, it focuses on the great member missionary work being done throughout British Columbia. Congratulations to our inspired, diligent members whose dedicated member-missionary efforts have been and will increasingly be essential to our missionary success.
We love each of you.
President and Sister Middleton
WELCOME NEW MISSIONARIES
Elders: Matthew Barton (Sandy, UT); Spencer Hall (Kaysville, UT); Ian Seitz (SE Calgary, AB).
Couples: Elder Darrel & Sister Rita Crawford (Raymond, AB); Elder Stan & Sister Barbara Hayden (Lehi, UT); Elder Everett & Sister Florence Ovard (Henefer, UT); Elder Nicholas & Sister Janet Welch (American Fork, UT).
Sisters: Marie Bates (Soldotna, AK); Blair Bryan (Lovell, WY); Ashley Dalling (Hyrum, UT); Dimitrana Gardner (Littleton, CO).
FAREWELL TO THE FOLLOWING
Sister Julianna Little
"Therefore , let us glory, yea, I will glory in the Lord; yea, I will rejoice, for my joy is full; yea, I will praise my God forever, behold, who can glory too much in the Lord? Yea, who can say too much of His great power, and of His mercy, and of His long-suffering towards the children of men? Behold, I say unto you, I can not say the smallest part which I feel" (Alma 26:16). Till we meet again…
Elder Logan Rasmussen
"It is not enough just to be good, we must be good for something. We must contribute good to the world" (Pres. Gordon B. Hinckley). Party at USU – all invited; free food and place to stay.
Sister Kathy Molyneux
True faith and courage are like a kite—an opposing wind raises it higher. This experience has given me the opportunity to grow in ways that I never thought I could. Remember: People don't care how much you know until they know how much you care. I love the Lord; I love His Church and I love all of you. Please come see us.
Elder Max Molyneux
If a task is once begun, never leave it 'til it's done. Be the labor great or small, do it well or not at all. John 17:4 says, "I have glorified thee on the earth, I have finished the work which thou gavest me to do." I hope we can all say that we have finished the work that we have been calledtodo.
NEW CONVERTS
Abbotsford: Jeffrey Hughes; Dante Pio; Leonard Pio; Todd Pio; Sepideh Samzadeh
Kelowna: Dana Dyck
Nanaimo: Courtney Starratt
Surrey: Amanda Yip
Surrey Lang: Edith Eufracio; Jorge Eufracio; Hilda Peralta
Van Lang: Amanda Gomes; Antonio Gomes
Victoria: Lorien Hammond; Dayne Wright
Still waiting for records for: Maria Salains (SL), Jackie Rosk (VE), Willard Chou (VL), Dustin Hiles (AB), Jen Styles (VA), & Cassie Harwood (SU)
FROM THE ASSISTANTS—ELDERS PUGSLEY & ANDERSON
Thank you all for a great round of Zone Conferences. We feel that many great things were brought up and discussed in our meetings. We are excited for the upcoming transfer. As we apply the things that we learned and were taught in our meetings great blessings await us. Keep working hard, keep finding and don't forget to pray, pray, pray. "Tomorrow is the most important thing in life. It comes into us at midnight very clean. It's perfect when it arrives and it puts itself in our hands. It hopes we've learned something from yesterday" (John Wayne). We love you all so very much.
REMEMBER:
"Happiness and peace are found when we are in harmony with ourselves, with God, and with our fellowmen" (Barbara Winder).
"We are like children walking a path in the rain. We can walk in or around the mud of life as we desire, but with our choices come the consequences. And we are rapidly becoming what we are choosing to be for all eternity" (Elaine Cannon).
"As you define your goals and plan for their achievement, ponder the thought: The past is behind—learn from it; the future is ahead—prepare for it; the present is here—live in it" (Pres. Thomas S. Monson).
"Spare yourselves from the indulgence of self-pity. It is always self-defeating. Subdue the negative and emphasize the positive. Count your blessings and not your problems" (Pres. Gordon B. Hinckley).
(Check off weekly whether you have achieved each of the eight goals below.)
q Ask for a referral name in every conversation with a member or non-member alike… "Will you bring an acquaintance on a Spiritual Tour?"
q Challenge members to Set-A-Date for a Spiritual Tour or a Church event which can be coupled with a Spiritual Tour with their non-member friend at least 3 times yearly.
q Our goal is to find at least one new investigator daily.
q Our goal is to teach 15 or more full lessons weekly…
q …with at least 3 Spiritual Tours weekly.
q Extend at least one baptismal invitation and commitment each week.
q Remember our mission goal: 10 Gospel contacts per day per missionary outside our usual finding and teaching duties. That includes a Gospel message to everyone you see.
q As weekly goals are set for each Key Indicator, pray for inspiration, and set goals that are lofty yet achievable. Our ultimate long-term goal is for at least 3 baptisms per companionship per transfer.
"Be steadfast and immovable, always abounding in good works" (Mosiah 5:15).
to read past messages.
---