Vancouver Mission Star
This message was written by President and Sister Middleton. It also appears in the Vancouver Star, the weekly newsletter of the Vancouver Mission. It is sent to each companionship throughout the mission.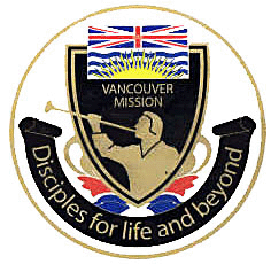 Canada
Vancouver
Mission
Newsletter
July 28, 2005
As you all know, the new Prime Time proselyting program is tremendously successful in the Tacoma Washington Mission, and is proving effective in Vancouver in those areas where both missionaries and members are trained in how to implement it. For purposes of hands-on training, two new Assistants have been called, so we can have a teaching/training companionship constantly traveling to teach techniques and nuances of the program in exchanges. Currently Elders Young and Bailey are traveling, while Elders Brough and Nemrow are office-based with their own proselyting area as well. Also, we are asking every companionship to lead small groups of members on a tour through the ward or branch to demonstrate how effective, inviting and non-threatening it would be for a potential investigator. We ask that every member of your ward or branch be taken on a tour of the facility, conducted by you. It will likely take a few weeks to accomplish, but is very important training.
Enclosed is a sheet outlining 10 huge advantages of our new soft-approach Prime Time Program. Please give copies to each member, and explain in your words to them the advantages of the program. We know it will work!
We are witnessing a quickening of the Spirit. A statistical analysis we received from Church headquarters shows what we have been noting throughout the Canada Vancouver Mission. Comparing 2005 year to date with 2004 year to date, through June:
Missionaries
Convert Baptisms YTD
% Change
Per Missionary
Retention with Males Ordained
2005
2004
2005
2004
33%
2005
2004
*86%
108
127
96
72
1.7
1.3
(*Males 12 and older who have been members 4-6 months and have received the priesthood.)
In other words, we have baptized 33% more converts despite having considerably fewer than the other missions in our area, but we are catching up! Our retention rate is far better at 86% than any other mission in our area, the next best being 67%, so our baptisms are quality new members – congratulations to all our missionaries!
Welcome to New Missionaries
Sister Lindsey Leavitt from Alberta Canada arrived in our mission on July 25, 2005. Elder Craig Carter and Elder Austin Graff, both from Utah, arrived on July 27. They are both serving as Korean missionaries. We want to warmly welcome these 3 new missionaries to the Canada Vancouver Mission.
Finally, we share a quotation from our Prophet, Gordon B. Hinckley, which applies to us all as we embark on this new Prime Time Program:
"The work of the world is not done by intellectual geniuses. It is done by men of ordinary capacity who use their abilities in an extraordinary manner."
With an eye to the glory of Glory of God let us find and teach.
--President and Sister Middleton
to read past messages.
---