Vancouver Mission Star
This message was written by President and Sister Middleton. It also appears in the Vancouver Star, the weekly newsletter of the Vancouver Mission. It is sent to each companionship throughout the mission.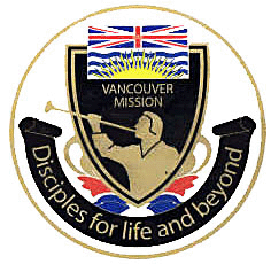 Canada
Vancouver
Mission
Newsletter
July 31
, 2007
PEARLS OF WISDOM FROM OUR MISSIONARIES
She admired her Mormon friend, Elders Brian Fisher (and Isaac Pack)
"Today at Church at the Burnaby Ward we had a really awesome experience. A girl named Jasmine had been talking to her friends about their churches and found out that her 'Mormon' friend was the only one that followed his religion. So she decided to check it out. She is a really solid investigator that we really look forward to teaching. It is true that the power of example does have an effect on others."
Editor's Note: This experience, whereby Jasmine was attracted to our Church by knowing an LDS friend whom she admired, is the means by which nearly 80% of converts begin their investigation of the Church. The Ensign article entitled, "What are Non-Members Interested In?" (Oct. 1977) analyzed a large number of recent converts. The authors, Gordon C. Whiting and M. Richard Maxfield, found that prior to becoming investigators 79% of new converts reported knowing an LDS friend, neighbor or colleague whom they respected. Only 9% of the converts first learned of the Church through the full-time missionaries.
This observation underlines the fact that the vast predominance of our Church growth in BC will come from members inviting their non-member acquaintances to "come and see." (John 1:39) Patiently, lovingly, persistently teach all members to actively embrace their ward or branch Mission Plan, every one of which has as its central core the concept that every member must issue a simple invitation to all of their non-member acquaintances to come with them on a Spiritual Chapel Tour or to an activity at the Church. Teach all members that an invitation is easy to extend, that every member knows someone who has been prepared by the Lord to say yes and will come into the Church once invited, and that they will never lose a friend through an invitation, even if that friend currently declines to learn more. Teach all members that they will become the member missionary that the Lord asks each of us to become when they embrace in word and deed the concept of "asking several to find the one."
Seek to have a member present at every investigator lesson, by Elders Cory Douglas (and Jeffery Johnson)
"Today in Church our Elders Quorum President, Trevor Hofmann of the North Shore Ward, stopped us and asked if we strive to have a member present in lessons given to investigators. He went on to say how important they are (he is a convert), and said he would be more than willing to have the Elder's Quorum help by providing a member to come with us."
Editor's Note: PMG emphasizes how important it is to have a member present during each lesson given to an investigator, not only to bear their testimony of the truths presented, but also to start the critically important job of fellowshipping. It became an important part of the success of the Spokane 1st Ward in going from no baptisms for several years to the 20 baptisms they experienced in 2006, and an important goal they set was to have a member present for every lesson taught to an investigator.
Weekly Exchanges with the Elders Quorum in North Vancouver, by Elders Cory Douglas (and Youngho Choi)
"We went on exchanges with the Elders Quorum and had great results with less active families. One family even came to Church after our visit. We are going out again this week with them, and the Elders Quorum wants to continue these weekly exchanges. One of the presidency said to the ward, 'We are very grateful for the Elders in helping us, but we need to help them with missionary work!' It was really good!"
Editor's Note: Elder Douglas and Elder Choi note how valuable it is to do exchanges with members. On an exchange evening two missionaries become 4, and can cover twice the ground and give twice the number of lessons. We urge every companionship to establish a goal of exchanges at least weekly, and preferably two or three times weekly. Elders do regular exchanges with all Melchizedek Priesthood holders in the ward or branch, Sisters with all Relief Society members, with or without their spouses. Please aim toward exchanges with the youth at least every transfer, the Elders with the Aaronic Priesthood boys, the Sisters with the Young Women 12 and older.
The time spent with a member during an exchange allows us to get to know them well, and they get to know us and see firsthand our abilities as Gospel teachers. During the course of the evening we can also teach them how easy it is to invite their non-member acquaintances to "come and see," and can commit them to find someone to bring to an upcoming ward activity or to a Spiritual Chapel Tour.
Mission Wide Reading Assignment
We are enjoying the "Book of Mormon Blitz," reading our daily assignment along with all missionaries throughout the mission. We expect to finish the assignment by August 4th, and would ask that all missionaries begin the "Doctrine and Covenants Dash" reading of the Doctrine and Covenants on Weds., August 8th. Enjoy!
Each Companionship Needs to Accomplish Three Tours Weekly
May we reiterate the importance of each missionary giving at least three Spiritual Chapel Tours weekly; less than three will not allow you to maintain excellence in giving a Tour. A Tour became an integral part of the baptismal success of the Spokane 1st Ward in achieving 20 baptisms in 2006 – their Tour goal was and is five Tours or more weekly! Members will go with you on a Tour if only you ask, and explain to them the reasons why you give Tours. So OYM!
Elders and Sisters, we love you and deem it a great honor to serve with you.
President and Sister Middleton
(Check off weekly whether you have achieved each of the eight goals below.)
q Ask for a referral name in every conversation with a member or non-member alike… "Will you bring an acquaintance on a Spiritual Tour?"
q Challenge members to Set-A-Date for a Spiritual Tour or a Church event which can be coupled with a Spiritual Tour with their non-member friend at least 3 times yearly.
q Our goal is to find at least one new investigator daily.
q Our goal is to teach 15 or more full lessons weekly…
q …with at least 3 Spiritual Tours weekly.
q Extend at least one baptismal invitation and commitment each week.
q Remember our mission goal: 10 Gospel contacts per day per missionary outside our usual finding and teaching duties. That includes a Gospel message to everyone you see.
q As weekly goals are set for each Key Indicator, pray for inspiration, and set goals that are lofty yet achievable. Our ultimate long-term goal is for at least 3 baptisms per companionship per transfer.
"Use boldness, but not overbearance…see that ye refrain from idleness." Alma 38:12
The Coveted "Off the Hook" Award:
(Week-ending July 29, 2007)
In Recognition of the following:
Baptisms Year to Date:
Surrey English Zone (17 Baptisms)
Investigators with a Baptismal Date:
Vancouver Language Zone (9Baptismal Dates)
Investigators Attending Sacrament Meeting:
Prince George Zone (15 Investigators at Sacrament Meeting)
Lessons with a Member Present:
Abbotsford Zone (20 Lessons with a Member Present)
Progressing Investigators:
Prince George Zone (15 Progressing Investigators)
New Investigators:
Surrey Language Zone (18 New Investigators)
Member Referrals:
Surrey Language Zone (8 member referrals)
Full Lessons:
Vancouver Zone (Average of 16.2 Full Lessons)
Full Lessons to non-member:
Surrey Language Zone (16 non-member Fulls)
COMPANIONSHIPS:
Elder Collins & Elder Hea: 30 full, 30 to non-member, 51 other lessons, 2 new investigators, 3 progressing investigators
Elder Lassetter & Elder Fullmer: 20 Full, 39 Other, 10 non-member full, 8 Lessons taught with Member Present, 2 with a Baptismal Date, 3 investigators at sacrament meeting
Elder Loong & Elder Harrison: 24 full, 22 other lessons, 3 new investigators
Elder Brown & Elder A. Johnson: 26 full, 13 to non-member, 30 other lessons, 3 progressing investigators
Congratulations on your accomplishments this week!
to read past messages.
---