Vancouver Mission Star
This message was written by President and Sister Middleton. It also appears in the Vancouver Star, the weekly newsletter of the Vancouver Mission. It is sent to each companionship throughout the mission.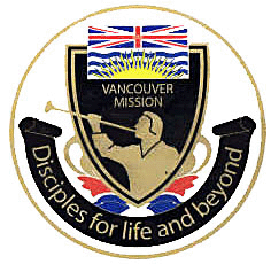 Canada
Vancouver
Mission
Newsletter
August 21
, 2007
Counsel from Elder Kikuchi
We are delighted to have received an E-Mail from Elder Yoshihiko Kikuchi sent in commentary to an E-Mail we had sent to our BC member leaders in July. Elder and Sister Kikuchi toured our Mission in November 2005, and we still are stressing the wonderful points of advice we received then by which we might be more successful missionaries. Elder Kikuchi has maintained an interest in the Canada Vancouver Mission, and remains on our internet listserve to receive outgoing Vancouver Stars, Off-The-Hook Awards and general communications with our wonderful member leaders. His e-mail to us on August 2, 2007, reads as follows:
"I am so happy to know that some of the zones in your Mission are increasing convert baptisms. Your temple ground-breaking will be held soon (it occurred on August 4, 2007). The coming of the temple will be a powerful force for increasing productivity in the missionary work in your area.
"I hope and pray that each missionary Area Book will have a current list of Part Member Families, and also a current list of un-baptized children who are living in a part member family. I also urge that you work with your 'eternal investigators'. May the Lord bless you and your missionaries. Love and respect, Elder Y. Kikuchi"
Elder Kikuchi Focuses us on Important Missionary Tools
While we have been using the finding tools mentioned by Elder Kikuchi, we need to diligently refocus on each of the three he mentions: an updated list of part-member families, another list of unbaptized children who live in part-member families, and a list of those who are "eternal investigators." In regard to the latter, let us never forget that it took Brigham Young 2 years of investigation before he joined the Church, so if we have investigators who are slow to set a baptismal date, but who have a testimony and are slowly progressing let us continue to work with them. Accordingly, as we come for Zone Conferences we are asking each missionary companionship to bring their Area books, and we shall observe together your progress in each of the areas mentioned by Elder Kikuchi. Coming from one as wise in missionary work as Elder Kikuchi, and from one of the Lord's anointed who is privy to the Lord's inspiration as he is, we will follow the counsel of Elder Kikuchi gratefully and eagerly.
Brookswood Ward Establishes Member Exchange Schedule, Is Filled with Great Member Missionaries, by Elders Hunter Heaton (and Gavin Ramsey)
"Bishop Eden Engen is the best Bishop I have dealt with on my mission. He meets with us every week and lets us know how much he appreciates us. Last week we approached him about the Set-a-Date program and he fully accepted it. As a leader and exemplar he took our calendar right then and there and signed up three times himself! We then took it before the PEC, then the Ward Council, and this week we presented it to the whole Ward. We have already seen the success, as this week we have had 2 Spiritual Tours, one with members and some non-members they invited. We now have 11 more dates. The members in this Ward are very missionary minded and supportive. We are also working with the Ward Mission Leader, Martin Lutz, and have initiated an exchange program in which we made a calendar that includes all the Priesthood and auxiliaries. The calendar goes as follows:
1st Tuesday Elders Quorum 1st Wednesday High Priests
2nd Tuesday Young Men 2nd Wednesday Bishopric
3rd Tuesday Ward Missionaries 3rd Wednesday High Priests 5th Week TBA
4th Tuesday Elders Quorum 4th Wednesday High Priests
"We have had much success with this program, and I am very pleased with the response of the members in this Ward."
Exchanges Allow Double the Lessons; Family Mission Plans Help Members Become Better Missionaries, by Elders Scott Marianno (and LoganRasmussen)
"We had an excellent week last week. We used mini missions to help accelerate the work over the weekend and they worked out great. We were able to do just about twice the work of what we would normally do. We had an excellent baptism on Sunday. It was well attended by the Ward, and the Pio family who were baptized seemed to feel the Spirit and it was a special occasion for them. I was very pleased with the efforts of the Ward in fellowshipping them. They are now looking forward to entering the Temple a year from now.
"We are also seeing much success with the Family Mission Plans. The members are become increasingly more aware of their friends who they can bring on a Spiritual Tour; also, we are seeing an increase in the number of Tours we are presenting."
"There are some exciting things happening here in Abbotsford and with the member's support I think even greater things are going to continue to take place."
Editor's Note: exchanges as described herein for the Brookswood and Abbotsford First Wards, and as are being done in several other BC wards and branches, make tremendous sense. In addition to effectively making 2 missionaries 4 on the night of the exchange, it allows us to often meet and give a lesson to non-member acquaintances of the member on the exchange. The member also gets to know us well during the exchange, and gains confidence in our abilities to give an inviting and compellingly well done lesson. The member will then feel confident in our skills and will feel obligated to establish a date for themselves by which they will have invited a sufficient number of their friends that they will have found an individual or family to return with them for a Spiritual Tour of the chapel, or to some other activity at the Church. Let us aim toward member exchanges one or two nights in every week.
We love each of you.
President and Sister Middleton
(Check off weekly whether you have achieved each of the eight goals below.)
q Ask for a referral name in every conversation with a member or non-member alike… "Will you bring an acquaintance on a Spiritual Tour?"
q Challenge members to Set-A-Date for a Spiritual Tour or a Church event which can be coupled with a Spiritual Tour with their non-member friend at least 3 times yearly.
q Our goal is to find at least one new investigator daily.
q Our goal is to teach 15 or more full lessons weekly…
q …with at least 3 Spiritual Tours weekly.
q Extend at least one baptismal invitation and commitment each week.
q Remember our mission goal: 10 Gospel contacts per day per missionary outside our usual finding and teaching duties. That includes a Gospel message to everyone you see.
q As weekly goals are set for each Key Indicator, pray for inspiration, and set goals that are lofty yet achievable. Our ultimate long-term goal is for at least 3 baptisms per companionship per transfer.
"What man of you, having an hundred sheep, if he lose one of them, doth not leave the ninety and nine in the wilderness, and go after that which is lost, until he find it?" Luke 15:4
The Coveted "Off the Hook" Award:
(Week-ending August 19, 2007)
In Recognition of the following:
Baptisms Year to Date:
Surrey English Zone (17 Baptisms)
Abbotsford (17 Baptisms)
Investigators with a Baptismal Date:
Vancouver Language Zone (10Baptismal Dates)
Investigators Attending Sacrament Meeting:
Vancouver (18 Investigators Attending Sacrament Meeting)
Lessons with a Member Present:
Abbotsford Zone (27 Lessons with a Member Present)
Progressing Investigators:
Vancouver (20 Progressing Investigators)
New Investigators:
Vancouver Language Zone (19 New Investigators)
Member Referrals:
Surrey Language Zone (15member referrals)
Full Lessons:
Vancouver Zone (Average of 20.2 Full Lessons)
Full Lessons to non-member:
Vancouver Language Zone (14.3 non-member Fulls)
COMPANIONSHIPS:
Elders Lassatter & Fullmer: 24 full, 34 other lessons, 5 lessons with member present, 2 investigators attending Sacrament Meeting, 2 with baptism dates
Elders Weeks & Barton: 20 full, 13 other, 4 lessons with member present, 2 progressing, 2 new investigators, 2 referrals received, 1 investigator at Sacrament Meeting
Sisters Oliver & Wilcox: 15 full, 68 other, 1 lesson with member present, 1 investigator at Sacrament Meeting, 1 referral
Elders Fisher &Morrill: 16 full (8 to non members), 50 others, 2 new investigators, 2 progressing
Elders Collins & Hea: 32 Full (29 to non members), 57 other, 3 lessons with member present, 2 attending Sac. Meeting, 2 progressing, 1 with baptism Date
Elders Pack and Feinga: 21 Full (13 to non-members), 58 others, 5 progressing, 4 with baptism date, 3 new investigators, 4 lessons with member present, 5 investigators at Sacrament Meeting, 4 referrals received
Elders Strum & Choi: 33 Full (31 to non-members), 76 other, 8 new investigators, 2 Tours with non-members, 1 investigator at Sacrament Meeting
Elders Barker & Hatton: 16 Full (9 to non-members), 38 other, 3 lessons with member present, 6 referrals received, 1 with baptism date
Elders Rian Wilhite & Shaw: 15 Full, 47 others, 2 lessons with member present, 1 new investigator
Elders Bakow & Klekas: 15 Full (10 to non-members), 28 other, 3 lessons with member present, 2 progressing, 2 investigators at Sacrament Meeting, 1 with baptism date, 2 progressing, 2 Tours with non-members
Congratulations on your accomplishments this week!
to read past messages.
---