Vancouver Mission Star
This message was written by President and Sister Middleton. It also appears in the Vancouver Star, the weekly newsletter of the Vancouver Mission. It is sent to each companionship throughout the mission.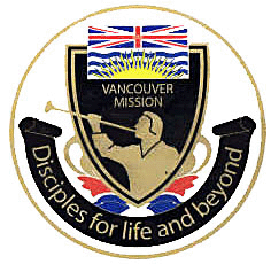 Canada
Vancouver
Mission
Newsletter
August 1
, 2005
Sister Middleton and I have now completed our first tour through the Vancouver Mission, and I want to share with you a few observations:
The quality of the testimonies and dedication of our missionaries is extraordinary. Nearly all have embraced our culture of commitment with compliance with mission rules (i.e. up at 6:30, physical exercise daily, intense and meaningful personal and companionship study, filling each day with focused and well-organized seeking/finding/teaching and baptizing activities, and home by 9:00 (latest 9:30), and in bed by 10:30). Those few who have not achieved compliance have assured me personally that they will, and I have no reason to believe otherwise.
Those missionaries who are in total compliance are the happiest and most fulfilled.
British Columbia is amazingly beautiful and diverse, both in terms of geography and people. Clearly ours is the best mission there is!!
Calling two new Assistants to travel and teach continuously is proving effective. Elders Young and Bailey are our current traveling APs, and they stay and work with each companionship doing exchanges two to three days in each location. They are sharing ideas on how best to implement the "soft" door approach, and how to be most effective doing ward or branch tours during Prime Time proselyting. Our other two Assistants, Elders Brough and Nemrow, continue as before with office and zone conference duties as well as responsibilities to proselyte in the Richmond Ward area.
The Prime Time approach holds great promise. While we still need to show many of our missionaries the nuances to make the soft approach and tours work most effectively, each companionship which has been visited by our APs has become converted to the concept, and seem to have improved their skills.
Members Prime Time Training. We are asking each companionship to lead each and every member on a tour of your ward or branch. I would suggest that you start with the Bishop or Branch President and his family, then the ward mission leader and family, then take the other ward or branch leaders and their families on tours, and finally every other member. These tours will help our missionaries fine-tune their skills, and equally importantly, will train members about our new Church Tour/Prime Time Program.
Invite ward or branch members to join missionaries on ward or branch tours with investigators. When this program is fully implemented the mission companionship can invite a member with skills, interest and age similar to the investigator to join in the tour, and fellowshipping can then start at the first meeting.
Stress to all members how easy and non-threatening this new "soft" approach will be. Any member should feel totally comfortable in referring a non-member friend or relative over to their chapel for a tour.
The Canada Vancouver Mission is on the move!! Over the past 1+ years our success has been steadily improving. In looking at our mission report when compared with the other 8 missions in our area, for the first time in a long time we have caught and surpassed an adjacent mission. Measuring over the most recent five-week period, Vancouver had an average of .091 baptisms per companionship per week. Just three weeks earlier our average was .067 for the prior five weeks. Congratulations Vancouver missionaries!
Welcome to our 3 new missionaries. Sister Leavitt arrived on July 25, 2005 to work in English-speaking areas of the mission. Elders Carter and Graff arrived on July 27, 2005 to work in Korean speaking areas. Welcome to all three!
Elders and Sisters, we love you. We rejoice with you in this glorious work of the Lord. We have been enriched by the power of your testimonies, which we have heard during this past month.
May the Lord continue to bless us all,
--President and Sister Middleton
to read past messages.
---