Vancouver Mission Star
This message was written by President and Sister Middleton. It also appears in the Vancouver Star, the weekly newsletter of the Vancouver Mission. It is sent to each companionship throughout the mission.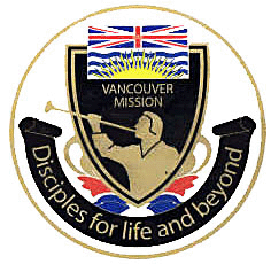 Canada
Vancouver
Mission
Newsletter
September 4
, 2007
PERSONALLY INVITE ALL
In Alma 38:12 we read fundamentally and critically important counsel from the Lord on what we should do to become His best full-time and member missionaries. There the Lord tells us how to invite when he admonishes, "Use boldness, but not overbearance." It isn't complicated advice on how to be a missionary. The Lord simply states that we must open our mouths and lovingly invite. It is as simple as that.
DON'T PASS-ALONG AND RUN
Some of our full-time and member missionaries have developed the false idea that we are effective missionaries if we give away many Pass-Along-Cards and /or many copies of the Book of Mormon. Some accomplish this by a method we have nicknamed the "drop and run" approach, where a well-meaning missionary will drop a Pass-Along-Card or Book of Mormon on a counter of a business or give it to an acquaintance with little or no explanation or invitation. There are rare, anecdotal reports in previous Ensign magazines or elsewhere about this approach working, but they are rare. A Pass-Along-Card, Book of Mormon, pamphlet about the Church, etc. is an effective tool if it is accompanied by a simple invitation to "come and see" (John 1:39) which is sincerely offered by a member to an acquaintance. Then it works, and works well. Where an invitation to "come and see with me" is offered, to a Spiritual Chapel Tour, Church event, Family Home Evening, Church sports event, etc. the invitation is effective. Obviously not all will accept, but "the elect of the Lord" (D & C 29:7), some of whom are known by every Church member in BC, will accept their personal invitation to come and see. The Lord has promised us so!
Delta Members Challenge Full –Time Missionaries to See Who Can Bring More People on Spiritual Tours, by Elders Brian Fisher (and Collin Morrill)
"There is great potential here in Delta that hopefully is just ready to be unleashed. Today in Ward Council and in Sacrament Meeting there was a challenge issued by us to the members. We are going to have a contest between the full time missionaries vs. Delta Ward members on who can bring more people on Tours by the end of the year. We are going to set a goal and also challenge the ward to do the same. Bishop Davis accepted our challenge and we announced it in Sacrament Meeting. It was reiterated in Priesthood as well. So I think the members (led by the leadership) are beginning to catch the vision of missionary work."
"Scripture Rings," An Investigator Haircut, and a Japanese Sunday School Class, by Nouero Shibayama (and Brian Huo)
"Mike McDonald is our investigator who is working on Sunday, at least for now. As we couldn't meet with him for one week we devised a special teaching gift for him we call 'scripture rings.' We wrote some select scriptures on paper, then folded them up into a rectangle and connected several into rings. Every day he cuts one ring and the reads one scripture, so that he can read the word of God at least every day. This week we are going to see him and set a date.
"One of our investigators needed a hair cut. A member of the Church has talent in cutting hair, so last week we arranged to have the member cut his hair. It went well.
"In Vancouver 1st ward we have a new Mission Leader, and through the Ward Missionary Correlation Committee Meeting, in conjunction with Bishop Steve Ward, we will be revising the Ward Mission Plan to make it more effective. We are going to start a Japanese Language Sunday School class in Vancouver 1st Ward to which we will bring Japanese investigators."
We love each of our full-time missionaries, and love equally each of our members, who are stepping forth to invite as many acquaintances as it takes to find the one who comes, members and full-time missionaries who understand that all missionary work consists of "asking several to find the one."
We love each of you.
President and Sister Middleton
"Therefore let your light so shine before this people, that they may see your good works and glorify your Father who is in Heaven." 3Nephi 12:16
WELCOME NEW MISSIONARIES
Elders: Spencer Mun, Riverside CA, Yoshiaki Saito, Tokyo Japan, Aaron Terry, Newton KS, Austyn Whittenburg, Sandy UT,
Sisters: Heather Nibley, Sandy UT, Rochelle Chevalier, Tooele UT
Couple: Elder Chan Tae and SisterJung AE Kim Kwong, Korea
FAREWELL TO THE FOLLOWING
Sister Dionne Oliver
"When you cry be sure to dry your eyes cause better days are sure to come. And when you see, see the beauty all around & in yourself & it will help. You feel ok. And when you pray, pray for strength to help you carry on; when you dream, dream big!" Shupe Ryan. Dare to be remarkable. God be with you till we meet again. I love this work!
Elder Jonathan Dial
"Thus God has provided a means that man, through faith, might work mighty miracles; Therefore he becometh a great benefit to his fellow beings." Mosiah 8:18. "If my life is of no value to my friends, it is of none to me."—Joseph Smith. Understand, as the prophets did, the importance of service. Serve your missions. Serve your fellow man. Serve your God! Brothers...I love you. I love this work, and I love this mission. Now on to the next one. Proverbs 31:10.
Elder Jordan Elmore
"And now as I said concerning faith, faith is not to have a perfect knowledge of things; therefore if ye have faith ye hope for things which are not seen, which are true." Alma 32:31. I know that God lives and is in control of this work. "Pray like everything depends on God. Then go out and work like everything depends on you." President Hinckley. I love this work. There is nothing better than this!
Sister Cathy Knight
D&C 123:17 "Therefore, dearly beloved breathren (and sisters), let us cheerfully do all things that lie in our power; and may we stand still, with the utmost assurance, to see the salvation of God, and for his arm to be revealed." This scripture has defined my labors to serve faithfully in the Canada Vancouver Mission…and beyond.
Elder Craig Knight
"O THAT I were an angel, and could have the wish of mine heart, that I might go forth and speak with the trump of God, with a voice to shake the earth, and cry repentance unto every people!" I know that each of you are giving it your all. Keep it up.
Elder Donnie Fewkes
My brothers and friends, you have no idea how much you have meant to me. Remember, that obedience is key. It saved me in this mission. Even after the mission, sticking to the White Hand Book is a good idea. Let's see what it has to say… "go directly to your new area where you are transferred and meet your new companion without delay. " P.33 Can do, white hand book. Can do! I won't forget you all.
NEW CONVERTS
Abbotsford: Lloyd Lee; Ena Marina Lopez; Samuel Nyuol;
Kelowna: Jordan Allen
Prince George: Shawn Blair
Surrey: Justin Naheray;
Surrey Lang: Dora Fu
Vancouver: Jessica Maussion; Peter Garnett; Peter Garnett
Van Lang: Jing Gege, Colum
Still waiting on records for: Cody McNeil (AB), Soo Ji Park (SU)
FROM THE ASSISTANTS—ELDERS BEINS & ANDERSON
Sisters and Elders. We want to remind you of how much we love you! We are so grateful to be in this missionary effort with you. We hope that this transfer we can grow our companions and strive to make each area the best area. Let's take our investigators to the end zone by applying the principles we learned this Zone Conference. In the first two weeks of this transfer, remember to strive to obtain 20 or more full lessons. God speed to all of you!
UPCOMING ZONE CONFERENCES FOR SEPTEMBER/OCTOBER
Sep 18 – Van/Van Lang Sep 20 – Surrey/Sur Lang/Abbots (AbbotsStake Center) Sep 27 – Nanaimo/Victoria
Oct 3 – Vernon/Kelowna (Vernon Chapel) Oct 5 – Prince George
(Check off weekly whether you have achieved each of the eight goals below.)
q Ask for a referral name in every conversation with a member or non-member alike… "Will you bring an acquaintance on a Spiritual Tour?"
q Challenge members to Set-A-Date for a Spiritual Tour or a Church event which can be coupled with a Spiritual Tour with their non-member friend at least 3 times yearly.
q Our goal is to find at least one new investigator daily.
q Our goal is to teach 15 or more full lessons weekly…
q …with at least 3 Spiritual Tours weekly.
q Extend at least one baptismal invitation and commitment each week.
q Remember our mission goal: 10 Gospel contacts per day per missionary outside our usual finding and teaching duties. That includes a Gospel message to everyone you see.
q As weekly goals are set for each Key Indicator, pray for inspiration, and set goals that are lofty yet achievable. Our ultimate long-term goal is for at least 3 baptisms per companionship per transfer.
"Be steadfast and immovable, always abounding in good works" (Mosiah 5:15).
to read past messages.
---