Vancouver Mission Star
This message was written by President and Sister Middleton. It also appears in the Vancouver Star, the weekly newsletter of the Vancouver Mission. It is sent to each companionship throughout the mission.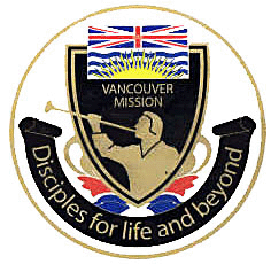 Canada
Vancouver
Mission
Newsletter
September 25
, 2007
For Success: Increase the Bond Between Full-Time Missionaries and Members
As Preach My Gospel so eloquently and beautifully explains, increasing membership growth is dependent upon an increasing bond between faithful members and our full-time missionaries. In fact, PMG pointedly observes that solid convert baptisms will only increase substantially when missionaries and members become one, "as thou, Father, art in me, and I in thee, that they also may be one in us….that they may be one, even as we are one." John 17:21, 22. The unity Christ calls for in His Church is beginning to develop , as bishops and branch presidents are increasingly taking ownership over all the missionary efforts in their wards and branches, including hands-on oversight over all their assigned full-time missionaries, as well as teaching all ward and branch members to invite regularly ( weekly or more often) to achieve optimal success.
We share in this issue reports from our missionaries to illustrate progress in our province:
Bishop Joel Noftle leads the Missionary Work in Chilliwack, by Elders Jared Fullmer (and Spencer Lassetter)
"The Lord is truly blessing us for our efforts and our diligence in the work here in Chilliwack. I feel that a large part of the success that we are seeing comes from our relationship with the ward leaders and especially with our Bishop, Bishop Joel Noftle. Bishop Noftle is one of the most missionary-minded leaders that I have had the opportunity to serve around. Today in Ward Council almost the entire meeting was dedicated to missionary efforts. All of the auxiliaries were asked to bring a list of all the people that they were going to invite to an upcoming activity. Then assignments were made as to who would be responsible to invite them. He encouraged all the leaders to hold a presidency meeting in the next month to which they will invite us full-time missionaries to help them become focused on missionary work. We meet with Bishop Noftle at least once a week, either formally or informally. He is always willing to give us advice on how he wants the work done under his stewardship. He is an incredible asset, and it is wonderful to see the difference it makes when we have support and leadership from member leaders."
Unity Through Working Hard with Members, by Elders Young Hea (and Spencer Mun)
"We have learned that the best way to improve the relationship either within the companionship or between the members and missionaries is through communication. There are various ways of communicating with others; verbally, through service, and through vigorous time management. If we communicate with each other effectively it leads to unity. Just like President Paul Christensen of the Abbotsford Stake said at the last Zone Conference, missionaries and members need to unite together to work toward one goal, which is to bring souls into the Churchl of Jesus Christ. I believe it's crucial to build unity, not only as a companionship, district, and zone, but also with the members of the Church of Jesus Christ of Latter-day Saints. As we become ever more strongly united with members of our specific Ward or Branch, members will learn to trust us completely. Then they will shower us with member referrals. The focus of our companionship this transfer is to enlarge our teaching pool through daily street contacting and working with part member families; our goal is to find at least 4 people to baptize!"
Abbotsford 1st Ward Members are Missionary Minded, by Elders Devin Ward (and Scott Marianno)
"We have an awesome Ward Mission leader, Brother Blair Poroski.. He is very proactive and enthusiastic. He does his best to think 'outside the box' in terms of ways to share the Gospel. Having helped call an active team of Ward Missionaries, he is constantly challenging the members to find people for us missionaries to teach. He is in contact with us on a regular basis to discuss the work in the area and what he can do to help. He has also set goals of things he wants to see happen with the support and help of the Bishop and Ward members. They have had 7 baptisms year to date and I'm grateful to be a part of their Ward success.
"We will be having a baptism this Saturday, and I'm really excited for that."
My First Days in the Mission are Amazing, by Sister Heather Nibley (companion of Sister Kimberley Wilcox)
"Well, I arrived safely in Prince George, where strangely enough my heart feels at home. The members are warm and inviting, and under the inspired guidance of Bishop Frank Penny they have a great desire to share the Gospel with their non-member friends.
"We taught my first official lesson to Nicole, who is curious about our religion. She has a beautiful spirit which helped us teach her about the Restoration. My nervousness subsided, and the Spirit was able to touch our hearts and minds in order to answer her questions. Nicole wants us to come back!
"I feel so blessed to be a representative of my Savior. This work amazes me every minute, and my love for His children is growing every day. Tracting is fun and I enjoy the challenge of finding new people to teach. I love Sister Wilcox, and we are learning so much from each other. Prince George is becoming my home through the Spirit of God we feel here."
We Must Dig Harder to Find Our Gold, by Elders Woong Hyun Choi (and Matt Strum)
"We are doing well in North Vancouver! We've been 'mining' harder and harder, and we have mined two big lumps of gold (2 baptismal dates last week). It reminded me of President Paul Christensen's talk, 'Missionary work is like mining.' We need to mine over and over with patience, persistence and diligence, and then we will find the 'gold'.
"If we sit down and stop digging (not working), we are not going to get anything! We are not going to receive any blessings without showing our desire through diligence in this work."
"One thing that I have learned about missionary work is this: as we work harder and harder, and spend more and more time digging, our percentage success will be the same, but we'll achieve more success and will find more total gold out of all the dirt and rocks. Switching to a farming analogy, we must sow bountifully if we hope to reap bountifully."
That members and full-time missionaries may become one is our constant prayer. We Love you!
President and Sister Middleton
(Check off weekly whether you have achieved each of the eight goals below.)
q Ask for a referral name in every conversation with a member or non-member alike… "Will you bring an acquaintance on a Spiritual Tour?"
q Challenge members to Set-A-Date for a Spiritual Tour or a Church event which can be coupled with a Spiritual Tour with their non-member friend at least 3 times yearly.
q Our goal is to find at least one new investigator daily.
q Our goal is to teach 15 or more full lessons weekly…
q …with at least 3 Spiritual Tours weekly.
q Extend at least one baptismal invitation and commitment each week.
q Remember our mission goal: 10 Gospel contacts per day per missionary outside our usual finding and teaching duties. That includes a Gospel message to everyone you see.
q As weekly goals are set for each Key Indicator, pray for inspiration, and set goals that are lofty yet achievable. Our ultimate long-term goal is for at least 3 baptisms per companionship per transfer.
"Let virtue garnish thy thoughts unceasingly; then shall thy confidence wax strong in the presence of God; and the doctrine of the priesthood shall distil upon thy soul as the dews from heaven." -- D&C 121:45
The Coveted "Off the Hook" Award:
(Week-ending September 23, 2007)
In Recognition of the following:
Baptisms Year to Date:
Abbotsford Zone (19 Baptisms)
Baptisms this week:
Victoria Zone (1)
Investigators with a Baptismal Date:
Vancouver Zone (6Baptismal Dates)
Investigators Attending Sacrament Meeting:
Prince George Zone (18 Investigators at Sacrament Meeting)
Lessons with a Member Present:
Prince George Zone (22 Lessons with a Member Present)
Other Lessons:
Vancouver Language Zone (244)
Progressing Investigators:
Kelowna Zone (20 Progressing Investigators)
New Investigators:
Vancouver Language Zone (14 New Investigators)
Full Lessons:
Surrey Language Zone (Average of 19.3 Full Lessons)
Full lessons to Non-Member:
Vancouver Language Zone (16.2NM Full)
COMPANIONSHIPS:
Elders Anderson & Klekas: 1 baptized, 1 confirmed, 2 at Sacrament, 27 others, 2 progressing, 18 full, 10 non-member full
Elders Ward & Taylor: 30 others, 1 new investigator, 26 full, 10 to non-member full
Elders Allen & McAllister: 1 date, 3 at Sacrament, 6 lessons w/ member, 3 progressing, 4 new investigators, 14 full
Elders Johnson & Miles: 6 at Sacrament, 5 lessons w/ member, 4 progressing, 18 full
Elders Morrill & Loong: 1 at Sacrament, 25 other, 2 progressing, 3 new investigators, 16 full, 9 non-member full
Elders Hea & Mun: 2 dates, 4 at Sacrament, 106 other, 4 progressing, 2 new investigators, 32 full, 28 non-member full
Elders Shibayama & Whittenburg: 2 dates, 2 at Sacrament, 44 other, 18 full, 14 non-member full
Elders Strum & Choi: 1 date, 2 at Sacrament, 45 other, 3 progressing, 20 full, 20 non-member full
Elders Marcum & Binks: 5 at Sacrament, 21 other, 2 new investigators, 17 full, 2 progressing
Elders Godfrey & Jensen: 4 w/ member, 43 other, 4 progressing, 7 new investigators, 18 full, 8 non-member full
Honorable Mention:
Elders Pack & Feinga: 4 baptismal dates / Elders Cornwell, Bowles, & Thompson: 8 at Sacrament / Sisters Wilcox & Nibley: 64 other lessons / Elders Glass & Stevenson: 7 at Sacrament!
Congratulations on your accomplishments this week!
to read past messages.
---