Vancouver Mission Star
This message was written by President and Sister Middleton. It also appears in the Vancouver Star, the weekly newsletter of the Vancouver Mission. It is sent to each companionship throughout the mission.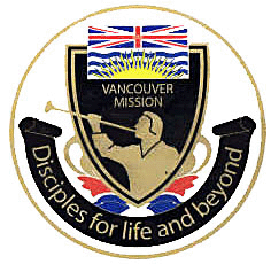 Canada
Vancouver
Mission
Newsletter
January
15, 2008
We Testify of a Dynamic Growing Church
Members across British Columbia are more and more inviting their non-member acquaintances to come with them to a Church event, to "come and see," as the Savior had said to His first disciples (John 1:39). Furthermore, members are embracing a personal Mission Plan in which they invite regularly and often, with many adopting a personal goal of inviting weekly.
Prompt Public Recognition is the Key to Continued Inviting
Through inspiration, member leaders have recognized that the positive personal feedback a member receives by being invited to raise their hand in class or quorum on Sunday if they invited someone during the prior week is needed to keep them inviting regularly. A few members have objected to recognizing inviting members publicly, fearing that any investigators present might object that "all we want to do is grow the Church."
We have carefully inquired around the province about this fear, and find that overwhelmingly investigators view this public acknowledgement of those who invited as evidence that we are a dynamic growing Church, which we are. The Church is finding world wide that investigators and recent converts are very excited about inviting their non-member friends, often more so than members who have been Church members for many years.
President Hinckley Notes the Dynamic Growth of the Church
In a talk given at the October 2007 General Conference, President Gordon B. Hinckley commented on the stunning growth of the Church ("The Stone Cut Out of the Mountain," Nov. 2007, 83-86). He noted that "when the Church was organized in 1830 there were but 6 members, only a handful of believers, all residing in a largely unknown village. Today, we have become the fourth or fifth largest church in North America, with congregations in every city of any consequence. Stakes of Zion today flourish in every state of the United States, in every province of Canada…" He goes on to observe there are now over 13 million of us in 176 nations and territories. He noted that we are seeing the fulfillment of Daniel's prophecy that "His gospel shall be as the stone cut out of the Mountain without hands which would roll forth and fill the whole earth." (Daniel 2: 31-45) President Hinckley noted that, "a great miracle is taking place right before our eyes."
As we acknowledge these truths by having ward or branch members who have invited someone during the week raise their hand for recognition each Sunday we are not turning off investigators who are present, but are proudly demonstrating that we are a vibrant, dynamic, growing Church in which every member is a missionary. Proudly, boldly, we acknowledge that fact, and it is proving to be a very attractive attribute of our Church for nearly all investigators.
Prayers Answered, Rains Stopped While Concrete Poured at Temple Site, by Elder and Sister Erickson
Editor's Note: the Vancouver Temple foundation concrete was scheduled to be poured on Friday, Jan. 11, 2008, but the weather forecast for that day was for rain. Rain would have been a major problem as it could have ruined the concrete or caused a considerable delay in the temple if we had to reschedule the concrete pouring. Upon learning of the weather forecast all of our full-time missionaries were asked to join in prayer that the weather would moderate to allow the construction to proceed; many members similarly joined in prayer. The miracle that transpired is described below by Elder and Sister Erickson:
"We thank the Lord for His mighty miracle. We appreciate the prayers of the missionaries united with the members that withheld the pending rain so that the 350 cubic meters of concrete for the foundation of the temple could be poured on schedule. It was raining when we left home on Friday morning; however, there was no rain at the temple site when we arrived there. It was raining two miles away but the rain was withheld at the temple site until later in the day when it sprinkled lightly. By then most of the concrete was completed. We feel grateful for this blessing and tender mercy of the Lord in answering the prayers of the faithful."
Many New Contacts At a Christmas Dinner, by Elders Dan Jenkins (and Ian Seitz)
"Christmas is always a fun time of the year, especially as a missionary in BC. For Christmas dinner alone, we had about 30 non-member contacts! For us missionaries it was an awesome experience; they were so fascinated as to why we dedicated 2 years to being missionaries. It was the best thing to bring the Church good will I have ever done on my mission. I pray that those we met will go on to learn more."
Abbotsford 3rd YSA Reaches Out to Less Actives Successfully, by Elders Jared Fullmer (and Trent Amann)
"We were part of a phone call blitz within the Abbotsford 3rd YSA Branch which was extremely successful. We joined together with the branch presidency and other branch leaders and went through the branch membership list. We then called almost all of the less and in-active members to invite them to various activities, to Church, or to meet with us. The response was incredible! To see the members of the branch show their love to their brothers and sisters through those calls was wonderful. We were not able to contact all of them; we are meeting again this week to call the rest of them. The next Sunday we had 5 or 6 less actives come who usually don't."
That we might see our full-time missionaries and members link arms together to be effective missionary teams throughout BC is our constant prayer. We love you!
President and Sister Middleton
(Check off weekly whether you have achieved each of the eight goals below.)
q Ask for a referral name in every conversation with a member or non-member alike… "Will you bring an acquaintance on a Spiritual Tour?"
q Challenge members to Set-A-Date for a Spiritual Tour or a Church event which can be coupled with a Spiritual Tour with their non-member friend at least 3 times yearly.
q Our goal is to find at least one new investigator daily.
q Our goal is to teach 15 or more full lessons weekly…
q …with at least 3 Spiritual Tours weekly.
q Extend at least one baptismal invitation and commitment each week.
q Remember our mission goal: 10 Gospel contacts per day per missionary outside our usual finding and teaching duties. That includes a Gospel message to everyone you see.
q As weekly goals are set for each Key Indicator, pray for inspiration, and set goals that are lofty yet achievable. Our ultimate long-term goal is for at least 3 baptisms per companionship per transfer.
"What we desperately need is for member-missionary work to become a way of life—for the Savior's mandate to share the gospel to become part of who we are." -- Elder Quentin L. Cook BYU Devotional 13 March 2007
The Coveted "Off the Hook" Award:
(Week-ending Jan 13, 2008)
In Recognition of the following:
Baptisms Year to Date
Kelowna (2 Baptisms)
Baptisms this Week:
Vernon and Kelowna (1 Baptism Each)
Investigators with a Baptismal Date:
Abbotsford (7 with Baptismal Dates)
Investigators Attending Sacrament Meeting:
Van. Language (22 Investigators at Sacrament Meeting)
Lessons with a Member Present:
Prince George and Kelowna Zone (16 Lessons with a Member Present)
Other Lessons Taught
Vancouver Language (155)
Contacts
Vancouver Zone (23.6 contacts per day)
Progressing Investigators:
Abbotsford Zone (20 Progressing Investigators)
New Investigators:
Prince George Zone (7 New Investigators each)
Full Lessons:
Vernon Zone (Average of 17.5 Full Lessons)
COMPANIONSHIPS:
Elders Whittenburg and McDowell: 2 at Sacrament, 1 member present, 25 other, 1 progressing, 2 new investigators, 200 contacts, 19 full, 10 to non-members
Elders Lassetter and Douglas: 2 with baptismal date, 4 at Sacrament, 5 member present, 5 progressing, 101 contacts, 18 full, 13 to non-members
Elders Earnest and Knapp: 2 with baptismal date, 2 at Sacrament, 4 member present, 31 other, 2 progressing, 130 contacts, 18 full, 8 to non-members
Elders Miles and Brunt: 2 member present, 2 progressing, 238 contacts, 15 full, 8 to non-members
Elders Martinez and White: 6 at Sacrament, 6 progressing, 175 contacts
Elders Scoffield and Fisher: 5 at Sacrament, 6 member present, 2 progressing, 4 new investigators
Sisters Nibley and Lee: 2 member present, 26 other, 103 contacts
Elders Bowles and Heinzen: 2 with baptismal date, 2 at Sacrament, 5 progressing, 201 contacts
Elders Godfrey and Hea: 1 with baptismal date, 2 member present, 44 other, 150 contacts, 19 full, 9 to non-members
Elders Carlisle and Parson: 3 member present, 4 progresing, 162 contacts, 16 full
Honorable Mention:
Elders Banks and Evans: 4 at Sacrament, 3 member present, 26 other, 111 contacts, 16 full
Sisters D'Amours and Anderson: 8 at Sacrament, 6 member present, 9 progressing, 14 full, 13 to non-members
Elders Binks and Shumway: 4 at Sacrament, 3 member present, 2 progressing, 15 full, 8 to non-members
Elders Cornwell and Green: 1 with baptismal date, 2 at Sacrament, 2 member present, 4 new, 183 contacts
Elders Pace and Marianno: 4 member present, 2 progressing, 1 new, 17 full lessons
Elders Marcum and Homer: 2 member present, 3 progressing, 167 contacts, 26 full, 14 to non-members
Elders Roberts and Smith: 1 Baptismal date, 5 at Sacrament, 2 member present, 49 other, 4 progressing, 171 contacts
Elders Brown and Mather: 1 baptism this week, 3 at Sacrament, 4 member present, 2 progressing, 5 referrals, 1 new investigator, 17 full, 8 to non-members
Elders Heaton and Weeks: 1 baptismal date, 5 at Sacrament, 4 member present, 4 progressing, 3 new, 15 full
Elders Wells and Terry: 1 baptismal date, 2 at Sacrament, 3 member present, 96 contacts, 20 full
Elders Ruesch and McAllister: 1 baptismal date, 2 at Sacrament, 1 member present, 32 other, 115 contacts, 19 full
Elders Loong and J. Johnson: 1 at Sacrament, 2 member present, 2 progressing, 3 new, 18 full
Elders Seitz and Elder Mousseau: 60 contacts
Congratulations on your accomplishments this week!
to read past messages.
---