Vancouver Mission Star
This message was written by President and Sister Middleton. It also appears in the Vancouver Star, the weekly newsletter of the Vancouver Mission. It is sent to each companionship throughout the mission.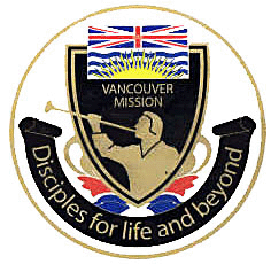 Canada
Vancouver
Mission
Newsletter
January
2, 2008
REPORTS FROM OUR MISSIONARIES
As a new year dawns, we want to wish all of our wonderful full-time missionaries and members a very Happy New Year! We pray that 2008 will bring you all of your righteous desires, and that the Lord will bless us all.
Make New Years Resolutions
As we look forward to 2008, we urge that you set lofty but achievable personal and companionship goals. May we suggest that the 9 goals at the bottom of this and every Vancouver Star be included in your New Year's resolutions. Especially the last goal listed, that of aiming toward 3 baptisms per transfer, should be achievable increasingly more often with faith and the Lord's help, as our new temple is being built. Our resolutions, coupled with determined diligent effort, will allow the Lord to build His Church with the increasing number of convert baptisms He wishes and wants us to achieve.
We share wonderful reports from our missionaries:
Non-Members Come to Powell River Christmas Dinner, by Elder Nicholas and Sister Janet Welch
"We are pleased with the success of two Christmas activities in the Powell River Branch. We assisted in handing out invitations for both activities. The Branch has been having a crèche exhibit for fourteen years. This year's display was held on December 7 and 8 in our meetinghouse. The display included more than 220 nativity displays, including a live presentation. There were five 'friends of other faiths' who participated in the live nativity. There were more 'friends of other faiths' who came to see the exhibit than the members who came! Among them was a Grade 6 Class from Assumption Catholic School.
"The Branch Christmas Party and Dinner was held on Friday, December 14. Of the 75 people who attended, 23 were 'friends of other faiths' and 6 were less-active members. The members of Powell River Branch are starting to enjoy the excitement of being involved in missionary work.
"The missionary committee will be speaking in Sacrament Meeting on December 30, and we have a member missionary fireside scheduled for January 13, 2008."
Covering Multiple Wards/Branches in Abbotsford Helps the Spanish Work, By Elders James DeHerrera ( and Laric Tolleson)
"We have such great investigators and the work here is going so well! The reality of having a Spanish Branch is getting closer and closer. We now have a weekly Sunday School in Spanish, and for Sacrament Meeting we have translation. We're using the translating devices of a member in the Mission Ward until we can have our own, and we will be calling President Christensen soon so that we can discuss the idea of a Spanish Branch. All the Spanish members are so excited to get the ball rolling in the Spanish work. It took a couple of transfers but within the past few weeks it has really been speeding up. One reason I think it has been slow until now is because we were focusing on meeting just in one ward, the Abbotsford first Ward, which excluded the others. Once we started spreading ourselves out between all of the wards, by going to their PEC's and Church meetings, we saw a big change in the pace of the work. Going to all their PEC's and talking with all the leaders from each ward helped immensely.
"It is going really well. Our investigator pool is large and we have a potential investigator list which, when combined with our investigators, gives us enough people to have a Spanish Ward! Unfortunately we just started seeing progressing investigators, so I guess it's taken time for this list to show progression, but now that we have a time for a Spanish speaking Sunday School we'll be seeing great growth."
Achieving 350 Plus Contacts Each Week Helps All Phases of the Work, by Elders Solomon Jensen (and Kelby Godfrey)
"The missionary work here in the Kelowna 2nd Ward is really starting to pick up. Ever since we have been focusing our efforts on talking to and contacting everybody we have been able to have much success in our Missionary work. When Elder Godfrey and I first decided that we were going to meet the goal of at least 350 contacts a week we made it our first priority. When we decided to split up on both sides of the street, we found that this makes 50 contacts a day easily achievable. Through this method we have easily been able to get close to or surpass 350 contacts a week!
"Also, we have seen great blessings in other areas of our work. Our teaching pool has doubled! Also our Full Lessons, Other Lessons, etc. have skyrocketed. Through meeting what the Lord has asked us to do we have seen many wonderful things happen. I hope each of us will try to work hard and put our best efforts in to show the Lord we are here to work and share the gospel with everyone."
The Primary Children in Willoughby Ward Give Missionary Pledge, by Elders Dan Jenkins (and Ian Seitz)
"I love Langley and I hope to die here (as a missionary). We went to the Primary today at Church. They gave us a gift – the gift was that every Primary student wrote us a card that they would be reverent in Sacrament Meeting (so our investigators could feel the Spirit), and that they would invite their friends to Primary activities. What a wonderful present! We will be 'tapping' the Primary from here on out."
That our New Year's resolutions might be bold, and that we might achieve them with the Lord's help, is our constant prayer.
We love you!
President and Sister Middleton
(Check off weekly whether you have achieved each of the eight goals below.)
q Ask for a referral name in every conversation with a member or non-member alike… "Will you bring an acquaintance on a Spiritual Tour?"
q Challenge members to Set-A-Date for a Spiritual Tour or a Church event which can be coupled with a Spiritual Tour with their non-member friend at least 3 times yearly.
q Our goal is to find at least one new investigator daily.
q Our goal is to teach 15 or more full lessons weekly…
q …with at least 3 Spiritual Tours weekly.
q Extend at least one baptismal invitation and commitment each week.
q Remember our mission goal: 10 Gospel contacts per day per missionary outside our usual finding and teaching duties. That includes a Gospel message to everyone you see.
q As weekly goals are set for each Key Indicator, pray for inspiration, and set goals that are lofty yet achievable. Our ultimate long-term goal is for at least 3 baptisms per companionship per transfer.
"Eye hath not seen, nor ear heard, neither have entered into the heart of man, the things which God hath prepared for them that love him." --1 Corinthians 2:9
The Coveted "Off the Hook" Award:
(Week-ending Dec 30, 2007)
In Recognition of the following:
Baptisms Year to Date:
Surrey Zone (24 Baptisms)
Baptisms this Week:
Vernon and Surrey Language Zones (1 baptism each)
Investigators with a Baptismal Date:
Abbotsford (8 Baptismal Dates)
Investigators Attending Sacrament Meeting:
Abbotsford Zone (19 Investigators at Sacrament Meeting)
Lessons with a Member Present:
Surrey Zone (22 Lessons with a Member Present)
Other Lessons Taught
Vancouver Language (216)
Contacts
Vancouver Zone (24.05 contacts per day)
Progressing Investigators:
Abbotsford Zone (21 Progressing Investigators)
New Investigators:
Prince George Zone (13 New Investigators)
Full Lessons:
Victoria Zone (Average of 17.4 Full Lessons)
Full Lessons to Non-Members:
Surrey Lang. Zone (10.3 Full Lessons to NM)
COMPANIONSHIPS:
Elders Ward and Magnusson: 1 member present, 20 other lessons, 165 contacts, 18 full lessons
Elders J. Johnson and Michaelis: 8 with member present, 39 other, 21 full
Elders Morrill and Pack: 2 member present, 16 other lessons, 2 progressing, 15 full lessons, 9 to non-members
Sisters Nibley and Lee: 1 with baptism date, 1 at Sacrament, 6 member present, 39 other, 134 contacts, 15 full, 9 to non-members
Elders Bowles and Heinzen: 1 with baptism date, 1 at Sacrament, 7 member present, 21 other, 110 contacts, 16 full, 16 to non-members
Elders Marcum and Peck: 2 at Sacrament, 3 member present, 23 other, 5 progressing, 3 new, 243 contacts, 26 full, 13 to non-members
Elders Nebeker and Gonzalez: 2 at Sacrament, 24 other, 2 progressing, 2 new, 185 contacts
Elders Lassetter and Douglas: 2 with baptism, 5 at Sacrament, 4 member present, 33 other, 4 progressing, 98 contacts, 20 full, 13 to non-members
Elders Godfrey and Knapp: 1 with baptism date, 7 at Sacrament, 2 member present, 81 other, 5 progressing, 377 contacts
Elders Shibayama and Stevenson: 1 with baptism date, 7 at Sacrament, 8 member present, 33 other, 7 progressing, 168 contacts, 17 full, 13 to non-members
Honorable Mention:
Elders Carlisle and Parson: 2 at Sacrament, 5 member present, 4 progressing, 156 contacts 17 full
Sisters Overlock and Anderson: 3 at Sacrament, 5 progressing, 3 new referrals,17 full, 10 to non-members
Elders Scoffield and Fisher: 2 at Sacrament, 5 member present 9 new investigators
Elders Terry and Shumway: 6 at Sacrament, 8 member present, 5 other, 2 progressing, 110 contacts, 18 full, 9 to non-members
Elders Miles and Brunt: 2 member present, 2 progressing, 315 contacts
Elders Thompson and White: 5 at Sacrament, 29 other, 5 progressing, 165 contacts
Elders Purser, Klekas and Whittenburg: 4 at sacrament, 3 member present, 27 other, 4 progressing, 362 contacts, 19 full lessons
Congratulations on your accomplishments this week!
to read past messages.
---