Vancouver Mission Star
This message was written by President and Sister Middleton. It also appears in the Vancouver Star, the weekly newsletter of the Vancouver Mission. It is sent to each companionship throughout the mission.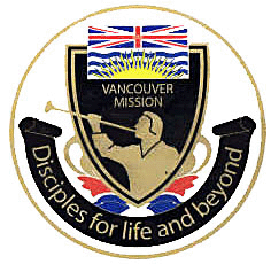 Canada
Vancouver
Mission
Newsletter
January
22, 2008
Faith Coupled with Works for Missionary Success
We are truly blessed to be missionaries in British Columbia in this day and age. We give thanks every day that we have been provided with inspired guidance from President Gordon B. Hinckley and the Brethren in how to become effective missionaries. Preach My Gospel has provided wonderful insights into how to be successful; the inspired and innovative ideas of our provincial member leaders have given us the methods by which PMG principles can best be deployed in each ward and branch in BC to optimally grow the Church. The idea of organizing each ward and branch for success by having a member of the presidency of each auxiliary and priesthood quorum be given the missionary oversight responsibility of all members within his or her group or quorum is brilliant and effective. Linking that with the inspired idea of giving weekly public recognition to each member who has invited a non-member acquaintance to "come and see," so they will continue to invite, and teaching each member how simple it is to become an excellent member missionary through inviting regularly (ideally weekly), has equipped us with the components to become successful as never before.
We Must Now Add Faith
We feel strongly that the Lord has given us the powerful infrastructure outlined above which is rapidly being deployed in every ward and branch in BC. However, without our faith it won't succeed. We all, each of us, must go to our knees in humble supplication to the Lord, asking that He will allow us to succeed as He would have us do. President Hinckley noted, "In the on-working of this great cause, increased faith is what we most need. Without it, the work would stagnate. With it, no one can stop its progress" ("The Faith to Move Mountains," Ensign, Nov. 2006, 85.)
PMG similarly tells us to "Pray for guidance and strength." (PMG, 121) We are then instructed on how to best implement the Lord's missionary plans when PMG notes, "The Lord expects you to work diligently—persistently and with great effort and care. A diligent missionary works effectively and efficiently."(PMG, 121) Once again the Lord reminds us that "faith, if it hath not works, is dead." (James 2:17) Note that both faith and works is necessary. Neither one stands alone. The order of things is to pray mightily, then work diligently. If we diligently apply both, success beyond anything yet seen in BC will be ours.
Members Find by Inviting Weekly, Full-Time Missionaries Teach, by Elders Ian Seitz (and Daniel Jenkins)
"Zone Conference inspired us to start a recognition activity in the Willoughby Ward. We found that many members have been doing a lot of missionary work, but we had no idea about it until just recently. The Young Men and Young Women have been discussing missionary moments for years, but we missionaries were never part of the recognition until now. To focus on rewarding and inspiring members who do invite, we modified an idea from another BC ward and built a flat paper model of the temple. The temple must be put together brick by brick, adding a 'brick' every time a member invites an acquaintance. Even if their friend doesn't come, the member will still be recognized for their effort. The member's name is written on a brick every time they invite, and the brick is placed on the temple model. So far the ward has responded very well to the idea.
"We also have asked to have 5 minutes before each class or quorum begins to share our love and encouragement for the members. Members do missionary work better with full-time missionaries leading the way and assisting in every way possible. Members of the Church all over the world have been asked to be missionaries by our prophet. That represents revelation given to him and I know it is true. We as Elders and Sisters in the Canada Vancouver Mission are the teachers, while the members are the best at finding those for us to teach."
A Powerful Testimony of the Importance of Tracting, by Elders Adam Hassell (and Hyrum Curiel)
"We have been trying to achieve at least 100 contacts each week here in Campbell River. We were moved to visit with an investigator that Elder Scott Allen and I had tracted into several weeks earlier, on a night when we had a bit of spare time before an appointment. We decided that we would knock on a few doors. Elder Allen had picked a neighborhood on the map and we drove there. At the first house we visited there was a man outside who was not in a good mood. He told us that he probably wasn't interested because he was angry with God. He had just lost his job and was going through a hard time. We asked if there was anything we could do, and he told us to call and arrange a time to come over. We finished tracting down the street and ran into the same man again, who was out for a walk. He told us that he had studied about Joseph Smith and the pioneers previously and really liked them. He also told us that he thought if anyone worshipped correctly and had the right belief in Christ it would be the Mormons. He informed us again about how he had lost his job and was angry with God because he had been quite charitable with his money. He told us that up until the point that we came to his house he was planning to commit suicide, and he thanked us for causing him to think about life.
He is now one of our progressing investigators in Campbell River! He tells us that he now knows that Joseph Smith was a true prophet of God, and his testimony of the Book of Mormon is growing as he reads it and ponders it. He plans to attend Church as well.
"Having this experience has confirmed my testimony that there are prepared people through life's circumstances who need the gospel of Jesus Christ in their lives. Although tracting may not be as effective as teaching member referrals, it is necessary in proclaiming the gospel. After this experience, I have come to realize how important tracting can be, and I don't want to be held responsible for missing the opportunity of saving someone's life and bringing salvation to their soul. I love the gospel of Jesus Christ and the blessings it brings to people's lives."
We pray that each of us might strive for that faith through our fervent prayers that will bring the Church growth to British Columbia which the Lord would have. We love you!
President and Sister Middleton
(Check off weekly whether you have achieved each of the eight goals below.)
q Ask for a referral name in every conversation with a member or non-member alike… "Will you bring an acquaintance on a Spiritual Tour?"
q Challenge members to Set-A-Date for a Spiritual Tour or a Church event which can be coupled with a Spiritual Tour with their non-member friend at least 3 times yearly.
q Our goal is to find at least one new investigator daily.
q Our goal is to teach 15 or more full lessons weekly…
q …with at least 3 Spiritual Tours weekly.
q Extend at least one baptismal invitation and commitment each week.
q Remember our mission goal: 10 Gospel contacts per day per missionary outside our usual finding and teaching duties. That includes a Gospel message to everyone you see.
q As weekly goals are set for each Key Indicator, pray for inspiration, and set goals that are lofty yet achievable. Our ultimate long-term goal is for at least 3 baptisms per companionship per transfer.
"I will go and do the things which the Lord hath commanded , for I know the Lord giveth no commandments unto the children of men, save he shall prepare a way for them that they may accomplish the thing which he commandeth them." -- 1 Nephi 3:7
Congratulations on your accomplishments this week!
to read past messages.
---