Vancouver Mission Star
This message was written by President and Sister Middleton. It also appears in the Vancouver Star, the weekly newsletter of the Vancouver Mission. It is sent to each companionship throughout the mission.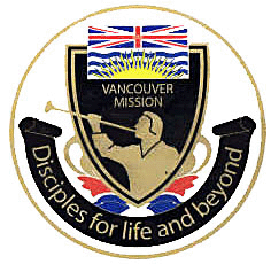 Canada
Vancouver
Mission
Newsletter
January
8, 2008
Take My Yoke Upon You
As 2008 is underway we wish to remind you of the love the Savior offers each of us. As full-time missionaries we are asked to accomplish much to demonstrate to the Lord that we are "anxiously engaged" (D&C 58: 27) Our goals are listed at the end of each Star , as you see below, and are purposely lofty yet achievable through hard, focused work every day. Similarly, member missionary goals require that every faithful member take an active role in missionary work, with most newly revised Ward or Branch Mission Plans calling on each member to invite a non-member acquaintance to "come and see" (John 1: 39) regularly (a weekly invitation goal seems to work best, though some members try to invite more often). The Lord expects much of us, though the blessings promised are extraordinary and eternal when we comply.
The joy and happiness we feel as we accomplish what the Lord would have us do brings peace of mind and contentment to most members and full-time missionaries, but a few are reacting to their being anxiously engaged by becoming anxious. For some, the rejection initially of our invitation to come and see by most whom we invite weighs heavily on their soul, even though they know that throughout time it is in the nature of being a missionary that we "ask several to find the one."
Seek the Lord's Love
We share with you magnificent counsel and advice which appeared in an Ensign (Nov. 2006, pg. 112) article Written by Sister Kathleen H. Hughes, then First Counselor in the Relief Society General Presidency. Entitled "Remembering the Lord's Love," excerpts follow:
"The Savior's invitation is clear and direct, and importantly for us, it is constant: 'Come unto me, all ye that labour and are heavy laden…. Take my yoke upon you, … for….my burden is light' (Matthew 11:28-30). This is the Lord's promise to me and to you.
"My prayer for each of us is that we will remember when the Lord has spoken His peace to us and has encircled us in the arms of His love. And just as important, will you, if you haven't felt that love for a while, seek to see it and feel it as you go about the ordinary tasks of your life. As you do this, over the days and months and years of your life, the memories of those interactions with the Lord will become sweet gifts to open a second time—or many times—to bolster you when life is difficult.
" 'Peace I give unto you,' the Lord promises, 'not as the world giveth, give I unto you' (John 14:27). Peace. Strength. It is what we long for and what is possible. . We only need to turn toward His reaching arms."
Pass Along Cards Left With Businesses In Westbank For Customers To Pick Up, by Elders Brandon Ruesch (and Justin McAllister)
"Westbank does not really have a downtown, so we have had to get creative. Elder McAllister and I have been going to different businesses and explaining that we are handing out cards for the Christmas season and asking if we could leave some on their counters or displays. I would estimate that 80% of the businesses we have asked have agreed, and we placed a stack of pass along cards on their desks for people to take. The most common ones taken are 'Joy to the World' cards.
"We were amazed at the positive reception, and found that our asking to place pass along cards often leads to a Gospel conversation. I know this has been tried before, but I would encourage the missionaries to go out now during this Christmas season and beyond to offer them to businesses. Take advantage of spreading the Gospel to everyone by getting businesses involved!"
Editor's Note: congratulations to Elders Ruesch and McAllister for implementing this idea. They have found a wonderful way to use one of the great ideas mentioned in PMG Chapter 9, "Finding People." We suspect that it may work in many areas of the province at other times of the year as well. Give it a try and then report back.
Hearts Are Softened During Christmas, by Elders Andrew Johnson (and Spencer Hall)
"Everything is just amazing here in the Brookswood Ward. Our bishop, Eden Engen, has caught the vision of missionary work! He had us speak on missionary work and Christmas in the ward. In my talk I made a list of things to which the members could invite their acquaintances, and told them that the key was to invite them weekly!!!
"We love tracting during this time of the year when hearts are softened and their joy is in the Savior and in the true meaning of Christmas! We have found that Christmas time is great to meet with less actives as well.".
We pray that each of you will come to know that the Lord's peace is ours for the asking, and that He knows each of us and encircles us in the arms of His love if we reach out to Him.
We love each of you.
President and Sister Middleton
(Check off weekly whether you have achieved each of the eight goals below.)
q Ask for a referral name in every conversation with a member or non-member alike… "Will you bring an acquaintance on a Spiritual Tour?"
q Challenge members to Set-A-Date for a Spiritual Tour or a Church event which can be coupled with a Spiritual Tour with their non-member friend at least 3 times yearly.
q Our goal is to find at least one new investigator daily.
q Our goal is to teach 15 or more full lessons weekly…
q …with at least 3 Spiritual Tours weekly.
q Extend at least one baptismal invitation and commitment each week.
q Remember our mission goal: 10 Gospel contacts per day per missionary outside our usual finding and teaching duties. That includes a Gospel message to everyone you see.
q As weekly goals are set for each Key Indicator, pray for inspiration, and set goals that are lofty yet achievable. Our ultimate long-term goal is for at least 3 baptisms per companionship per transfer.
WELCOME NEW MISSIONARIES
Elders: Quincy Jung Kwon Cheng – Ambarvale; NSW, Shawn Karl Homer – Riverton, Ut; Cameron Michael Kirby – Pleasant Grove; Ut, Reid Wilson Mc Dowell – Gridley, Ca, Hunter Scott Reynolds – Mesa, Az, Brent Jay Wilson – Hooper, Ut
Couple: Paul Dean Montgomery, Shana Foster Montgomery – Salt Lake City, Ut
Farewell to the Following
Elder Taryn Collins
3 Nephi 12:16 - "Let your light so shine before this people, that they may see your good works and glorify your Father who is in Heaven." Never forget who you are as a child of God. Never doubt your or anyone else's potential to become like God. Let people see who they can be in you! Work Hard! I love you all!!
Elder Nathan Purser
Thank you to all of you who have helped make this the most memorable experience of my life. I love you all, remember, "Do your best this hour, and you'll do better the next." David O. McKay
Elder Devin Ward (Wardzy)
It has been said that the gate of history turns on small hinges, and so do people's lives. The choices we make determine our destiny. I'm grateful to have served a mission, and met such amazing people. "I cannot say the smallest part which I feel." (Alma 26:16) And if you're reading this, I'm already home.
Elder Richard Ashton
I'm grateful for the opportunity the Lord has given me to be His ambassador. He lives, and this is His work. His Gospel is true, I've seen it change others while experiencing it change myself. God Bless!
Elder Huo
I have fought a good fight, I have finished my course, I have kept the faith: Work hard and be 100% obedient.
NEW CONVERTS
Abbotsford: Robert Newton Selby, Hugh Murray Chesley,
Prince George: Rylan Dakota Weselowski, Samantha Marie Weselowski, Trintiy Lee Weselowski
Vancouver Language: Tommy Li
Vancouver: Megan MacLeod
Victoria: Lindsay Marie Nelson
Kelowna: Noe Garcia
Vernon: Dustin Crookshank
Still waiting on records for: Patricia White, Mike McDonald, Shelby Doulette, Ella Vannen, plus one in Vancouver on April 30th.
FROM THE ASSISTANTS – ELDERS MARIANNO & FEINGA
This past transfer was a great one. Way to work hard and finish the year strong. With another year in the service of our Savior in sight, we hope that you will prayerfully consider what you want to accomplish. We know that miracles can happen according to our faith and obedience. We want to double our efforts this year so that we can witness a doubling in baptisms as President Hinckley has asked for. Keep the fire burning for the new year. May you seek for the Lord's guidance and witness miracles this year. "God Speed!"
The Coveted "Off the Hook" Award:
(Week-ending Jan 6, 2008)
In Recognition of the following:
Baptisms this Week:
Prince George (2 Baptisms)
Surrey, Vancouver, Kelowna (1 Baptism each)
Investigators with a Baptismal Date:
Abbotsford (8 with Baptismal Dates)
Investigators Attending Sacrament Meeting:
Van. Language (18 Investigators at Sacrament Meeting)
Lessons with a Member Present:
Victoria Zone (45 Lessons with a Member Present)
Other Lessons Taught
Vancouver Language (218)
Contacts
Vancouver Lang. Zone (32.1 contacts per day)
Progressing Investigators:
Abbotsford Zone (19 Progressing Investigators)
New Investigators:
Victoria and Surrey Zone (9 New Investigators each)
Full Lessons:
Victoria Zone (Average of 23.2 Full Lessons)
COMPANIONSHIPS:
Elders Carlisle and Parson: 2 with baptism date, 2 at sacrament, 3 with member present, 14 other, 3 progressing, 126 contacts, 17 full
Elders Brown and Hea: 3 with baptism dates, 4 attending sacrament, 6 member present, 62 other, 3 progressing, 2 new, 24 full, 13 to non members
Sisters Nibley and Lee: 1 baptized, 2 at Sacrament, 3 member present, 34 other, 133 contacts, 14 full
Elders Mun and Kim: 57 other, 1 new investigator, 181 contacts, 16 full, 12 to non-members
Elders Fillmore and Seebeck: 1 baptisimal date, 2 at Sacrament, 4 member present, 30 other, 18 full
Elders Fullmer and Saito: 2 baptisimal date, 1 at Sacrament, 6 progressing, 508 contacts
Elders Thompson and Smith: 2 at Sacrament, 57 other, 2 progressing, 1 new, 357 contacts, 14 full, 12 to non- members
Elders Lassetter and Douglas: 2 with baptism, 4 at Sacrament, 3 member present, 29 other, 5 progressing, 92 contacts, 19 full, 14 to non-members
Elders Godfrey and Knapp: 1 with baptism date, 6 at Sacrament, 6 member present, 58 other, 4 progressing, 357 contacts, 25 full,
Elders Purser, Klekas and Whittenburg: 3 at Sacrament, 27 member present, 90 other, 3 progressing, 532 contacts, 52 full, 43 to non-members
Honorable Mention:
Elders Shibayama and Stevenson: 2 baptism date, 5 at Sacrament, 12 member present, 41 other, 5 progressing, 350 contacts, 18 full, 9 to non-members
Sisters Dalling and van den Bosch: 1 baptism date, 2 at Sacrament, 4 progressing, 5 new referrals, 130 contacts
Elders Hatton and Wells: 1 baptism date, 6 at Sacrament, 3 member present, 1 progressing, 17 full,
Elders Nebeker and Gonzalez: 1 at Sacrament, 2 member present, 39 other, 1 progressing, 268 contacts, 16 full, 14 to non-members
Elders Marcum and Peck: 3 at Sacrament, 24 member present, 219 contacts, 26 full, 12 to non-members
Elders Morrill and Pack: 1 baptism, 1 at Sacrament, 4 member present, 4 progressing, 15 full, 9 to non-members
Elders Bowles and Heinzen: 2 with baptisimal date, 5 at sacrament, 3 member present, 5 progressing, 149 contacts
Elders Terry and Shumway: 5 at Sacrament, 4 member present 5 other, 2 progressing 21 full
Sisters Overlock and Anderson: 4 at Sacrament, 15 other, 9 progressing, 13 full, 10 to non-members
Elders Johnson and Hall: 3 at Sacrament, 15 other, 115 contacts
Congratulations on your accomplishments this week!
to read past messages.
---