Vancouver Mission Star
This message was written by President and Sister Middleton. It also appears in the Vancouver Star, the weekly newsletter of the Vancouver Mission. It is sent to each companionship throughout the mission.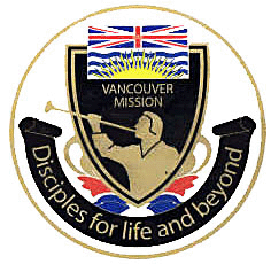 Canada
Vancouver
Mission
Newsletter
October 2, 2007
Advantages of A Duel Calling as A Ward or Branch Missionary for Priesthood and Auxiliary Counselors
Preach MY Gospel suggests that the weekly ward or branch Missionary Coordination Meeting should include "an assistant from the hight priests group leadership, a counselor from the elder's quorum presidency, and a counselor from the Relief Society presidency." President Bernie Soll, President of the Surrey Stake, has a high priest group leader assistant and an elder's quorum presidency counselor in each ward and branch assigned specifically to oversee and accomplish missionary work in their respective priesthood organizations.
Surrey Third Ward calls Priesthood and Auxiliary Presidency Counselors as Ward Missionaries
Brother J.P. Tremblay, the inspired and bold Surrey Third Ward Mission Leader, along with Bishop Olson, has better refined the PMG mandate to involve ward leaders in missionary oversight and work by calling a counselor in each priesthood and auxiliary organization to also be a ward Missionary. A list of dual callings in the Surrey Third Ward, both callings to one member, follows:
Ward Missionary and 2nd Assistant to the HP Leader
Ward Missionary and 2nd Counselor of the EQ Presidency
Ward Missionary and 2nd Counselor of the RS Presidency
Ward Missionary and Single Adult Rep., male
Ward Missionary and Single Adult Rep., female
Ward Missionary and Ward Activity Committee
Ward Missionary and Assistant Ward Clerk (Membership)
Also serving as Ward Missionaries are a recent convert plus 4 other Ward Missionaries who hold no other leadership calling, and J.P. Tremblay also has an Assistant Ward Missionary, Scott Cresine, who also teaches the Gospel Principles Class. All of the Ward Missionaries meet weekly with our two full-time missionaries to establish plans for involving every member of their respective quorum or organization in becoming functional and effective member missionaries, to commit everyone to invite their non-member friends, and most importantly to hold each member accountable for their commitment to invite. The Surrey Third Ward initiative calls for members to organize members, and most importantly for members to hold other members accountable for their commitments.
Surrey Baptisms Up Significantly in 2007
Of note is the fact that the Surrey Stake emphasis on organizing member leaders and all members to truly become the member missionaries called for by Preach My Gospel has resulted in convert baptisms in Surrey Stake increasing by 112% so far in 2007. As more and more Surrey Stake members embrace this PMG concept, we anticipate an even more rapid climb in convert baptisms in Surrey. Congratulations to President Soll for his bold and steady leadership and to all other Surrey Stake Leaders who follow his lead.
Editor's Note: We can think of no reason why a similar stake, ward and branch organizational initiative won't work in any stake, district, ward or branch in BC. As full-time missionaries, we must all stand ready and willing to help similar ward and branch Mission Plans become embraced by all members, and with the Lord's help we will succeed.
The Parable of the Sower, by Elder Scott Marianno (and Stephen Beins)
"I've been studying the parable taught by our Savior in Matthew Chapter Thirteen about a man who went to sow seeds in a field. As he did so, many seeds 'fell by the wayside,' some in 'stony places,' and others 'among tares.' Those that were sown in good ground 'brought forth fruit.' The Lord uses this parable to demonstrate that the condition of the heart of the listener will impact whether or not they accept the gospel. I have reflected often on the baptisms that I have seen on my mission so far, and have drawn the conclusion that every person that was baptized came from a member referral. Though tracting and street contacting have their merits, the members of the Church already know many who are the elect of the Lord. They often attract people with similar family values and standards that are conducive to the standards the Lord has set in His Church. Many of their friends' hearts are already prepared or are being prepared for the Restored Gospel to be planted in their hearts.
"About two months ago, a sister named Ena was baptized in the Abbotsford 1st Ward. She was a member referral who was truly ready for the Restored Gospel. We taught her the First Lesson and immediately after the First Vision we committed her to baptism and she accepted. Through the example of her member husband she was prepared to accept the invitation to be baptized. She is now sharing the Gospel with everyone she sees and even took a special trip down to Boston to visit her family and take them to Church. They are now meeting with the missionaries. As the members search to find the elect with us, they will find those among their associates whose hearts are prepared for the messages of the restoration and the work truly will bring forth much fruit."
Other Missions Also Having Success with Spiritual Chapel Tours, by Elder Stephen Beins (and Scott Marianno)
"Recently I received a letter from one of my good friends, Elder Hooper, who is serving in the Texas Houston South Mission. Their Mission has just adopted the Spiritual Chapel Tour Program similar to ours and they have been amazed by the power of the Tours. Elder Hooper says, 'my companion and I absolutely love to give Tours to the members and non-members. The Tours have been very successful, especially with the non-members.'
"We just want to remind you that the Tour is a very powerful tool. Take someone in the Ward on a Tour, and then commit them to stand up in Priesthood or Relief Society and bear testimony of how spiritual an experience it was! Afterwards, have that member see by a raise of hands how many members would also like to have the same spiritual experience. This should help the Tours in each of our areas."
Editor's Note: Spiritual tours work wonderfully. They remain the best single method to present the Church for the first time to an investigator. To maintain teaching skills, we urge every companionship to give at least 3 tours each week.
President and Sister Middleton
(Check off weekly whether you have achieved each of the eight goals below.)
q Ask for a referral name in every conversation with a member or non-member alike… "Will you bring an acquaintance on a Spiritual Tour?"
q Challenge members to Set-A-Date for a Spiritual Tour or a Church event which can be coupled with a Spiritual Tour with their non-member friend at least 3 times yearly.
q Our goal is to find at least one new investigator daily.
q Our goal is to teach 15 or more full lessons weekly…
q …with at least 3 Spiritual Tours weekly.
q Extend at least one baptismal invitation and commitment each week.
q Remember our mission goal: 10 Gospel contacts per day per missionary outside our usual finding and teaching duties. That includes a Gospel message to everyone you see.
q As weekly goals are set for each Key Indicator, pray for inspiration, and set goals that are lofty yet achievable. Our ultimate long-term goal is for at least 3 baptisms per companionship per transfer.
For there are many yet on the earth --- who are only kept from the truth because they know not where to find it." -- D & C 123:12
The Coveted "Off the Hook" Award:
(Week-ending September 30, 2007)
In Recognition of the following:
Baptisms Year to Date:
Abbotsford Zone (19 Baptisms)
Baptisms this week:
Vancouver Language Zone (1)
Investigators with a Baptismal Date:
Vancouver Zone (5 Baptismal Dates)
Investigators Attending Sacrament Meeting:
Abbotsford Zone (28 Investigators at Sacrament Meeting)
Lessons with a Member Present:
Abbotsford Zone (26 Lessons with a Member Present)
Other Lessons:
Prince George Zone (277)
Progressing Investigators:
Surrey Language Zone (19Progressing Investigators)
New Investigators:
Abbotsford/Vancouver Language Zone (21New Investigators)
Full Lessons:
Surrey Language Zone (Average of 22Full Lessons)
Full lessons to Non-Member:
Vancouver Language Zone (15.6NM Full)
COMPANIONSHIPS:
Elders Wilhite & Huo: 14 at Sacrament, 25 others, 12 new investigators, 18 full
Elders Pugsley & Carlisle: 3 at Sacrament, 28 others, 2 progressing, 2 new investigators, 22 full, 10 non- member full
Elders Hassell & Ramirez: 3 at Sacrament, 30 others, 5 progressing, 20 full
Elders Hea & Mun: 2 with a date, 6 at Sacrament, 63 others, 6 progressing, 4 new investigators, 37 full, 31 nm full
Elders Pack & Feinga: 3 with a date, 2 at Sacrament, 35 other, 3 progressing, 3 new investigators, 2 tours, 20 full, 10 nm full
Elders Liu & Zmoos: 1 baptized & confirmed, 6 at Sacrament, 56 other, 5 new investigators, 18 full, 19 nm full
Elders Fisher & Lassetter: 3 at Sacrament, 20 other, 5 progressing, 2 new investigators, 21 full
Elders Godfrey & Jensen: 1 at Sacrament, 20 other, 5 progressing, 2 new investigators, 18 full
Elders Glass & Stevenson: 1 with a date, 5 at Sacrament, 19 other, 2 progressing, 18 full, 12 nm full
Honorable Mention:
Elders Shibayama & Whittenburg: 2 baptismal dates, 74 other, 15 full 12 nm full/ Sisters D'Amours & Chevalier: 1 with a date, 2 at Sacrament, 31 other, 2 progressing, 18 full/ Sisters Wilcox & Nibley: 92 other lessons, 17 full / Elders Ruesch & Jenkins: 31 other, 5 progressing, 3 at sacrament, 17 full
Congratulations on your accomplishments this week!
to read past messages.
---