Vancouver Mission Star
This message was written by President and Sister Middleton. It also appears in the Vancouver Star, the weekly newsletter of the Vancouver Mission. It is sent to each companionship throughout the mission.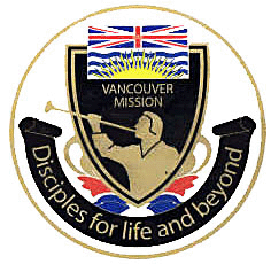 Canada
Vancouver
Mission
Newsletter
October 16, 2007
THANKS TO ELDER G. PERRIN WALKER AND SISTER CHARLOTTE WALKER
We have just completed a wonderful mini-Tour of our mission by Elder G.Perrin Walker of the Fifth Quorum of the Seventy, and his wife, Sister Charlotte Walker. Blessed with an encyclopedic knowledge of the scriptures, Elder Walker spoke at a Lower Mainland Fireside on Thursday, October 11th to a filled chapel. A Zone Conference was held the next day for all Lower Mainland missionaries and member leaders, then a Zone Conference was held the next day in Victoria for the Vancouver Island zones. Due to the size of our mission the Kelowna, Vernon and Prince George zones were unable to hear the wise counsel of Elder Walker. A few points he taught us follow.
Obedience Necessary to Expect Blessings
Elder Walker touched on too many points to cover in this Star, but one point repeatedly made was the link between obedience and blessings. Citing Hebrews 5:8,9, in which Paul notes that the Savior himself "learned obedience" and thereby became the source of our salvation, Elder Walker exhorted all of us missionaries to strive toward exact obedience to receive the Lord's blessings. Sister Walker noted that she has never seen a happy missionary who was not working hard to achieve the goals of being continually "anxiously engaged."
Master PMG and the Scriptures
When asked how we might teach with greater power, Elder Walker quoted D&C 88:118, then pointed out that we must study hard to know the Gospel well, and the Lord will help us use that knowledge to teach with wisdom and power. Without that knowledge we will struggle, so he exhorted us to study hard.
How to Counter Anti-LDS Literature
Elder Walker urged that we caution all progressing investigators that they will likely hear anti-LDS objections, and he pointed to 1Nephi Chapter 8 wherein Lehi describes the Tree of Life and iron rod. In verses 26-28 Lehi was shown the "great and spacious building" wherein lay many people of the world, who pointed toward and mocked those who followed the iron rod. It was a description of those in our world who espouse anti-LDS doctrine, and who would maliciously seek to destroy the growing testimonies of investigators. Elder Walker suggested that we share that scripture early with our investigators and warn them that their growing testimonies would be challenged..
These and many other wonderful points were taught us by the Walkers. We are deeply indebted to them for a wonderful Mission Tour!
Campbell River Ward Rewards Members for Each Invitation, by Elders Scott Allen and Justin McAllister
"The Campbell River Ward is progressing quite well, in large part due to our hard working and inspired new Ward Mission Leader, Andrew Marr. He loves his ward and is continually thinking about ways to make it grow. Bishop Leonard Aspden is also making missionary work a priority and all the ward leaders are following their example.
"We have wanted to do the member missionary class that has been done in the Spokane 1st Ward and has begun in Victoria 2nd Ward, but our ward here is just too small to have multiple Sunday School classes. So what we are going to do is pass around a sign-up sheet in Gospel Doctrine class for us to come to teach the about member missionary work individually in their homes.
"Brother Marr and Bishop Aspden have been inspired to create a poster for each quorum and Auxiliary Group (Relief Society, Primary, YM/YW) which has an architectural rendering of the Vancouver Temple surrounded by a black background. Each Sunday in each quorum and group the class starts with a 3–5 minute missionary focus during which each class member who has given an invitation to a non-member acquaintance during the week will tell of the experience and will place a gold star to represent the invitation on the black background. The idea is to shed increasing light on the Temple, and it effectively honors each member publicly for each invitation they offer. Named the 'Bring the Light to Campbell River' poster, this approach is enthusiastically embraced by the members and they very much enjoy it.
"Also, Brother Marr and the bishop have been inspired to start a new ward newsletter, the Campbell River Star. Its first printing, with input from the ward missionaries who are contacting members to gain more details about the missionary moments they are sharing, will shortly occur."
Editor's note: Brother Marr and Bishop Aspden have truly been inspired as the "Bring the Light to Campbell River" program has developed. In our view it represents a huge departure from how we have publicly honored members for becoming true and effective member missionaries. Before, wards and branches only honored and paid tribute to members when they brought a non-member on a Spiritual Tour or to a Church event, ignoring the fact that each member typically asked 10 acquaintances before they found the one who came. Brilliantly, the Campbell River Ward now gives honor and recognition for each invitation. As we know, what the non-member acquaintance does with the invitation is up to their free agency and we can't control it. We can control whether or not we issue an invitation weekly, and we must all capture the vision of honoring each invitation issued by a member. Focusing on invitations offered each week in each Quorum or Group is also an inspired idea, in our opinion, Congratulations to the Campbell River leaders and members for showing us the way!
Striving for 50 Contacts Daily Brings Blessings, by Sisters Brigitte D'Amours (and Rochelle Chevalier)
"Sister Chevalier and I are working hard, striving to have a least 50 contacts a day, and we are constantly talking to people. We are already receiving the blessings from talking to everyone! Last night we were tracting and the very last person that we talked to let us in. Her name is Garmithe. Her husband passed away in June and she said that she doesn't know what happens to people after they die. So we taught the Plan of Salvation and prayed with her. The Spirit was so strong. She has 2 children. We are meeting with her again next week on Sunday.
"We have had a lot of people listen to us this week, as a result of striving for 50 contacts or more and it's great! I love Surrey!"
We love each of you.
President and Sister Middleton
WELCOME NEW MISSIONARIES
Elders Tyler Mather, Bracebridge ON; Alan Weinert, Aurora IL; Scott Michaelis, West Jordan UT; Jordan Parson, Rexburg ID; Shane Scoffield, Tremonton, UT; Roberto Gonzalez Rosell, Longueuil, QC. Welcome back to Elder James Hunsaker, who is back off medical /surgical leave
FAREWELL TO THE FOLLOWING
Elder Christopher Anderson (Andy Boy)
Words can't describe the most important 2 years of my life. Nothing has brought me greater joy than to teach people about the Gospel and bring them to Christ! The friends I have made will last forever, especially my friendship with the Savior. He truly has made me who I am today and shown me the true happiness. I know that my Redeemer lives! I love you all. "Nuff said. Be easy" 2 Nephi 4:34-35
Elder Ryan J. Glass
During these two years, I have been the clay in the "Potter's Hand". He has sculpted me into who I am today. I have had so many awesome experiences and memories that will never be forgotten. You only get two years to serve, and the rest of eternity to think about it. So work hard, have fun and never forget the good times. 1 Cor. 15:10. If you're not first, your last.
Elder Benjamin Zufelt
Be Obedient; Work Hard; Have Fun; and Expect Miracles!
Elder Joel T Asay (AC-UNIT)
"I prayed unto the Lord that He would give the Gentiles grace, that they may have charity. And…the Lord said unto me: If they have not charity, it mattereth not unto thee, THOU hast been faithful." Ether 12:36-37. OUR Salvation is dependant on OUR agency – not others. I love you, and I love the work you're doing.
Elder Matt Aaron Strum
I'm so thankful for my time to serve. I wouldn't trade it for anything. The Lord gives and the Lord takes. All we can do is try our best and rely on the Lord. When that happens, miracles occur. Just like all the other servants of Christ, my last testimony is this – That Christ Lives!
Elder James Corey
Words cannot describe the Up's and Down's you feel on your mission. I believe an imaginary word should be used…Scrumtrilescent. We will meet again to share stories so 'scrumtrilescent' I can barely move. I look forward to that day. I thank my Savior for giving me this time to grow.
Elder Kyle Foster
As I look back at both my mission and those I've had the honor of serving beside, or otherwise gaining a relationship with, I cannot help but exclaim even as Paul did to the Philippians, "I thank my God upon every remembrance of you." Continue to strive to be the best you can be. Just remember to live and work so that you'll bring honor to both names on your badge.
Elder Ben. N. Zúñiga
Truth never changes. I know this is the work of God. "For behold, the field is white already to harvest; and it is the eleventh hour, and the last time that I shall call laborers into my vineyard," (D&C 33:3) Stay true to the faith. "Be faithful, praying always, having your lamps trimmed and burning, and oil with you, that you may be ready at the coming of the bridegroom." (D&C 33:17)
Elder Taylor LaSalle
A special thank you to all the wonderful people of BC & to my brothers and sisters who served the Lord with me. With all my heart I know this Gospel is true. I know my Savior lives and His Church has been restored to the earth through the Prophet Joseph Smith. Hallelujah!
NEW CONVERTS
Abbotsford: Joseph Harwood
Prince George: Allen W. Thomson, Taryn L. Thomson, Ivanna K. Morie
Surrey Lang: Sop Ji Kim, Sung Hsuan Dorian Huang, Gwo-An Anson Huang, Yin Lynn Long
Vancouver: Keith D. Moran
Van Lang: Li Hung
Victoria:
Reuben Pepin, Carole Morin, Sass Anderson
UPCOMING ZONE CONFERENCES FOR OCT/NOV
Oct 25 – Van/Lang ZC Nov 1 – Sur/Lan/Abbots (Surrey SC) Nov 8 - Nanaimo/Victoria Nov 14 – Vernon/Kelowna (Vernon Chapel) Nov 16 – Prince George
(Check off weekly whether you have achieved each of the eight goals below.)
q Ask for a referral name in every conversation with a member or non-member alike… "Will you bring an acquaintance on a Spiritual Tour?"
q Challenge members to Set-A-Date for a Spiritual Tour or a Church event which can be coupled with a Spiritual Tour with their non-member friend at least 3 times yearly.
q Our goal is to find at least one new investigator daily.
q Our goal is to teach 15 or more full lessons weekly…
q …with at least 3 Spiritual Tours weekly.
q Extend at least one baptismal invitation and commitment each week.
q Remember our mission goal: 10 Gospel contacts per day per missionary outside our usual finding and teaching duties. That includes a Gospel message to everyone you see.
q As weekly goals are set for each Key Indicator, pray for inspiration, and set goals that are lofty yet achievable. Our ultimate long-term goal is for at least 3 baptisms per companionship per transfer.
For there are many yet on the earth --- who are only kept from the truth because they know not where to find it." -- D & C 123:12
to read past messages.
---