Vancouver Mission Star
This message was written by President and Sister Middleton. It also appears in the Vancouver Star, the weekly newsletter of the Vancouver Mission. It is sent to each companionship throughout the mission.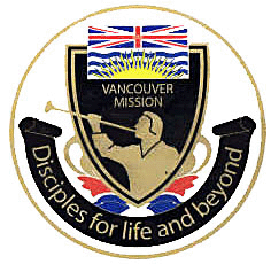 Canada
Vancouver
Mission
Newsletter
October 24, 2005
Fighting Discouragement
Everybody as a missionary will have points in the mission where everything seems to be going wrong, and everybody seems to be aligned to produce failure in our lives. Perhaps we've had a bad few days where our investigators have fallen through, doors have been slammed, there have been misunderstandings with companions, etc. We all have those periods in missionary work. We urge you to work through them with a positive outlook.
The Lessons from the Battle of Britain
In the early days of World War II when the axis forces had overrun most of Europe there was a terrible defeat for the British at Dunkirk, Belgium, and the rag tag forces of the British Army barely escaped capture or death. They escaped Belgium in an unlikely armada of fishing boats and pleasure craft that took them back to England across the channel. It looked like Great Britain would fall next. Great Britain was ill equipped either financially or in terms of having much of a war machine to counter the terrible forces of Hitler that had overrun Europe, and most observers thought Great Britain would be the next to fall.
In President Hinckley's marvelous book, "Way to Be", he talks about that episode in history. On June 4, 1940 the leader of Great Britain, Prime Minister Winston Churchill, stood before the House of Commons to address the defeat at Dunkirk and to rally the British to stand tall. He stated, "We shall not fail . . . we shall fight in France, we shall fight on the seas and oceans, we shall fight with growing confidence and growing strength in the air, we shall defend our island, whatever the cost may be. We shall fight on the beaches, we shall fight on the land and ground, we shall fight in the fields and in the streets, we shall fight in the hills; we shall never surrender."
It was his positive leadership, exhibited when pessimism was rampant throughout Great Britain, that rallied the people of Great Britain to stave off the Nazi forces in the Battle of Britain, and the rest is history.
President Hinckley goes on in his book to make a very interesting observation:
"Years ago I read a comment by Sydney Harris that said that Sir Walter Scott and Lord Byron both caused trouble at school. Thomas Edison was considered dumb. Burns and Boccaccio did poorly in school. Thomas Aquinas, who was later thought to have perhaps the finest scholastic mind among Catholic thinkers, was labeled 'the dumb ox' at school. Sir Isaac Newton was last in his class. Each of these men was later hailed as a genius. I imagine most of you will be underestimated at some point in your life."
Many of us in the Canada Vancouver Mission have been underestimated in our skills and abilities to bring people to the Gospel. Most importantly many of us underestimate our own skills and abilities. The devil would have you believe you are a failure. Do not despair. Do not give up. The down points in your mission are temporary, and will be followed by magnificent periods of your mission where everything clicks. The members will be forthcoming with magnificent investigators who go on to baptism and all will be well. God will not forsake us.
May we urge all of you to look upon life positively. Certainly your success as a missionary will be enhanced by the positive attitudes you bring to your duties. We know the Lord will help you in achieving your goals as a missionary. We know that through your hard work, through your earnest prayers to our Father in Heaven for His help, and through His intervention He will provide success in your missionary labors.
Sister Middleton and I wish you nothing but success, and want you to know that discouragement is of the devil, that a positive outlook on life is of the Spirit. Keep up the great work you are doing.
--President and Sister Middleton
Remember our mission goal: 10 Gospel contacts per day per missionary
outside our usual finding and teaching duties.
"And whoso receiveth you, there I will be also, for I will go before your face. I will be on your right hand and on your left, and my Spirit shall be in your hearts, and mine angels round about you, to bear you up." D & C 84: 88
Reminder:
We are all praying for three baptisms per companionship per transfer!
to read past messages.
---