Vancouver Mission Star
This message was written by President and Sister Middleton. It also appears in the Vancouver Star, the weekly newsletter of the Vancouver Mission. It is sent to each companionship throughout the mission.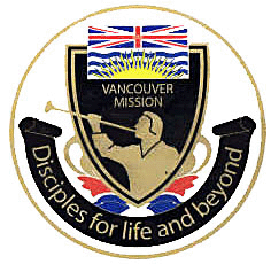 Canada
Vancouver
Mission
Newsletter
November 3, 2005
MEMBERS ESSENTIAL TO MISSIONARY SUCCESS
We share with you a letter we sent to all British Columbia stakes and district presidents dated October 25, 2005. It speaks of Elder Henry B. Eyring's prophetic pronouncement in March 2005 that "substantial growth is before us". We note further that the growth prophesied will surely come from greater member involvement in bringing their non-member friends to our missionaries through a Tour, dinners, or other means.
Many members have felt that by feeding the missionaries regularly they have done their duty in missionary work. While meals help the effort, that gesture pales to insignificance when compared to what each member should do – bring to us missionaries their non-member friends and relatives so we can teach them the Gospel.
Please make copies of this "STAR" to give to your ward or branch leaders, and plan on discussing the points mentioned herein in your ward or branch Missionary Coordination Meeting (optionally held in wards or branches if needed – PMG, page 219) and especially present this "STAR" to everyone who attends Ward Council and PEC and discuss it in those meetings. As missionaries we rejoice with you that we will be part of making this prophesied growth roll forth.
As we enter the stake conference season we want you to know how pleased Sister Middleton and I are to join with you and your stake or district members. At this writing we have participated in the Terrace District conference and the Prince George and Nanaimo Stake conferences, with Victoria, Vernon and Vancouver coming up shortly. We are immensely impressed by all of you. You bring to your callings great dedication and leadership skills coupled with a spirituality that is very impressive.
Thank you for working with our missionaries! I understand that most of our stake and district presidents meet with the missionary Zone Leaders monthly – thank you for doing so. In that monthly meeting we hope you speak frankly to our missionaries, letting them know how we can help you. We hope our missionaries serve as an important resource to every bishop and branch president, and we are urging them to help as follows:
1. Visit with the less actives, then report back to the PEC and Ward Council regarding strategies to reactivate those good brothers and sisters. Many less active members are in part-member families, presenting excellent teaching and baptizing opportunities for the missionaries.
2. Accept assignments as home teachers or visiting teachers to the less active.
3. Meet with the bishop or branch president regularly to give input in the drafting of the ward or branch Mission Plan (page 220 in Preach My Gospel), but most importantly to help the bishop or branch president and ward mission leader implement and accomplish the goals set forth in that Mission Plan.
4. Take all members of the ward or branch on a Tour of their facility, which will give a spiritual glimpse into the purposes of the ward or branch that will build the member's testimony.
5. Commit each member to return with a non-member friend or acquaintance for a subsequent Tour with the missionaries. As you know, our prophets have instructed us as leaders to have every member a missionary within our stakes and districts. By supporting our full-time missionaries in having each and every member commit to bringing a non-member on a Tour, you as a stake or district leader use the missionaries to accomplish your leadership responsibility of making every member a missionary.
6. Meals with members. As you know, we have been instructed to implement the Prime Time approach, which several other missions around the world have pioneered and found to be very successful. In addition to Tours, and a "soft" or more personal approach to investigators, it calls for having our missionaries devote the hours between 5 and 9 p.m. exclusively to proselyting activities. No longer can missionaries benefit by meals with members during those hours (which were from 5 to 6 p.m. previously as suggested, but usually ran much longer) unless the member brings a non-member to dinner with the missionaries and they teach the non-member. We would encourage the members to invite the missionaries over for a meal, if they bring their non-member friends along to be taught and fed. Also, it is appropriate to feed the missionaries during Prime Time if the missionaries bring along an investigator, who then can meet and be fellowshipped by the member family. Meals with members without an investigator present are permitted outside of Prime Time, but we would rather an investigator be present even then.
7. Missionary attendance through PEC and Ward Council. Through their knowledge about the less-actives and investigators, the missionaries will serve as a great resource to every bishop or branch president and the rest of the ward or branch leaders. Their attendance in PEC and Ward Council clearly benefits the missionaries in their work, not only through gaining knowledge of the ward or branch members and ward or branch resources, but they increase their leadership skills by observing how the seasoned and wise ward and branch leaders go about leading.
Members are Critical to Successful Missionary Work
For decades BC has lagged behind our surrounding missions in baptisms. Various reasons have been put forth as to why, and some surely have validity. My concern is that all of the reasons put forth for our underachieving simply makes underachievement inevitable. "If you think you will fail, you will" is an ever so true statement. There were 155 baptisms in BC in 2004, the lowest number by far in our area. The most successful mission, the Tacoma Mission, baptized over 600 people. In Alberta, our adjacent province, there now are two missions to accommodate the work, and there were 375 baptisms in the Calgary Mission alone in 2004.
Knowing that "a missionary referral is equivalent to knocking on 1000 doors" in terms of leading people to baptism, it is clear that our future success in BC lies in member involvement. We are excited and encouraged by the quickening of the Spirit we perceive in BC. Baptisms so far this year are up 32% compared year to year with 2004. Furthermore, if each member family commits to bringing 3 non-members per year to the missionaries through a Tour, as has been established as the goal in the Abbotsford Stake (other stakes should establish their own goals), the missionary work in BC will explode. Elder Henry B. Eyring at the Nanaimo Stake Conference made a prophetic observation in March of this year:
"I am clear that the Lord is going to build the Church in this area in a powerful way and beyond what you might expect . . . substantial growth is before us . . . by any human judgement it will be a miracle."
We are humbled to be instruments in the Lord's hands, with all of you, in making that miracle happen. May the Lord bless us all with His resolve, and with determination to join forces with Him to help that miracle of Church growth, as prophesied by Elder Eyring, come to pass.
We love you and love working with you.
--President and Sister Middleton
FROM THE ASSISTANTS
This transfer has brought many changes in leadership. Involving more individuals in leadership positions provides more missionaries with the opportunity to learn greater leadership skills. As the Lord's servants, we must not forget our purpose as missionaries to "Invite others to come unto Christ by helping them receive the restored gospel through faith in Jesus Christ and His Atonement, repentance, baptism, receiving the gift of the Holy Ghost, and enduring to the end" – PMG, pg. 1. As we work with less-actives, new members, and part-member families, the members will see we are working for them, thus applying President Gordon B. Hinckley's challenge: "Let's all work to grow the ward." Jesus Christ is the head of this, His Church. The Book of Mormon is the word of God. Joseph Smith is the Prophet of the Restoration.
--Elders Young, Bailey, Brough, and Nemrow
NEW CONVERTS
Abbotsford – Rachael Gunther, Amie Teichroeb, Jon Villatoro Prince George – Anna, Candace and Nick Day, Mandy and Nick Hewitt, J.P. Langevin, Chris Littlewood, Carolyn Trimmier Surrey – Gilbert Bevan-Pritchard, Kristen Clarke, Avilez Lopez, Arnold Manalo Vancouver – Anthony McCandless, Takuya Miyakawa, Dee Dee Roque Language – Fidel Gonzalez, Grace Gui Vernon – Arden Haines, Charity-Angel Pender, Betty Lynes, Cole St.Denys Victoria – Elaine Barbeau, Henry Chan, Colt Love
UPCOMING ZONE CONFERENCES
8 December 2 – Prince George/Terrace 8 December 5 – Vernon 8 December 8 – Vancouver/Language
8 December 9 – Surrey/Abbotsford 8 December 12 – Nanaimo/Victoria
FAREWELL TO THE FOLLOWING
Elder Dillon Brough
"The greatest thing you'll ever learn is just to love and be loved in return." That's what I've learned most out here and I thank all who contributed. Each relationship is a part of what I've become. Remember that real joy is found in the meaning of it all. (Alma 34) The Gospel is the only thing that works for everyone, regardless of circumstance. I love you all! I'll never regret these years.
Sister Caroline Dunn
"Remember the worth of souls is great in the sight of God; . . . how great shall be your joy . . " (D & C 18:10-15) This has a whole new meaning in my life. I know God lives. I know Jesus Christ is our Savior. I know Joseph Smith is the Prophet of the Restoration and President Gordon B. Hinckley leads and guides us today as the mouthpiece for our Heavenly Father. Continue to "press forward with a steadfastness in Christ". (2 Nephi 31:20)
Elder & Sister Flitton
"By this shall all men know that ye are my disciples, if ye have love one to another." (John 13:35) As senior missionaries we are honored to serve as disciples of Christ. When you teach the Gospel of Jesus Christ to those who are searching for the truth, you will see the light of Christ that shines in their eyes that they have been touched by the Holy Ghost.
Elder Brandon Johnson
"And now, after the many testimonies which have been given of him, this is the testimony, last of all, which we give of him: That he lives!" (D & C 76:22) This is the Lord's church, restored through the Prophet Joseph Smith. Work hard, be safe, and have fun!
Elder Cameron Shumway
What a marvelous opportunity we have to be part of this great work. Serve well and offer your best "sacrifice" for that is all He requires of us. (D & C 117:13) God loves us. For that He sent His son to live and die for us. The atonement is real. Joseph Smith truly was called as a prophet, to restore Christ's Church, of which we are a part. The Church is true!
REMINDER:
Remember our mission-wide fast on Sunday, November 6th, that we might find, teach and baptize.
<![if !vml]>
<![endif]>

<![if !mso]><![endif]>

to read past messages.
---