Vancouver Mission Star
This message was written by President and Sister Middleton. It also appears in the Vancouver Star, the weekly newsletter of the Vancouver Mission. It is sent to each companionship throughout the mission.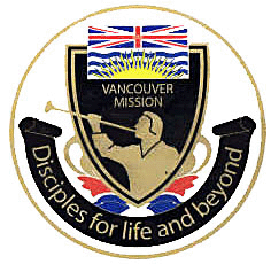 Canada
Vancouver
Mission
Newsletter
November 21
, 2005
Thanks to Elder and Sister Kikuchi
We have been richly blessed last week by the Mission mini-tour of Elder and Sister Kikuchi. After they spoke, testified and exhorted at Vancouver Stake Conference on Nov. 12 and 13, we traveled with the Kikuchi's to Vancouver Island where we enjoyed a Zone Conference of the Victoria and Nanaimo Zones at the Nanaimo Stake Center on Monday, Nov. 14. We then traveled to the Lower Mainland where another Zone Conference was held in the Surrey Stake Center on Tuesday, Nov. 15, with the Vancouver, Vancouver Language, Surrey and Abbotsford Zones attending. Unfortunately, the Prince George and Vernon Zones could not attend due to the distance and expense needed to travel. We hope to summarize the highlights of the Kikuchi visit in this and subsequent Stars.
Canada Vancouver Mission Growth Predicted -
Intermixing marvelous humor with solemn testimony, Elder Kikuchi challenged us to meet or surpass the baptismal record of the Tacoma Mission. Considering that Tacoma baptized 4 times as many as we did in 2004, the challenge is formidable, but doable. We shared with Elder Kikuchi that there is a perceptible quickening of the Spirit throughout B.C., that the number of baptisms through the end of October has exceeded all of 2004, and that our most recent 5 week key indicator report from Salt Lake shows that we enjoyed in October more baptisms per companionship than 4 of the 9 missions in our area. In other words, for the first time perhaps in decades we are no longer last among the 9 missions!
We pointed out that much of the improvement is attributable to Preach My Gospel with its new finding and teaching techniques, much is attributable to increasing member involvement in response to well-done ward and branch TOURS, and challenges to them by their stake and district presidents to bring their non-member friends on a building TOUR, much is attributable to our missionaries not eating during the Prime Time of 5-9 p.m. and instead devoting that time to proselyting, and much is attributable to our missionaries working harder and smarter. While all of these factors played a role, overarching all of our increasing success is the fact that we are being richly blessed by the Lord!
Elder Kikuchi observed all this, then exhorted us to do better and gave us several ideas on how we might meet his challenge of achieving 150 baptisms per month in B.C. (3 baptisms per companionship, the goal and blessing we have been fasting and praying to achieve). Calling on certain missionaries randomly chosen, to come to the front, when sisters and elders were called forward unwarned, "No romance in the mission! If you do, Sister Kikuchi and I will return to kick you".
A few of the great ideas he gave include:
1. Know and practice giving the principles in sequence presented in each lesson in PMG. A way to test each missionary will be to have them give the 5 minute version of each lesson in their own words, which tests their knowledge of the principles and sequence of principles needed. We will test at Zone Conferences, calling missionaries randomly from the group during the skills training, then ask for a 5 minute lesson on any of the lessons. Practice them in companionship study time, so that you will know them thoroughly and with confidence.
2. Give a more powerful Joseph Smith First Vision story. Practice slowing your speech and intensifying your solemnity as you quote Joseph Smith's words, then give your own testimony similarly. We will call on missionaries to demonstrate at zone conferences, so practice in companionship study.
3. When asking an investigator to read the Book of Mormon, give them 7 or 8 chapters to read in one week. Choose chapters which speak of Christ, perhaps 2 each in 1st and 2nd Nephi, 2 in Alma, 2 in 3rd Nephi, and perhaps 2 in Moroni, including Chapter 10. Together these chapters will show that the B of M is another testament of Christ, and coupled with the sincere prayer you ask the investigator to use as they read should form the basis of their growing testimony.
4. Included is a printout brought by Elder Kikuchi from Salt Lake of every ward and branch in B.C. listing the number of nonmember spouses and unbaptized children of record age 9 and over. Work with your ward or branch clerk to find their names, and visit them as missionaries as soon as soon as possible. They already know about our Church - they live with Church members!
We rejoice with you that our Lord's servants, Elder and Sister Kikuchi, have joined with us to teach us and give us their blessings and challenge. You are all in our prayers constantly. We love you.
--President and Sister Middleton
Remember our mission goal: 10 Gospel contacts per day per missionary
outside our usual finding and teaching duties.
"I give unto men weakness that they may be humble . . . for if they humble themselves before me, and have faith in me, then will I make weak things become strong unto them." Ether 12:27
Reminder:
We are all praying for three baptisms per companionship per transfer!
to read past messages.
---