Vancouver Mission Star
This message was written by President and Sister Middleton. It also appears in the Vancouver Star, the weekly newsletter of the Vancouver Mission. It is sent to each companionship throughout the mission.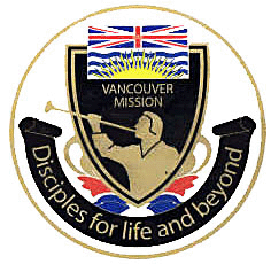 Canada
Vancouver
Mission
Newsletter
December 4, 2007
Inspiring Accounts of Member Missionaries Who Are Inviting
As our full-time missionaries are intensifying their proselyting efforts through focused effective time management to achieve the goal of "no down time," and as members are regularly inviting their non-member acquaintances to Church-related activities, blessings and baptisms are increasing. This weeks's STAR relates several accounts of the accelerating missionary work here in British Columbia.
Brother Neil Williams in Courtenay Tells of His Member Missionary Grandson, Timmy Zaugg
"Our grandson, Timmy Zaugg is 8 years old. He lives in Coquitlam. His mother sent us this email:
"On Friday Tim's friend noticed the pass along card he had in his backpack. Apparently he had it in there to remind him of what he wants to be like. Well, his friend asked what it was a picture of and this is how Timmy told me the rest of the story…
'I knew I only had a 45 minute lunch hour so I started at the Last Supper and gave her a play by play until he appeared in the Americas. Then the bell rang and she asked if she could have the picture. I told her sure, and if she wanted I could bring her another one about when he was a baby. I sure hope the missionaries won't be mad that I gave it away, and would be willing to give me another one of Jesus as a baby.'
"It was amazing. And even more amazing is that her parents still let him come over the next day to play. He intends to invite her to see the Primary presentation in 2 weeks. Each of the girls has 1 or 2 friends they are inviting as well. They surely are setting a good example to us regarding missionary work. Have a nice day."
Editor's Note regarding Brother Williams and Timmy: having heard this missionary story about Timmy, there is no way we could not have a nice day!
Sister Sherry Marceil is Inviting 3 Non-Member Acquaintances Each Week! By Elders Carlton Taylor (and Brandon Loong)
"Elder Loong and I went over to the Marceil family to talk to them about missionary work. Sister Marceil commented that President and Sister Middleton spoke in the Delta Ward and challenged each member to consider extending an invitation to a non-member acquaintance each week to 'come and see,' and she felt the desire to do so to make our next ward activity a success. She did some quick mathematics in her head and calculated that if each member of the ward invited someone weekly until the 'Walk to Bethlehem' which occurs in December, then at least 1000 invitations would be made! Then she thought that if just 10% of those people came they would have 100 non-members there, just from our ward! She then decided that she would do her part and try to get others to do theirs.
"As she started inviting weekly she felt that because she was willingly asking and was prepared to invite, the Lord was blessing her with people put in her path to invite. Now she finds that she is inviting 3 people a week without any problem! She has seen the blessings in her life and she knows that she is doing her part."
The Joy of Baptizing! The Victoria 1st Ward Focuses on Members Inviting, by Elders Peter Stevenson (and Noueru Shibayama)
"What a wonderful week! We baptized two people on Saturday! What an amazing experience in which to take part. I baptized a young lady named Annie from Mexico. Elder Shibayama baptized a lady from Korea named Susan. It was a memorable moment in my mission!
"Things are going very well in Victoria. The Victoria 1st Ward and the YSA Branch in which we serve are starting to pick up wonderfully. The Victoria 1st Ward has adopted the one line mission plan of each member inviting a non-member acquaintance weekly. We then honor each member who has invited during the previous week by having them place a star by a picture of the Vancouver temple. Our Ward Mission Leader, Brother James Greenwood, wants to start a competition in the program. A competition not only between auxiliaries but possibly with another ward. Then, at the end, we all will celebrate with a big party! There is nothing wrong with a friendly competition!"
The Courtenay Ward Revises Mission Plan to Focus on Having Every Member Invite Regularly, by Sisters Mariah Overlock (and Te'Ama Faye Dye).
"Things are going so well in Courtenay! Our Ward Mission Leader, Brother Jordan Johnson, has just revised the Ward Mission Plan to focus on the members inviting! He plans to visit the members and go over the plan with each family and will follow up with them after 3 weeks to measure their progress. He's going to make very bright refrigerator magnets so each family and member in the ward will be constantly reminded to invite. We are currently brainstorming ideas for rewarding the members to invite as well!"
Abbotsford 2nd Ward and Abbotsford 3rd YSA members are learning to Invite; Stop Smoking Workshop Success by elders Jared Fullmer (and Trenton Amann)
"Things are going really well with our Clearbrook members learning to invite their non-member friends regularly. The ideas from the other wards around B.C. are a large part of the discussions in PEC and Ward Council. They are working on ways to encourage members to invite and also having regular activities to which they can invite their friends. This week we also were able to do the 'Stop Smoking Workshop' with two of our formerly less-active branch members, and they have both completely quit, which is awesome. We love being here in Abbotsford!"
A huge thank you is in order to each full-time missionary for the focused, diligent work you bring to your calling. An especial thank you is due to every member who is stepping forth in a member missionary capacity to invite regularly. We love you!
President and Sister Middleton
(Check off weekly whether you have achieved each of the eight goals below.)
q Ask for a referral name in every conversation with a member or non-member alike… "Will you bring an acquaintance on a Spiritual Tour?"
q Challenge members to Set-A-Date for a Spiritual Tour or a Church event which can be coupled with a Spiritual Tour with their non-member friend at least 3 times yearly.
q Our goal is to find at least one new investigator daily.
q Our goal is to teach 15 or more full lessons weekly…
q …with at least 3 Spiritual Tours weekly.
q Extend at least one baptismal invitation and commitment each week.
q Remember our mission goal: 10 Gospel contacts per day per missionary outside our usual finding and teaching duties. That includes a Gospel message to everyone you see.
q As weekly goals are set for each Key Indicator, pray for inspiration, and set goals that are lofty yet achievable. Our ultimate long-term goal is for at least 3 baptisms per companionship per transfer.
"Do this thing which I have commanded you, and you shall prosper…Stand fast in the work wherewith I have called you…and you shall be lifted up at the last day." Doctrine and Covenants 9:13,14
The Coveted "Off the Hook" Award:
(Week-ending Dec 2, 2007)
In Recognition of the following:
Baptisms Year to Date:
Abbotsford Zone (23 Baptisms)
Baptisms this Week:
Prince George (3 baptized)
Investigators with a Baptismal Date:
Vancouver Lang. (4 Baptismal Dates)
Investigators Attending Sacrament Meeting:
Prince George (14 Investigators at Sacrament Meeting)
Lessons with a Member Present:
Abbotsford Zone (18 Lessons with a Member Present)
Contacts
Kelowna Zone (18.86 contacts per day)
Progressing Investigators:
Victoria Zone (15 Progressing Investigators)
New Investigators:
Kelowna/ Victoria Zone (6New Investigators)
Full Lessons:
Victoria Zone (Average of 16.4 Full Lessons)
Full Lessons to Non-Members:
Vancouver Lang. Zone (9.7 Full Lessons to NM)
COMPANIONSHIPS:
Elders Ward & Magnusson: 27 other, 110 contacts, 17 full
Elders Ramirez & Barton: 3 baptized, 3 at sacrament
Elders Loong & Taylor: 2 with a date, 3 at sacrament, 2 progressing
Elders Bowles & Heinzen: 5 at sacrament, 30 other, 4 progressing, 4 referrals, 68 contacts
Elders Peck & Spongberg: 24 other, 3 progressing, 119 contacts 22 full, 10 NM full
Elders Collins & Curtis: 2 with a date, 47 other, 4 progressing, 118 contacts, 15 full
Elders Wells & Hatton: 8 at sacrament, 22 other, 125 contacts, 18 full
Elders Godfrey & Knapp: 2 with a date, 6 at sacrament, 7 member present, 30 other, 170 contacts, 21 full, 12 NM
Elders Purser, Klekas, & Whittenburg: 1 with a date, 7 at sacrament, 39 other, 3 progressing, 187 contacts, 21 full, 12 NM full
Honorable Mention:
Elders Banks & Evans: 4 member present, 22 other, 3 progressing, 82 contacts, 17 full
Elders Morrill & Pack: 1 with a date, 24 other, 101 contacts
Elders Fullmer & Saito: 311 contacts
Elders Lassetter & Douglas: 2 with a date, 3 at sacrament, 5 member present, 3 new investigators, 15 full
Sisters Dalling & Burt: 175 contacts
Elders Stevenson & Shibayama: 3 at sacrament, 5 member present, 44 other, 6 progressing, 3 new, 131 contacts, 21 full, 13 NM full
Congratulations on your accomplishments this week!
to read past messages.
---