Vancouver Mission Star
This message was written by President and Sister Middleton. It also appears in the Vancouver Star, the weekly newsletter of the Vancouver Mission. It is sent to each companionship throughout the mission.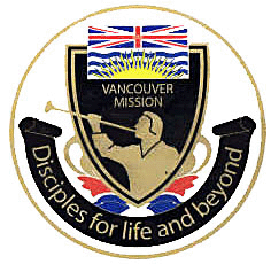 Canada
Vancouver
Mission
Newsletter
December
11, 2007
To Honor Christ at Christmas…Proclaim His Gospel
December in many ways is the best month of the year. It is then that we think of family and focus on children. It is then that we most often express our love to friends and loved ones. It is then that we open our hearts and homes to friends and strangers. It is then when neighbors greet each other with the warm greeting, "Merry Christmas." It is then when thoughts turn to Jesus and His message.
Expect To Succeed as Missionaries at Christmas
Our missionary message is better received at Christmas than it is at any other time of the year. In President Middleton's first mission he and his companion went tracting on Christmas day in Norwich, England. Whereas at other times in the year we were welcomed into homes occasionally, on Christmas day in Norwich we were invited into every single home. Furthermore, we were offered refreshments in each home, and in each house we gave a First Discussion. On no other day of the year did we have success that was even remotely close to the success we enjoyed on that Christmas day. It stands out in memory as an almost magical missionary experience.
We expect that each of our missionaries will have similar success at Christmas. Urgently, we ask that each companionship redouble their Personal Finding efforts. Plan on Christmas Eve and Christmas Day to knock on as many doors as you possibly can. May we suggest that you dedicate your efforts throughout December to the Savior, that you might honor Him with the greatest gift of all, that you might share His redeeming and saving message with as many people as you possibly can.
Great Observations By Our Missionaries
Love For the Work Comes Through Giving it Your All, by Elder Spencer Mun (and Elder Woong Hyun Choi)
"I am loving this mission. I love the feeling of being completely worn out at the end of the day as I come back home from serving the Lord completely, having given Him the best of my abilities, and I love all of the companions that I have had. I know that as this mission is united in one mind and one purpose that we will be blessed with things that have not been seen in this mission before. I know this to be true."
Victoria 2nd Ward Finds Success in Honoring Inviting Members Weekly, by Elders Matt Klekas (and Austyn Whittenberg)
"The work here in Victoria is awesome! With our investigators we have been doing our best to bring the Spirit into their homes with well-planned lessons. Our investigator who is the closest to being baptized is Lindsey Nelson, a single mother with 2 kids whose husband passed away about 2 years ago. Our recent converts are doing great. Carole Morin & Sass Anderson have been coming to Church every week. Brother Greg Marr, our Ward Mission Leader, is leading members into putting a bigger focus on member missionary work and it is starting to work. We have decided to use the Campbell River Ward one sentence Mission Plan which calls for each member to invite a non-member acquaintance to a Church-related activity or event regularly. The Campbell River Ward has each member who invited during the previous week tell about it and put a gold star by the artist's rendering of the Vancouver Temple. That plan was the inspired creation of our Brother Marr's father, Andrew Marr, who is the Campbell River ward Mission Leader, and Bishop Leonard Aspden.
Editor's Note: The idea of acknowledging each Sunday every member who has invited during the prior week a non-member acquaintance to a Church event is a brilliant, & inspired idea. First developed by the Campbell River Ward leadership, wherever it is tried in BC it seems to be warmly embraced by the members. Those class members who raise their hand to report an invitation(s) they made bask instantly in the recognition and admiration of their fellow class members; those in the class or quorum who did not invite are wordlessly reminded that they should invite someone in the coming week. We have noted repeatedly that the enthusiasm spreads rapidly throughout the class or quorum, then throughout the ward or branch.
50 Contacts per day! By Elder Brian Perkins (and Elder Gavin Ramsey)
"I have had a good last full week of my mission. I tried to see if I could actually get 50 contacts in a day (which I previously thought was impossible in this area!) After about an hour and a half of straight going I got 67! I accomplished the 'impossible'!"
Campbell River Ward renames their Ward Newsletter
The Campbell River Ward has started their own one page newsletter the "Campbell River Star". We republish a part of it:
Bringing the Light to Campbell River
The Beginnings of the Star: As a ward we have come up with a simple mission plan to help members become better member missionaries. These are ideas that have been discussed in the Ward Missionary Firesides that have been held once every 3 months. The first fireside was to help raise enthusiasm and awareness of missionary work. The ward came up with a plan to pray and fast for opportunities to share the gospel. The second fireside was on turning those opportunities into invitations and how to do that. The third fireside has been on the experience of inviting someone to a ward activity or out to church. This newsletter is part of the plan to help missionary enthusiasm grow in our ward.
Campbell River Missionary Moments:
The following experiences are from members in the ward who have taken the challenge to share the gospel with those around them. These are just a few examples but each invitation that has been shared is now represented by a star on our temple picture of which there are over 30 on the poster.
They give several examples of member's inviting their acquaintances.
Editor's Note: Congratulations to the Campbell River ward leadership on a wonderful way to increase member missionary awareness and activity.
Our hope is that Christmas might be a wondrous missionary experience for each of you. We love every one of our missionaries.
President and Sister Middleton
(Check off weekly whether you have achieved each of the eight goals below.)
q Ask for a referral name in every conversation with a member or non-member alike… "Will you bring an acquaintance on a Spiritual Tour?"
q Challenge members to Set-A-Date for a Spiritual Tour or a Church event which can be coupled with a Spiritual Tour with their non-member friend at least 3 times yearly.
q Our goal is to find at least one new investigator daily.
q Our goal is to teach 15 or more full lessons weekly…
q …with at least 3 Spiritual Tours weekly.
q Extend at least one baptismal invitation and commitment each week.
q Remember our mission goal: 10 Gospel contacts per day per missionary outside our usual finding and teaching duties. That includes a Gospel message to everyone you see.
q As weekly goals are set for each Key Indicator, pray for inspiration, and set goals that are lofty yet achievable. Our ultimate long-term goal is for at least 3 baptisms per companionship per transfer.
"And we talk of Christ, we rejoice in Christ, we preach of Christ, we prophesy of Christ, and we write according to our prophecies, that our children may know to what source they may look for a remission of their sins." -- 2 Nephi 25:26
The Coveted "Off the Hook" Award:
(Week-ending Nov. 11, 2007)
In Recognition of the following
Baptisms Year to Date:
Abbotsford (20 Baptisms)
Investigators with a Baptismal Date:
Surrey Zone (7 Baptismal Dates)
Investigators Attending Sacrament Meeting:
Abbotsford (31 Investigators Attending Sacrament Meeting)
Lessons with a Member Present:
Abbotsford (24 Lessons with a Member Present)
Contacts
Kelowna Zone (18.86 contacts per day)
Progressing Investigators:
Vancouver Language (21 Progressing Investigators)
New Investigators:
Abbotsford Zone (20 New Investigators)
Full Lessons:
Vancouver Language Zone (Average of 18.7 Full Lessons)
Full Lessons to Non-Members:
Vernon Zone (15.2 Full Lessons to NM)
COMPANIONSHIPS:
Elders Fillmore and Parson: 2 at Sacrament, 31 other, 5 new investigators, 133 contacts 13 full lessons taught.
Elders Spongberg and Peck: 4 member present, 4 progressing, 149 contacts, 28 full lessons, 19 to non- members
Elders Curtis and Choi: 109 other, 6 new investigators, 183 contacts 24 full lessons, 23 to non-members
Elders Godfrey and Jensen: 5 at Sacrament, 6 member present, 50 other, 7 progressing, 240 contacts, 18 full
Elders Klekas and Whittenburg: 3 at Sacrament, 6 member present, 39 other, 238 Contacts, 28 full, 18 to NM
Elders Hall and Jenkins: 1 at Sacrament, 2 with members, 20 other, 2 progressing, 115 contacts
Elders Beins and Bowles: 38 other, 3 progressing, 99 contacts
Elders Davis and Andrew Johnson: 18 other, 115 contacts, 15 full
Elders Fisher and Lassetter: 1 baptism date, 3 at Sacrament, 7 member present, 33 other, 4 progressing, 4 new, 22 full, 14 with NM
Honorable Mention:
Elders Ward and Magnusson: 23 other, 73 contacts, 18 full lessons
Sisters Wilcox and Nibley: 1 baptism date, 3 at Sacrament, 5 member present, 39 other, 3 new, 82 contacts
Elders Ashton and Earnest: 2 at Sacrament, 3 member present, 31 other, 4 new, 57 contacts
Elders Loong and Taylor: 4 at Sacrament, 3 member present, 3 progressing, 4 New, 21 Full lessons
Elders Martinez and Shaw: 2 Baptismal date, 46 other, 4 progressing, 7 new, 75 contacts, 16 full, 13 to NM
Elders Huo and Hea: 31 other, 82 contacts, 18 full, 13 to non-members
Elders Bakow and Saito: 8 member present, 30 other, 123 contacts, 16 full lessons, 14 to non- members
Elders Zmoos and Roberts: 3 with baptism dates, 9 at Sacrament, 46 others, 7 progressing, 24 full. 20 to NM Elders Pack and Barker: 3 with baptism date, 39 other lessons, 135 contacts, 17 full lessons, 12 to non-members
Elders Hatton and Wells: 6 at Sacrament, 1 member present, 19 others, 112 contacts, 17 full lessons
Elders Shibayama and Stevenson: 2 baptism dates, 8 at Sacrament, 6 member present, 7 progressing, 102 contacts, 26 full, 17 to non-members
Elders Allen and Hassell: 56 other, 205 contacts
Congratulations on your accomplishments this week!
to read past messages.
---