Vancouver Mission Star
This message was written by President and Sister Middleton. It also appears in the Vancouver Star, the weekly newsletter of the Vancouver Mission. It is sent to each companionship throughout the mission.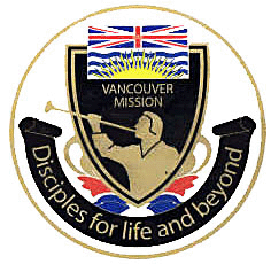 Canada
Vancouver
Mission
Newsletter
December
18, 2007
Our Christmas Gift to Jesus
This Christmas we honor the baby Jesus by giving Him our dedicated missionary service. Perhaps never again in our lives will we have the opportunity as we do now to give 100% of our time and efforts to Him. In this Star we honor each of our wonderful missionaries, who are laboring diligently and valiantly so far from home and loved ones to give the supernal gift of eternal life to the peoples of British Columbia. Know that as we honor Him with our best missionary efforts through this Christmas season we will feel His peace in our hearts. Let the promise of His peace be our driving force. Through our service this promise will be ours:
"Peace I leave with you, my peace I give unto you: not as the world giveth, give I unto you. Let not your heart be troubled, neither let it be afraid." John 14: 27
Following are a few comments from our missionaries:
Many Investigators at the Sidney Ward Christmas Dinner; Giving a "Living Christmas Card," by Elders Richard Ashton (and Gavin Ramsey)
"Well, things are going very well here in Sidney. This past Saturday evening, the Sidney Ward sponsored a Christmas dinner in the chapel. There was a fantastic turnout! Many members and non-members made it out to the event. It was estimated that about 40 non-members attended, and one particular member actually brought 10 friends.
"We ate dinner, watched Mr. Kruegar's Christmas and then Santa came to give the kids presents. We were able to give a Tour and gained an investigator out of the experience. Last night we met with her again with a member family and the discussion went well."
Hard Work Brings Blessings, by Elders Ryan Mousseau (and Dan Walton)
"This week was a good one. Elder Walton and I tracted like crazy all week. We walked for miles and knocked on many doors. As expected, not too many people let us in, but what was neat was that we were rewarded for our efforts. Last week we received a media referral. This week we met with him and he is very interested. He said he knew and admired a Mormon that he worked around. It is very likely that he will be joining the Church very shortly. During our first lesson with him, I extended a soft baptismal commitment. He accepted. The drawback is that since he knows so many people in the Victoria 2nd Ward, he will probably be attending church with them and taught by their missionaries. We all do the same work.
We have a baptism scheduled for Saturday. I thing I was sent here to teach her. It's amazing how the Lord sends us where we are needed.
"Brother Martin Hall and the ward are really doing well with getting us referrals for the 'living Christmas Card.' So far we have about 50 referrals to visit. The ward loves us and trusts us with their friends. Elder Walton and I have been very busy. We really have a lot going on. No time is wasted."
December To Be The Month For The Port Coquitlam Ward Gift to the Savior, by Elders Spencer Hall (and Daniel Jenkins)
"Here in the Port Coquitlam Ward we are working with Bishop Roy Swartzberg, and the Elders Quorum President Didier Donato to re-activate others. We have established December as the Ward's gift to the Savior. We are going to do our very best at everything: home teaching, missionary work, temple attendance, family home evenings. The home teachers are giving a picture of the temple to each family they teach. In order for the family to receive one it has to be from the home teachers. We are trying to have each activity have an emphasis on missionary work. We feel this ward is poised to really grow."
Our Increased Work Efforts (350 Plus Contacts Each Week) Leads to Six Non-Members in Church, by Elders Kelby Godfrey (and Soloman Jensen)
"After our Zone Conference last week, we went on exchanges with the ward missionaries to make up for lost time. At the start of the week we had no contacts all the way up to Saturday. On Saturday we contacted all day and most of Sunday. We had a goal of surpassing our old contact number of 356 contacts in a week. It was getting late on Sunday and we only had 330, but by the end of the night, at about 9:15 p.m., we were finally able to talk to contact number 357 and call it a night.
"We have found that as we work harder to reach our goal for contacts, it moves all of our points up to where they are asked to be.. So far the work has been going great. Six non-members have been out to Church for the past few Sundays, just one of the blessings we are seeing as a result of our increased work effort."
Our wish is for each of our missionaries to have a productive, wonderful and merry Christmas.
We love each of you, and are grateful for all that you do.
President and Sister Middleton
(Check off weekly whether you have achieved each of the eight goals below.)
q Ask for a referral name in every conversation with a member or non-member alike… "Will you bring an acquaintance on a Spiritual Tour?"
q Challenge members to Set-A-Date for a Spiritual Tour or a Church event which can be coupled with a Spiritual Tour with their non-member friend at least 3 times yearly.
q Our goal is to find at least one new investigator daily.
q Our goal is to teach 15 or more full lessons weekly…
q …with at least 3 Spiritual Tours weekly.
q Extend at least one baptismal invitation and commitment each week.
q Remember our mission goal: 10 Gospel contacts per day per missionary outside our usual finding and teaching duties. That includes a Gospel message to everyone you see.
q As weekly goals are set for each Key Indicator, pray for inspiration, and set goals that are lofty yet achievable. Our ultimate long-term goal is for at least 3 baptisms per companionship per transfer.
"And she brought forth her firstborn son, and wrapped him in swaddling clothes, and laid him in a manger; because there was no room for them in the inn. And the angel said unto him, Fear not: for, behold, I bring you good tidings of great joy, which shall be to all people"... Luke 2: 7,10
The Coveted "Off the Hook" Award:
(Week-ending Dec 16, 2007)
In Recognition of the following:
Baptisms Year to Date:
Abbotsford Zone (23 Baptisms)
Baptisms this Week:
Vancouver/Kelowna Zone (1 baptized)
Investigators with a Baptismal Date:
Abbotsford Zone (8 Baptismal Dates)
Investigators Attending Sacrament Meeting:
Vernon Zone (20 Investigators at Sacrament Meeting)
Lessons with a Member Present:
Victoria Zone (25 Lessons with a Member Present)
Contacts
Vancouver Zone (23.5 contacts per day)
Progressing Investigators:
Victoria Zone (22 Progressing Investigators)
New Investigators:
Surrey Lang. Zone (21New Investigators)
Full Lessons:
Vancouver Zone (Average of 16.6 Full Lessons)
Full Lessons to Non-Members:
Victoria Zone (10.8 Full Lessons to NM)
COMPANIONSHIPS:
Elders Tolleson & DeHerrera: 5 with a date, 2 at Sacrament, 2 member present, 7 progressing
Elders Loong & Taylor: 2 with a date, 4 member present, 2 progressing, 20 others, 70 contacts
Elders Barton & Ramirez: 3 at Sacrament, 3 member present, 30 contacts,
Elders Hassell & Curiel: 1 at Sacrament, 3 member present, 2 progressing, 23 others, 88 contacts, 15 full
Elders Godfrey & Knapp: 1 baptized, 1 confirmed, 1 with a date, 3 at Sacrament, 311 contacts, 3 progressing
Elders Lassetter & Douglas: 4 with a date, 6 at Sacrament, 5 progressing, 8 member present, 29 others, 53 contacts
Elders Godfrey & Knapp: 2 with a date, 6 at sacrament, 7 member present, 30 other, 170 contacts, 21 full, 12 NM
Elders Saito & Fullmer: 2 with a date, 4 at Sacrament, 3 member present, 2 progressing, 317 contacts
Honorable Mention:
Sisters Nibley & Lee: 3 at Sacrament, 3 member present, 17 Full lessons
Elders Taylor & Weinert: 2 at Sacrament, 8 others, 50 contacts,
Elders Ruesch & McAllister: 2 at Sacrament, 30 others, 1 progressing, 103 contacts
Elders Lassetter & Douglas: 2 with a date, 3 at sacrament, 5 member present, 3 new investigators, 15 full
Elders Miles & Brunt: 4 member present, 18 others, 2 progressing, 220 contacts,
Elders Klekas, Whittenburg, & Purser: 4 at Sacrament, 15 member present, 85 others, 327 contacts, 29 full, 21 NM Full
Congratulations on your accomplishments this week!
to read past messages.
---