Vancouver Mission Star
This message was written by President and Sister Middleton. It also appears in the Vancouver Star, the weekly newsletter of the Vancouver Mission. It is sent to each companionship throughout the mission.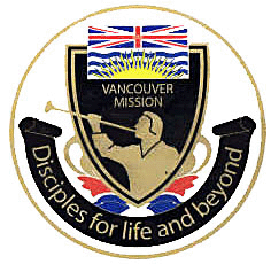 Canada
Vancouver
Mission
Newsletter
February 12
, 2008
Thomas S. Monson Becomes Our Prophet and President
On February 3rd, 2008, the Quorum of the Twelve Apostles sustained and set apart Thomas S. Monson as our new Prophet, President and Seer. While saddened by the passing of President Gordon B. Hinckley, his funeral on Saturday, February 2nd, 2008, was a magnificent celebration of his life and accomplishments. We rejoice that the Lord has prepared and raised up someone of the stature of President Monson to now lead the Church. We sustain and pledge support to him with all our hearts, and pray that the Lord will continue to guide us through him, as he has guided us through President Hinckley and the other prophets in this dispensation starting with Joseph Smith.
Bishop Terry Smith Organizes the Salmon Arm Ward for Success, by Elders William Hatton (and Jason Wells)
"Bishop Terry Smith is awesome. He is quite missionary minded (he has two children serving on missions right now). At our last PEC we decided we are going to call and utilize ward missionaries. The plan is to have a member missionary from each auxiliary and quorum. That person will be essentially `in charge' of all the missionary work within their respective auxiliaries or quorums. A large part of their responsibilities will include fellowshipping either by themselves or with another within the group or quorum. In addition, there will be another four stand-alone member missionaries who will have no other calling. Their entire focus and responsibility will lie in missionary work. There will be two sisters and two brothers called, and they will be used for all aspects of missionary work including active proselyting. The men who are called will have many opportunities to go on exchanges with us, for finding, teaching or anything else. In addition, when they are not with us, they will be used in missionary companionships within the ward, and will be able to do tracting, teaching or whatever other assignments may come their way. I'm excited to see where this leads. Having six missionaries here can only help the work. The future looks bright in Salmon Arm."
Teaching a Branch "Missionary Workshop" To Show Members How to Become Effective Member Missionaries, by Elders Kyle Shaw (and Russell Nebeker)
"With each passing day we gain a greater and greater love for the Latino Canadians! We give thanks daily to be able to serve among them. Even with Latinos being the significant minority of the population here in Surrey, our teaching pool of serious investigators is just as big, if not bigger, than any I've had in any English area. The Lord is truly blessing our efforts and we are currently teaching 3 progressing families – two are member referrals, and one that we tracted into.
"Elder Nebeker and I recently taught a 'Missionary Workshop' to some of the youth of our branch, illustrating practical ways we can strengthen testimony and harness faith by opening up opportunities to share the gospel in a comfortable, non-threatening manner, instead of idly waiting and hoping for opportunities to present themselves.
"I love serving here! It is truly a joy. Gracias ¡Qué Dios lo bendiga!"
Make Your Personal Study Effective
Preach My Gospel outlines an approved missionary library for personal study. It includes the standard works (which can be enhanced by a Church published study guide), Jesus the Christ, Our Heritage, Our Search for Happiness, and True to the Faith. We feel that a proper mastery of the gospel requires that you limit your studies to these, with a particular emphasis on the standard works. Please let us know and approve of any exceptions. Our goal is to have each missionary become a well-versed gospel scholar by the end of his or her mission.
Lofty but Doable Goals Set For Merritt, by Elders James Brown (and Tyler Mather)
"Here are some of the goals that we have set for Merritt this coming transfer:
§ 2-3 full lessons/day (15-21/week), half to non-members
§ 25 + contacts/day (+150-175/week)
§ Weekly exchanges with the members – Young Men and Elders Quorum
§ 3 Baptisms and 3 Confirmations – (Side note: Merritt had 1 baptism last year. We had one baptism this week, so we're halfway there! But don't worry we won't stop at just 2.)
§ Focus on getting members excited about missionary work
We feel that these goals will keep us fully busy with no down time."
Editor's Note: Elders Brown and Mather have prayerfully set goals for Merritt that are appropriate for the Branch and area. While goals in other areas will likely be far different, we ask each companionship to prayerfully set lofty but doable goals for their respective areas, then work consistently to achieve them.
Bishop Don Gurr Meets Weekly with Missionaries; 500,000 Skip Ropes, by Elders Carlton Taylor (and Peter Stevenson)
"We are really excited right now for all of the possibilities in this area. In the last week we have taught a few great people, which I believe have quite a bit of promise. The cool thing is that they are both families of four. Our new Bishop, Bishop Don Gurr, of the Abbotsford 1st Ward, expects a progress report from us weekly. It has proven to be a great tool that we have used to coordinate the work here."
"Also, on more of a personal note, this last week I reached my mission goal of skipping rope 500,000 times. I liked this goal because it gave me extra motivation to exercise in the morning. I don't know what my next goal will be but I will let you know—maybe it will be to do 20,000 crunches or something similar."
Thanks for all you do! We love you.
President and Sister Middleton
(Check off weekly whether you have achieved each of the eight goals below.)
q Ask for a referral name in every conversation with a member or non-member alike… "Will you bring an acquaintance on a Spiritual Tour?"
q Challenge members to Set-A-Date for a Spiritual Tour or a Church event which can be coupled with a Spiritual Tour with their non-member friend at least 3 times yearly.
q Our goal is to find at least one new investigator daily.
q Our goal is to teach 15 or more full lessons weekly…
q …with at least 3 Spiritual Tours weekly.
q Extend at least one baptismal invitation and commitment each week.
q Remember our mission goal: 10 Gospel contacts per day per missionary outside our usual finding and teaching duties. That includes a Gospel message to everyone you see.
q As weekly goals are set for each Key Indicator, pray for inspiration, and set goals that are lofty yet achievable. Our ultimate long-term goal is for at least 3 baptisms per companionship per transfer.
"I say unto you, be one; and if ye are not one ye are not mine." -- Doctrine and Covenants 38:37
to read past messages.
---