Vancouver Mission Star
This message was written by President and Sister Middleton. It also appears in the Vancouver Star, the weekly newsletter of the Vancouver Mission. It is sent to each companionship throughout the mission.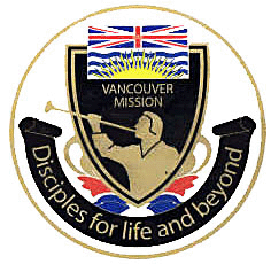 Canada
Vancouver
Mission
Newsletter
March
18, 2008
We are Grateful for the Wise Counsel of Elder Neuenschwander
From March 9 – 14, 2008, we were privileged to be participants in a mission tour by Elder Dennis B. Neuenschwander, of the First Quorum of the Seventy. Elder Neuenschwander indicated several weeks earlier that he wanted to meet every one of our missionaries. To do so required 4 zone conferences in 4 days—the Lower Mainland 5 zones the first day, then the 2 zones in Kelowna the second, then Prince George the third, and finally the Vancouver Island zones in Victoria the final day. We estimate that we covered 2614 kilometers (1620 miles) during the tour, by plane, car and ferry. Tiring but exhilarating for all, it proved to be uplifting, faith building and inspirational.
The Message of Each Zone Conference Differed to Meet the Needs of Missionaries and Members
At each Zone Conference Elder Neuenschwander met each missionary and member leader, then after hearing remarks from our stake presidents and a Zone Leader from each zone he spoke inspired words to meet the needs of those present. The message varied from site to site, but a common theme at all 4 Zone Conferences was that of carefully aligning the work of the members with that of the full-time missionaries. The Preach My Gospel model was frequently cited, noting that bishops and branch presidents had the full priesthood responsibility and obligation to direct all missionary work in his ward or branch. The power and necessity of using the priesthood keys to accomplish goals was stressed. Specific full time missionary goals for baptisms each transfer were emphasized and asked for, and the need for a seamless combined work effort of the members and full-time missionaries was pointed out. Elder Neuenschwander demonstrated beautifully how the goals of members and missionaries had to become identical for success.
Display Baptismal Goals in Apartment
Lofty but achievable baptismal goals should be prayerfully set by each companionship, Elder Neuenschwander counseled, and the goals should be then prominently displayed on missionaries' refrigerators, bathroom mirrors and elsewhere. He urged that every companionship go through 3 steps at the start of each transfer:
1. Write down the baptismal goal, lofty but achievable
2. Place goal prominently somewhere in the apartment, to be seen frequently
3. Make a plan to achieve the goal
He pointed out there is a cost to achieving that baptismal goal – vigorous efforts in finding, through members, personal finding, contacting names in the Area Book, progressing investigators, and other means. The question then must be asked by every missionary, "Will I pay the cost?" Elder Neuenschwander pointedly observed that the success of each missionary's mission lies completely in his or her hands.
Consistency Needed to Avoid Cycles
While Elder Neuenschwander covered many points which space doesn't permit us to enumerate, one other important observation he made was that every missionary can avoid cycles of feast (several progressing investigators/baptisms) and famine by striving toward a consistently high level of work intensity. He urged district and zone leaders to repeatedly emphasize this point.
Victoria Fireside on the Final Night of the Tour
A wonderful Fireside on the last night of the Tour was held in the Victoria Stake Center. With the chapel filled to overflowing, with several investigators, new members and less actives in attendance along with long-standing members and their leaders, Elder Neuenschwander delivered a wonderful address. Taking the parable in Matthew 20 of the workers in the vineyard, he masterfully taught that some join early, some later, but each individual who joins and is active is promised to receive all that the Father hath—His justice and mercy will be served. A spiritual feast was had by all in attendance.
We are extremely grateful to Elder Neuenschwander for sharing his inspired wisdom with us. We pray the Lord's richest blessings upon him.
Missionary Exchanges with Ward Young Men Motivate the Whole Nanaimo Ward, by Elder Youngho Hea (and Kelby Godfrey)
"The new exchange program with the youth in our Nanaimo Ward has been quite successful. In total we have 5 ward missionaries in the Nanaimo Ward, and have gone on exchanges with four of them twice so far. They are totally enjoying it, and this program has been helping the work in this area immensely. For example, through going on exchanges, it became easier for us to gain trust from the members since active interaction with ward members in different positions in the ward naturally take place as we closely work with them.
"Today at church, our ward mission leader, Brother Leigh Sheppard, and we took the first 5 minutes of the Young Men's class and asked the ward missionaries to report on what they have done. They all seemed quite eager to share their success stories of fulfilling their new exciting responsibilities as ward missionaries. It was also very good because there were bishopric members and the Young Men's President present during the report. We have no doubt that this short 5 minute report by the ward missionaries motivated the members in the room to get on board and put more efforts into their missionary inviting work and we hope this report is given weekly. We are proud of our ward missionaries and most importantly we are happy to see them actually enjoying exchanges with us!"
That we might each redouble our efforts after the wonderful Tour of Elder Neuenschwander is our prayer. We love you!
President and Sister Middleton
(Check off weekly whether you have achieved each of the eight goals below.)
q Ask for a referral name in every conversation with a member or non-member alike… "Will you bring an acquaintance on a Spiritual Tour?"
q Challenge members to Set-A-Date for a Spiritual Tour or a Church event which can be coupled with a Spiritual Tour with their non-member friend at least 3 times yearly.
q Our goal is to find at least one new investigator daily.
q Our goal is to teach 15 or more full lessons weekly…
q …with at least 3 Spiritual Tours weekly.
q Extend at least one baptismal invitation and commitment each week.
q Remember our mission goal: 10 Gospel contacts per day per missionary outside our usual finding and teaching duties. That includes a Gospel message to everyone you see.
q As weekly goals are set for each Key Indicator, pray for inspiration, and set goals that are lofty yet achievable. Our ultimate long-term goal is for at least 3 baptisms per companionship per transfer.
"Ye know the things that ye must do in my church; for the works which ye have seen me do that shall ye also do." 3 Nephi 27:21
to read past messages.
---