Vancouver Mission Star
This message was written by President and Sister Middleton. It also appears in the Vancouver Star, the weekly newsletter of the Vancouver Mission. It is sent to each companionship throughout the mission.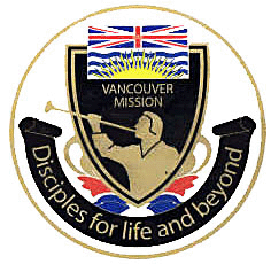 Canada
Vancouver
Mission
Newsletter
April 2
, 2008
A Spectacularly Successful Ward Dinner
The Richmond Ward had a wonderful ward dinner on March 15, 2008, themed as a luau. The ward members stepped forward to invite their non-member acquaintances to attend, and over 50 did so! The account of that fabulously successful missionary effort appears below.
Richmond Ward had a Spectacular Luau to Which Over 50 Investigators Came, by Elders Logan Magnusson (and Carlton Taylor)
"This last weekend we were part of an amazing Ward Luau! The planning was started a few weeks in advance, and the luau was announced in church starting 3 weeks in advance. Invitations were given to the ward members to give out to their non-member acquaintances and we visited members' homes to challenge them to come and bring their non-member friends. As an example, when we visited with Elder Martin and Sister Dorothy Gurney, who live in Point Roberts, we suggested that they invite the border guards at the Point Roberts border crossing because they knew them. That following Sunday at testimony meeting Sister Gurney shared how grateful she was to us for challenging her to become excited and invite, and her testimony in turn got the whole ward excited.
"The luau was especially made possible by the several Polynesian families that we have living in the ward, who stepped forward to help plan to make it authentic and lead in the entertainment. The cooking was done by our excellent ward mission leader, Woody Williams and Johnny Ainu'u. We missionaries were assigned to work with a part member family, Barbara and Tim Tukutau, on the decorations, and with Tim's Tongan background, they were well done. We ended up having around 250 people come, and as we didn't have enough seats it became a standing room only event. There were at least 50 non-members, likely more in attendance. To give everyone an understanding of the Church they were were invited into the chapel while dessert was being prepared where Bishop Travis Wolsey spoke about the organization of the Church, Joseph Smith and the Restoration. We had many comments on what a wonderful evening it was, and members stated they had never seen anything like it before. President Frank Deyell was one of many to comment that they had never seen the parking lot so full that a member had to park down the street! It was a great success and we had Brother Williams' non-member friends with her 2 kids come to Church the next day because of the wonderful experience they had at the luau.
"The missionaries did the Haka during the program, led by Elders Lisiate Feinga and Frank Brunt, and of course that was the highlight of the night! Brother Johnny Ainu'u explained Polynesian customs and practices as MC of the program, and it was exceptionally good."
Editor's Note: congratulations to the Richmond Ward! Their luau was likely as successful as the luau was in San Antonio which was featured in the MTC training DVD, and certainly we had a goodly number of investigators there. The Brethren have instructed that all wards and branches are encouraged to have an activity at least monthly to which members can invite their non-member acquaintances. The monthly activity can be a luau or any other activity the members can devise. It doesn't need to be expensive or elaborate, but should be well planned such that any member will feel comfortable bringing a non-member friend.
Hard Work by Missionaries and Members Brings Blessings, by Elders Jacob Earnest (and Hiram Knapp)
"We had a pretty good week this week, but I wanted more. We have a goal of 400 contacts a week for our area. We settled for 353, but that's still good.
"I am trying to do the best I can –these last 6 months of my mission are going to be dynamite! I remember when Elder Rasband spoke to us here he said we should work so hard they have to carry us home in an ambulance. Well they might have to do that for me!
"The Kelowna 2nd Ward is doing well. I have talked with many members who are working with non-member friends who might be soon ready for us to teach—I know of 3 off the top of my head. We also have found some good potential investigators from contacting and tracting."
Qualicum Develops a Poster with Stars Placed Each Time a Member Invites, by Elder Everett and Sister Florence Ovard
"In the Qualicum Branch Ary Sala is the new Mission Leader. He meets weekly with the Branch Missionary Committee and is stressing the importance of inviting. We now have a poster with a new star placed upon it each time a member invites, and it is displayed in the foyer as a continual reminder and recognition for all Branch members who have invited. The dark blue poster has a picture of a family standing in front of a temple, and the words, 'Let your light so shine…that they may see your good works…' There has been a good response and we are adding new stars every week.
"President Ronald Warren has been very supportive and is working with the Missionary Committee to have one or more monthly activities for Branch members to 'invite' friends to attend. With mostly retired and/or older members in the congregation this is challenging, but several functions are scheduled for the next 3 months."
Finding in the Richmond Library, by Elders Austin Bowles (and Paul Heinzen)
"One good idea we had this week is that we are going to experiment with holding our language study in the Richmond Library. It will give us an opportunity to ask questions with the native speakers there, and hopefully we'll be able to find some new investigators this way. We've noticed the library is full of families of Chinese people."
Merritt Members are Present During Missionary Lessons; New Chapel Sparks Interest, by Elders James Brown (and Tyler Mather)
"We were able to have members present at most of our lessons with investigators this week. We are also trying to get investigators on a Tour as early on in the teaching period as possible. Even despite the fact that Merritt doesn't yet have a church, we can still talk about the programs of the Church and teach a First Lesson.
"The new chapel is well under construction and is starting to take on that familiar look and feel that LDS chapels always do. We inform the public when we are out tracting and GQing on the progress being made. I am quite sure that when it is opened, many non-members will be drawn by the Spirit and want to learn more about the Church."
Our thanks go out to members and full-time missionaries alike. We love each of you.
President and Sister Middleton
WELCOME NEW MISSIONARIES
Elders: Bartlomiej Szypkowski, East Selkirk, Manitoba; Paul Park, Sandy, Utah; Dallas Gist, Lincoln, Nebraska; Gyubum Jung; Busan, S. Korea
Sisters: Meng Jiao Wu, Kunming China; Judy Fairless, Holland Michigan; Marcy Beth Anderson, Heber City UT.
Reminder: Elder Dennis B. Neuenschwander of the First Quorum of the Seventy, who gave us such a memorable and inspiring Mission Tour, is scheduled to speak in the Sunday afternoon session of General Conference.
FAREWELL TO THE FOLLOWING
Elder James Cornwell: "The only time you see obstacles is when you take your eye off your goal!" (Bruce Lee) Remember the reason why you came here, and never lose sight of that! 521 Guys!
Elder Ben Thompson: "Trust in the Lord with all thine heart" (Proverbs 3: 5-6) and don't worry! This mission is dope so work hard, have fun and be yourself. You must be the change you wish to see in the world – Gandhi. Be easy.
Elder Noeru Shibayama: I realize how powerful we (missionaries) are. We are given knowledge of the gospel, testimony, various talents and power and authority to preach. As we exercise those humbly, patiently and diligently to build the kingdom, Heavenly Father gives us success. Thank you for your kindness and example. I'll miss you. I'd love to be a good member missionary from now on. The message we carry is true. How great are our callings!
Elder Russell George Nebeker: "Here then is eternal life to know the only wise and true God; and you have got to learn to be Gods yourselves, and to be Kings and Priests to God, the same as all Gods have done before you namely from going from one small degree to another, and from a small capacity to a great one." Joseph Smith Jr.
New Converts
Abbotsford: Nallely and Maritza Torres Balcazar, Maria Aguilera Torres and David Torres; Sara Leib
Nanaimo: Cassandra Brake
Prince George: Russell Judd
Surrey: Lee,HyungDo, Ranjit Singh
Terrace Dist.: Shelby Doucet
Vancouver: Mark Rancourt
Vernon: Kiko Carrise; Alexandra MacLeod, Ashley Dillman, Patricia Thompson, John Thompson, Vernon Hills
Victoria: Nathaniel Groves
FROM ELDER HAYDEN - CELL PHONES
During the recent Zone Leader Conference Call it was indicated that a number of you were having problems losing calls. Apparently the screen goes white and then the call is lost and the phone restarts. I am told by Rogers that a good general maintenance procedure is to turn your phone off every couple of days for five minutes. Why this should make any difference, I don't know, but let's try it first.
If you are still having problems after doing this, keep track of how many times it occurs in a day and let me know as soon as possible. Also, record where and when it happened. It is important to know if you were talking with one of the other missionaries that is in the group plan or an outside line. Hopefully we can solve the problem by keeping track of where and when it occurred and change out the phones if necessary.
Mission Scripture Reading Schedule: Plan on completing your reading of the "Doctrine and Covenants Dash" by April 5th. Start the "Pearl of Great Price Ponder" on April 7th. We shall then start the "Book of Mormon Blitz" reading on Monday April 28th. Enjoy!
UPCOMING ZONE CONFERENCES FOR APRIL/MAY
Vancouver/Vancouver Language: April 10 - Burnaby; Surrey/Surrey Lang/ Abbotsford: April 17th- Surrey Stake Center; Nanaimo/Victoria, April 24th – Nanaimo; Vernon/Kelowna April 30th – Vernon; Prince George – May 2nd.
(Check off weekly whether you have achieved each of the eight goals below.)
q Ask for a referral name in every conversation with a member or non-member alike… "Will you bring an acquaintance on a Spiritual Tour?"
q Challenge members to Set-A-Date for a Spiritual Tour or a Church event which can be coupled with a Spiritual Tour with their non-member friend at least 3 times yearly.
q Our goal is to find at least one new investigator daily.
q Our goal is to teach 15 or more full lessons weekly…
q …with at least 3 Spiritual Tours weekly.
q Extend at least one baptismal invitation and commitment each week.
q Remember our mission goal: 10 Gospel contacts per day per missionary outside our usual finding and teaching duties. That includes a Gospel message to everyone you see.
q As weekly goals are set for each Key Indicator, pray for inspiration, and set goals that are lofty yet achievable. Our ultimate long-term goal is for at least 3 baptisms per companionship per transfer.
"Well done, thou good and faithful servant: thou hast been faithful over a few things, I will make thee ruler over many things: enter thou into the joy of thy Lord." Matthew 25:21
The Coveted "Off the Hook" Award:
(Week-ending March 30, 2008)
In Recognition of the following:
Baptisms Year to Date
Vernon (10 Baptisms)
Honorable Mention: Abbotsford (8 Baptisms)
Baptisms this Week:
Vancouver Language (2 Baptisms )
Honorable Mention: Nanaimo, Prince George, Surrey, and Vernon (1 baptism each)
Investigators with a Baptismal Date:
Vancouver Language (8 with Baptismal Dates)
Investigators Attending Sacrament Meeting:
Surrey Language (26 Investigators at Sacrament Meeting)
Honorable Mention: Vancouver Language ( 23 at Sacrament)
Lessons with member Present
Abbotsford: (22 lessons)
Contacts
Vancouver (26 contacts per day average)
Progressing Investigators:
Vancouver Language (22 Progressing Investigators)
Honorable Mention: Surrey Language (21)
New Investigators:
Surrey: (8 New Investigators)
Full Lessons:
Surrey (16.8 Average per companionship)
Tours
Surrey Language (5 Tours)
COMPANIONSHIPS:
Elders Whittenburg and Parson: 2 at Sacrament, 8 member present, 18 full, 10 to non-members
Sisters D'Amours and Anderson: 4 at Sacrament, 5 member present, 63 other, 4 progressing, 2 referrals, 110 contacts, 16 full, 10 to non-members
Sisters Nibley and Burt: 2 at Sacrament, 3 member present, 63 other, 155 contacts, 15 full, 10 to non-members
Elders Mun and Jung: 9 at Sacrament, 2 member present, 26 other, 9 progressing, 4 new, 225 contacts, 3 Tours
Elders Binks and Seebeck: 1 at Sacrament, 35 other, 3 progressing, 105 contacts
Elders Klekas and Taylor: 2 with baptismal date, 6 at Sacrament, 2 member present, 48 other, 8 progressing, 426 contacts, 15 full, 14 to non-members
Elders Thompson and Zmoos: 2 at Sacrament, 2 member present, 52 other, 2 progressing, 3 new, 212 contacts, 17 full, 14 to non-members
EldersHeaton and Anderson: 1 baptized, 2 at Sacrament, 5 member present, 2 progressing, 125 contacts, 16 full
Elders Earnest and Knapp: 1 with baptismal date, 6 member present, 80 other, 2 progressing, 2 new, 281 contacts, 15 full
Elders Shibayama and Fullmer: 3 at Sacrament, 59 other, 374 contacts
Honorable Mention:
Elders Spongberg and Tylor: 3 at Sacrament, 3 member present, 2 progressing, 164 contacts, 16 full
Elders Johnson and Barker: 2 at Sacrament, 3 member present, 15 full, 8 to non-members
Sisters Dalling and Lee: 4 at Sacrament, 3 member present, 3 progressing, 100 contacts
Elders Ruesch and Fillmore: 3 member present, 17 full
Elders Hunsaker and Terry: 104 contacts, 18 full, 9 to non-members
Elders Saito and Leavitt: 225 contacts, 18 full, 10 to non-members,
Elders Peck and Cheng: 204 contacts, 17 full, 8 to non-members
Elders Bowles and Smith: 3 w/ baptismal date, 11 at Sacrament, 6 member present, 7 progressing, 19 full, 19 to non-members
Elders Kim and Huh: 2 at Sacrament, 4 member present, 5 progressing, 4 new, 19 full, 15 to non-members
Elders Hassell and Marianno: 1 baptized, 8 at Sacrament, 4 member present, 5 progressing
Elders Scoffield and Dietz: 7 at Sacrament,
Elders Michaelis and Seitz: 3 member present, 19 full
Elders Shumway and Lassetter: 5 at Sacrament, 3 member present, 3 progressing, 152 contacts, 15 full, 9 to non-members
Sisters Falk and Weber: 2 at Sacrament, 4 member present, 136 contacts, 20 full, 15 to non-members
Elders Heinzen and Roberts: 9 at Sacrament, 2 member present, 26 other, 9 progressing, 4 new, 139 contacts, 3 Tours
Elders Cornwell and Green: 5 at Sacrament, 19 other, 163 contacts, 9 full, 8 to non-members
Elders Nebeker and White: 6 at Sacrament, 4 member present, 4 progressing, 140 contacts,
Elders Godfrey and Hea: 1 at Sacrament, 7 member present, 46 other, 95 contacts, 18 full, 10 to non-members
Elders Curtis and Wilson: 1 with baptismal date, 4 member present, 20 other
Elders Mousseau and Douglas: 3 at Sacrament, 2 progressing, 2 new, 103 contacts, 15 full
Elders Martinez and Shaw: 6 at Sacrament, 5 progressing
Elders Hatton and Evans: 4 Progressing
CONGRATULATIONS ON YOUR ACCOMPLISHMENTS THIS WEEK
to read past messages.
---