Vancouver Mission Star
This message was written by President and Sister Middleton. It also appears in the Vancouver Star, the weekly newsletter of the Vancouver Mission. It is sent to each companionship throughout the mission.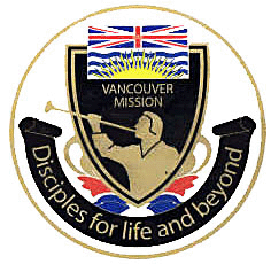 Canada
Vancouver
Mission
Newsletter
May 1
3, 2008
May I Invite You?
Recently we were invited to speak at a Christian high school in Richmond. The school headmaster asked us to describe why the Church of Jesus Christ of Latter-day Saints differed from other Christian churches. Eagerly we accepted the invitation, and our experience is described below:
Teaching the Restoration to a Richmond Christian School, by Elders Carlton Taylor (and Spencer Harrison)
"On Monday May 5, 2008, President Middleton, Elder Harrison and I had a unique opportunity. We were invited to go to the Richmond Christian Secondary School to teach a lesson about our Church. It was a very exciting offer because we were going to be able to teach many students at one time. When we got to the school our hopes for a great lesson were only heightened because we were led into a classroom of 40 students who were eagerly awaiting our lesson.
"We taught them the Restoration Lesson for about 35 minutes, each of us teaching part of the lesson, and then opened the floor for questions. The reaction of the students was extremely good. They all had listened to the Joseph Smith First Vision story very attentively. Following the lesson the students asked many sincere questions which made the whole presentation very interactive.
"At the end of the presentation we extended the offer to come and see more if they would like by coming on a Tour of the Church, or by reading the Book of Mormon. If this lesson doesn't yield immediate fruit, I know that it will yield long term fruit. All of the students seemed genuine about wanting to do what's right and they learned eagerly. We feel many of them will eventually search out the Church to learn more, and this lesson gave them a great start."
Editor's Note: Please inquire in your city or town as to whether there is a Christian secondary school, or indeed a public secondary school with a class to which you could speak. Reach out boldly and with faith, being prepared to present the lesson of the restoration. You will likely have a wonderful experience, as we did.
Reach for "Greenie Fire" Every Day of Your Mission!
One of our recently arrived missionaries shared with us her disappointment in a few comments she heard older missionaries make who have been in the field awhile, who seemed to put down the enthusiasm and energy of newly arrived missionaries. She noted very correctly that "the fire that is noted in 'green' missionaries should be able to stay burning strongly." She went on to mention how sad she felt "when older missionaries are sarcastic about the 'new greenie fire,' and I wanted to teach them about how to re-kindle that fire…Anyway, I think greenie fire is Great!"
Indeed it is! Without that drive and enthusiasm demonstrated by newly arrived missionaries our success in growing the Church in BC is significantly reduced. May we plead with each one of our missionaries that he or she reach deep inside themselves every day to seek for and demonstrate the energy and enthusiasm they need to be optimally successful, to transform that somewhat undisciplined and inexperienced "greenie fire" into a "seasoned missionary fire" that will take you to the height of success. Bring fire and passion to your works every day, and then you will know of the Lord's approval of your work output as you will feel of His "peace that surpasseth understanding" (Phil. 4:7)
Use "District Accounting" to Help Missionaries Succeed, by Elders Brandon Ruesch (and Justin Fillmore)
"Elder Justin Fillmore and I implemented a program known as "District Accounting' when we were the Kelowna Zone Leaders. The idea came from the Preach my Gospel DVD's, and consists of having at every District Meeting a couple of companionships go up to the board and report on investigators and less-actives with whom they are working. They outline and explain their progress in the Gospel, explain any concerns or problems that are slowing their progression, and then they open up a discussion with the rest of the District missionaries. Then the other companionships offer suggestions, advice or approaches that worked for them in similar situations in the past. We found that many missionaries had experienced the same or similar problems, and had found workable solutions they could share. The thing that worked so well with District Accounting is that it put us all together as a Zone or District so that we came to understand more fully what is going on in the other companionships. We then could pray for specific investigators in others' areas of the Zone instead of only our own. It was also great because often there was some solution or idea brought up that the companionship having the problems had not thought about. So instead of two minds trying to resolve concerns it was a half a dozen or so, and so everyone had different insights that helped considerably. It also really helped to bring the District/Zone together in unity. It has worked extremely well in the Kelowna Zone, and I believe that any District or Zone can benefit from this practice!"
We Love Teaching Diverse Nationalities in Canada, by Elders Jung June Huh (and Hee Jun Kim)
"Things are going well here in Downtown Vancouver. We went out and proselyted vigorously this week, and were blessed to meet up with many new investigators. I feel I have been prepared for this mission. While I was living at home just prior to the Mission in 2007, I was attending University in Otago (Dunedin), a city in New Zealand. While there I made many friends. Most of them were from other parts of the world, places such as India, China, Taiwan, Malaysia, and Korea. It just so happens the majority of the immigrants to New Zealand are from those lands. I learned to love my friends, who had come from many countries. That is why I love ALL people here in Vancouver, with so many immigrants. Even though I'm a Korean Missionary, I'm grateful for the opportunity to be amongst the many ethnic groups of Vancouver.
"We found one really cool Chinese girl from the Island of Fiji. My previous home teacher was from Fiji and he was the National Basketball Coach. One new Fijian investigator came to Church with us today and even stayed for the CES fireside. She really enjoyed the Testimony meeting and I know she will be blessed with membership in our Church one day.
"The awesome thing about the Canada Vancouver Mission is that we are not only building Zion in British Columbia, but helping build Zion for the entire world."
President and Sister Middleton
WELCOME NEW MISSIONARIES
Elders: MA: Samuel Porter, Mesa AZ; MA: David Fajardo, Las Vegas, NV; SP: Skyler Sudweeks, Henderson, NV;
English: Joshua Cooper, Stafford, VA; David Berger, Medina, OH; Justin Bingham, Weston ID; Shane Foster, Orem, UT;
Brad Blazzard, Kamas UT; Christopher Nelson, Sugar City, ID
FAREWELL TO THE FOLLOWING
Sister Brigitte D'Amours: "Brethren, shall we not go on in so great a cause?...Courage, brethren; and on, on to the victory! Let your hearts rejoice, and be exceedingly glad." D & C 128:22 I love you all!
Sister Te'ama Dye: Now when our hearts were depressed, and we were about to turn back, behold, the Lord comforted us, and said: "Go amongst they brethren, the Lamanites, and bear with patience thine afflictions, and I will give unto you success." Alma 26:27 This is truly the Lord's work, we are just the tools to meet peoples' needs. "And whoso receiveth you, there I will be also, for I will go before your face." D & C 84:88
Elder Kelby Chad Godfrey: Here is something that inspired and motivated me; Moroni 7:33: And Christ hath said: "If ye will have faith in me ye shall have power to do whatsoever thing is expedient in me." So get it done!
Elder Hunter Heaton: Well "Brotha's," It's been good. If there's anything to remember it comes from Proverbs 3:5-6. Always put your faith and trust in the Lord and things will always work out. Keep the Faith, work hard!
Elder Daniel Jenkins: "The price of success is hard work, dedication to the job at hand and the determination that whether we win or lose, we have applied the best of ourselves to the task at hand" – Vince Lombardi. Remember the mission is what you make of it. So make it sick.
Elder Callin Morrill: "Sometimes we let our thoughts of tomorrow take up too much of today, daydreaming of the past and longing for the future may provide comfort but will not take the place of living in the present" President Thomas S. Monson. The mission is short, make it count!
Elder Trenton Amann: People come and go in our lives. What we learn from them and do with that is up to us. I would hope that we naturally remember all the good times. I hope that is how I'll be remembered because I will reflect on our sweetest memories. Friends, companions, I wish you well, sweet is the work. "grandpa" Keep in touch!
Elder Maclain Miles: Dear Elders and Sisters: I have loved my time serving with and around all of you. I know that this is the Lord's work. The Book of Mormon is the word of God. The Church of Jesus Christ is the true Church restored to the earth once again. Our Savior lives. 2Nephi 25:13. I have got to go roping now but I love you all. Keep working hard and having fun.
Elder Emmanuel Martinez: The Prophet Joseph Smith taught "when you climb up a ladder you must start at the bottom and ascend step by step until you arrive at the top, and so it is with the principles of the gospel—you must begin with the first, and go on until you learn all the principles of exaltation." So don't get discouraged about the fact that you might not know everything, just trust in the Lord and pray to our Heavenly Father and then you will see Him guiding you if we do what He has asked of you!
Elder Taylor Zmoos: Head for higher ground. I love you guys but it's not what you think…
Elder Jacob Roberts: I love this land, work it to the ground. Peace Out!
New Converts
Abbotsford: JinHo Kim, Peter Gatluk, Peter Manyang, Robert Greer
Kelowna: Terra Redwood, Linda Nguyen
Nanaimo: Lavralee Gieni, Kalissa Montgomery, Tammy Felsman,
Prince George: Jessica Marshall, Lisa Hope, Patricia Crosby,
Surrey: Oluwaseun Fasanya, Ranjit Singh, Roxana Alfaro-Funes
Vancouver: Marc Rancourt, Lydia Pettigrew, Ashneel Raj, Nalini Raj, Payam Hajian,
Van. Lang: Betsy Sanchez, Rodrigo Lazaro, Pei (Shirley) Sheng
Vernon: Santaya Stander, Laura Cleasby, Andrea Craven, Sarah Weatherall
UPCOMING ZONE CONFERENCES FOR MAY/JUNE
Vancouver/Van Language--May 22nd, Surrey/Surrey Lang./ Abbotsford-- May 29th (Abbotsford), Nanaimo/Victoria--June 5th, Vernon/Kelowna--June 11th (Kelowna), Prince George—June 13th.
(Check off weekly whether you have achieved each of the nine goals below.)
q Ask for a referral name in every conversation with a member or non-member alike… "Will you bring an acquaintance on a Spiritual Tour?"
q Challenge members to achieve a Spiritual Tour or a Church event which can be coupled with a Spiritual Tour with their non-member friend at least 3 times yearly. Help them understand that the best way members can reach this goal is to adopt a Personal Mission Plan by which they issue at least one invitation each week.
q Our goal is to find at least one new investigator daily, and spend at least one hour daily in focused, effective Personal Finding.
q Our goal is to teach 15 or more full lessons weekly, with 50% or more with an investigator present…
q Our goal is to have at least 50 contacts daily (100-200 per day is possible in most areas in the mission), with the contact goal being prayerfully set for each area by each companionship.
q With at least 3 Spiritual Chapel Tours Weekly.
q Extend at least one baptismal invitation and commitment each week.
q Remember our mission goal: a Gospel message to everyone you see.
q As weekly goals are set for each Key Indicator, pray for inspiration, and set goals that are lofty yet achievable. Our ultimate long-term goal is for at least 3 baptisms per companionship per transfer.
"And speak freely to all; (emphasis added) yea, preach, exhort, declare the truth, even with a loud voice, with a sound of rejoicing."
Doctrine and Covenants 19:37

to read past messages.
---