Vancouver Mission Star
This message was written by President and Sister Middleton. It also appears in the Vancouver Star, the weekly newsletter of the Vancouver Mission. It is sent to each companionship throughout the mission.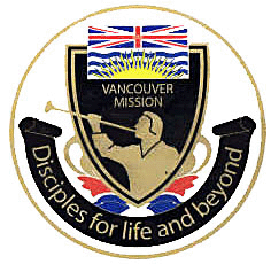 Canada
Vancouver
Mission
Newsletter
September, 2008
Our Final Report
To complete our Canada Vancouver Mission Website, covering 2005 to 2008, we write this report. Since our return to Salt Lake City at the end of June, 2008, we have been thrilled to see many of the returned missionaries who served with us.
Our Homecoming Sacrament Meeting report was on July 13, 2008. We were so excited to see over 120 of our missionaries and families of missionaries there. Importantly, they were honored by being asked to stand during the meeting, and our comment to the congregation that this awesome group standing before them represented a modern day re-assembly of Helaman's stripling warriors said it all! Know that we are confident that one day each of our missionaries will stand before the judgment bar of the Most High and will be praised for their dedicated, selfless service in British Columbia.
Expect to Succeed in Life
Please stop to contemplate and be grateful for all you accomplished in Canada for the Lord. And then use those talents developed and honed on your mission as a springboard to success and achievement in all aspects of your life to come. As the poet Robert Frost so insightfully wrote in "The Road Not Taken":
I shall be telling this with a sigh
Somewhere ages and ages hence:
Two roads diverged in a wood, and I—
I took the one less traveled by,
And that has made all the difference.
Each of our missionaries has made the decision to take that road less traveled, through coming on a mission, then working as hard as he or she possibly could, through difficult yet ultimately supernally rewarding times. Years, decades, centuries hence, the full value of your decision will be fully understood. And then each of us will know fully how that decision "has made all the difference."
Thank you! Thank you! May the Lord bless each of our missionaries with His richest blessings. We look forward to seeing you often, reminiscing perhaps about friends and experiences in Canada, and learning of your life's successes. We know that each of you has learned well that "success is a choice." Carpe diem (seize the day) brothers and sisters as you go forth in life, calling upon the Lord to guide your every step, and achieving all that He would have you do.
With all our love,
President and Sister Middleton
to read past messages.
---