Vancouver Mission Star
This message was written by President and Sister Middleton. It also appears in the Vancouver Star, the weekly newsletter of the Vancouver Mission. It is sent to each companionship throughout the mission.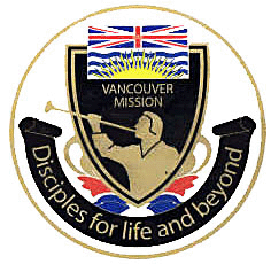 Canada
Vancouver
Mission
Newsletter
January 3,2006
---
Missionary Success Stories
We have been urging all of our missionaries to share with us success stories, as we all might learn from their experiences. Please send us more, that we might share them.
The Creche as a Finding Tool
An 18 year old investigator, Kes Chen, agreed to join Elders Joel Leaman and Ethan Scharman at the Vancouver Ward Crèche before Christmas. Elder Scharman writes, "I sat next to him while he watched Joy to the World. After it ended we walked into the cultural hall to see the nativities. Kes proceeded to ask me some questions about some very strong feelings he was having. I helped him understand that was the Holy Ghost telling him that what he was watching (Joy to the World) was true. He proceeded to tell me that he heard a voice, telling him to be baptized. So we set the date for Jan. 15, 2006. All of this happened because of the Creche."
Elder Kikuchi's Challenge to a long-term Investigator
Elder Mark Barber writes about a meeting Elder Kikuchi had with Mike Richardson, whose wife has been a Church member for over 40 years. Always favorable toward the Church, Mike had yet to join. Elder Barber and his companion, Elder Jeff Allen, were prompted one day to visit Mike, hoping to talk to him frankly about baptism. They found that Elder Kikuchi was already there visiting Mike. Elder Barber writes, "As we entered their home the Spirit was already strong. Elder Kikuchi spoke with power, authority and genuine love. He spoke boldly to Mike, asking, 'Mike, you have been married to this lady (pointing to his wife) for how long?' and learned that it was for over 40 years. Elder Kikuchi asked if he loved her? Mike replied that of course he did. Elder Kikuchi then asked Mike if he knew that her dream and prayer had been for over 40 years, 'that you, Mike, would take her to the temple and be sealed to her and your family. Will you answer her prayers? Please pray about it. I know that God will answer you that you should.'
"Elder Kikuchi then told Mike, 'if you don't, this is what God teaches us will happen to you after this life: you, Mike, will appear before Christ to be judged with your family. After you are judged they will go one way and you will go another. I know that is not what you want.' Elder Kikuchi then added, "Mike, you are bigger than I, and if I have made you mad you can throw me out the window.'
Mike said, 'No. You are right. I will pray about these matters.'
"Elder Kikuchi then knelt and offered a prayer at Mike's request, in which he pled for Mike and his family, almost commanding that the Spirit remain in their home.
"As we have met with the Richardson's since then, Mike has set a baptismal date of April 16, his wife's birthday. He is trying to have the missionary who baptized his wife years ago return to baptize him."
A Merritt Baptism in a Freezing River
Elder Brad Taylor writes that after he and his companion, Elder Austin Johnson, had completed teaching their investigator, Sam Eckstein, Elder Taylor baptized him in the Coldwater River before Christmas. Elder Taylor stated that the river "was still mostly frozen. That was a highlight of my mission."
Please send us your experiences that demonstrate success with building Tours, member missionary referrals or other successful approaches, that we might share them throughout the mission.
2005 Was A successful Missionary Year
2005 is now history. We in the Canada Vancouver Mission have been richly blessed by our Father in heaven with 178 baptisms as compared with 155 baptisms in 2004. We accomplished 178 baptisms despite having 20 fewer missionaries in 2005 on average than there were in 2004. Congratulations! Rejoice for a moment, and then let us move forward knowing we can do better still, with the Lord's help.
We love you! That we all might redouble our efforts to work boldly and vigorously, anxiously engaged in the work, focused on inspiring members to bring their non-member friends to us missionaries to teach, is our constant prayer.
--President and Sister Middleton
Remember our mission goal: 10 Gospel contacts per day per missionary
outside our usual finding and teaching duties.
"Organize yourselves; prepare every needful thing; and establish a house, even a house of prayer, a house of fasting, a house of faith, a house of learning, a house of glory, a house of order, a house of God." D & C 88:119
Reminder:
We are all praying for three baptisms per companionship per transfer!
to read past messages.