Vancouver Mission Star
This message was written by President and Sister Middleton. It also appears in the Vancouver Star, the weekly newsletter of the Vancouver Mission. It is sent to each companionship throughout the mission.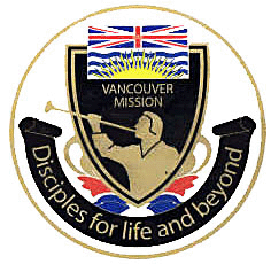 Canada
Vancouver
Mission
Newsletter
January 30,2006
Member and Missionary Success Stories
The reported baptisms in British Columbia for the week ending January 15th show remarkable progress, with 15 baptisms for that week alone! Truly the Lord is blessing the missionary effort in the Canada Vancouver Mission! There is a quickening of the Spirit, and we rejoice with you in being a part of this quickening. Without question these baptisms would not have occurred were it not for the acceptance by the members that they truly are member missionaries, and they have brought their non-member friends forth to be taught and baptized.
Missionary Success Stories
Several of our missionaries have shared with us their success stories, which we share with all of you:
"Mr. Krueger's Christmas is a hit! Bishop John Russell took Mr. Krueger's Christmas to a new level this past year. He ordered 100 copies of the movie for the members as well as for their friends. We had the privilege of delivering these DVD's to all ward members as well as their friends the week before Christmas. We sent around a sign-up sheet to the Elders Quorum, the Relief Society, Primary and Young Mens/Young Women and asked them to provide us with the names and addresses of any of their friends to whom they would like us to give a DVD. We were able to receive 14 referrals, all of which we've found to be extremely grateful for the thoughtfulness of their friends. It gave us a chance to share the Christmas Spirit and, more importantly, the Gospel." From Sisters Grimm and Nielson.
From Elder Howell (and Elder Jensen) we received this report, speaking of the week ending January 15th – "If we cut down on a lot of dinner appointments and use the extra time for planning, our lessons and activities go much better. If we shift our focus from the old method of G.Q.'ing and 'work smarter' it really does work!"
Elders Transtrum (and Elder Eckman in Maple Ridge), in speaking of the week ending January 15th - "President Christensen said to us that there is going to be a baptism every week in this area, and so far his statement is coming true. There are persons coming out of the woodwork!"
Elder Twedt (and Elder Glass) report on the week ending January 15th - "We have 3 baptisms scheduled for Saturday, so that is really exciting. Yesterday at Church we had almost 60 come out and that's really unusual. It is great!"
Elder Clyde (and Elder Wolfe) speaking of the week ending January 15th – "Out of the middle of nowhere we are given the opportunity to teach Joshua and Lyndsey Pennie, who are the two kids who showed up for the Presidents Fireside. They now have a baptismal date. . . . our weeks are beginning to be full."
Elder Fernandez (and Elder Dial) - "The Spanish Ward is doing amazing things with referrals. In order to get missionary work rolling in the area again, we pushed lovingly several weeks ago to have a meeting with the Bishopric to study together Chapter 13 of Preach My Gospel. We all agreed to have all of the remaining ward activities for the year missionary- focused. We started with an investigator/new member B.B.Q. hosted by four ward families, which went on well into the night. We then agreed to have another activity, and it was decided to have a fireside on the Plan of Salvation. It was of better quality than anybody anticipated, and although no non-members came, all the members became fired up. We then had the annual Ward Talent Show, which was a stunning success such that there were more non-members than the missionaries could handle!
"After our Talent Show success the bishopric and ward choir director pushed to have the Christmas Fireside be more missionary-focused than ever before. Nearly two months of hard preparations ensued with the missionaries taking part in the program (plus bringing Books of Mormon, DVD's, and investigators). The program consisted of a one hour presentation of songs and scriptures, followed by dinner and a dance, (the dance after the missionaries had left, of course). The Spirit was so strong at that meeting, and so many people came that some had to stand as the chapel didn't have seats for everybody. After all had sung, the choir director stood at the pulpit, being a returned missionary, and bore her testimony of Christ and of the Book of Mormon. During the dinner she personally gave gifts of Book of Mormons, Joy to the World DVD's and other gifts to non-members. The total attendance was well over 250, with close to a third of that number being investigators, inactive members or non-member friends. We subsequently received referrals from people who had not attended the fireside, when they heard of the success. The moral of the story is: When the focus of activities is the ward's non-member friends, missionary success follows. When that spirit persists the missionary success increases, and when missionaries are involved in planning and execution the focus stays riveted on missionary work. The essential effect is the same as having missionaries knock on thousands of doors all in one night."
President and Sister Middleton
Remember our mission goal: 10 Gospel contacts per day per missionary outside our usual finding and teaching duties.
That includes a Gospel message to everyone you see.
"Now when our hearts were depressed….the Lord comforted us, and said….bear with patience thine afflictions, and I will give unto you success." Alma 26:27
Reminder: We are praying for at least one baptism per companionship per transfer –
More than one if you and your ward or branch is filled with faith.
Set your baptismal goal prayerfully as a companionship, a goal that will stretch your faith and missionary abilities.
---