Vancouver Mission Star
This message was written by President and Sister Middleton. It also appears in the Vancouver Star, the weekly newsletter of the Vancouver Mission. It is sent to each companionship throughout the mission.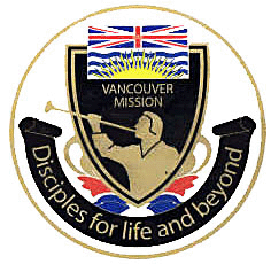 Canada
Vancouver
Mission
Newsletter
February 13
,2006
Observations by Our Missionaries
We are pleased to share the experiences of missionaries throughout British Columbia
Sister Gonzalez (and Sister Berrett) – for the week ending January 15, 2006
"The bishop gave us a very long list of people we have to contact. We are working hard here in Duncan, and we have seen the changes in the members' attitude. When we first came they were reluctant toward missionary work, but now are getting referrals to us after much work. On February 12 we will hold a fireside for the ward in which we'll show "By Small and Simple Things" and then challenge every family to give away a Book of Mormon and bring a friend for a Tour. It'll be similar to the presentation Sister Dunn and I, Sister Gonzalez, made for the Nanaimo youth."
Elder Jeffrey Davis (and Elder Joseph Pettersson) – for the week ending January 22, 2006
"Elder Pettersson and I started the week with a fast and the goal of finding 3 new investigators, 2 new families, and 3 reactivations. We've been doing Elder Ballard's program of 'setting a date' with the members so we figured why not set a date with ourselves. We hoped to attain this goal by the following Sunday, and with fasting and lots of prayer the Lord blessed us and we attained the goal. We were at one of our last appointments Sunday night when at the last possible minute, the dad walked in with a referral of 2 families of 4 and told us they were waiting for us to visit them that night. We met with one of the families and attained the goal.
"We went on exchanges with the new branch leaders this week and doubled our goal of lessons with a member present. This area is amazing!"
Editor's Comment: the Vernon Ward has begun a new member-missionary approach in which they have 2 member-priesthood holders sign up in quorum meeting for one night of the week to do exchanges with the missionaries. The members who sign up are then responsible for setting up the evening's appointments with their non-member friends, less actives, etc. They can take their friends on a chapel Tour; meet them in their home, or whatever works best. The advantages are huge – members get to know the missionaries much better, members are encouraged to invite their non-member friends to the Gospel, and on the evening of the exchange the missionary companionship covers twice the ground by each missionary going out with a member to separate appointments. If your ward or branch priesthood leaders are in agreement to this proposal, we would urge that all missionaries try it (Sisters work with Relief Society or Primary leaders to accomplish the same objective, or exchanges with the priesthood holder and his wife).
Elder Taylor Clyde (and Elder Samuel Wolfe) – for the week ending January 8, 2006
"This week Elder Wolfe and I had an extremely interesting thing happen to us. We went tracting on Wednesday and met a girl named Teresa. We set up an appointment, and she seemed excited to learn about what we had to teach as we taught the full First Lesson. During the lesson I wanted to ask her if she had any questions, but each time the Spirit told me to wait until the end. The First Vision went great, and I know she felt the Spirit. After we finished the lesson, we asked her if she had any questions. Well, this opened a floodgate of questions, such as polygamy, why does the Book of Mormon contradict itself, and she made statements saying we are saved by grace, we need no baptism, and we need not follow the commandments. (All the questions came after her boyfriend, Dave, and his friend, Bill, had joined in the conversation.)
"Needless to say it put us into a Bible bash. As we were confronted by these antagonistic questions we experienced the most amazing thing. We have always been given a promise that as we have the Spirit with us we will not be confounded before men. Well we were not confounded! In fact, as you study in Preach My Gospel under page 3, "Teaching by the Spirit", we experienced every bullet point listed. We had the Spirit with us! The Spirit was bringing things to our remembrance and made us, being weak, strong before two men.
"Dave was in the ministry and was going to a bible school, and Bill was extremely well versed in the Bible, more so than Dave. They threw scripture after scripture, and we were given answers. Scriptures that were committed to memory came flowing out of our mouths, and the doctrine came to mind as well. Dave and Teresa grew quiet due to the fact that they had been confounded. We completed the discussion and left.
"There are two reasons that I share this:
1. To show how the Lord protects His servants, and He will not let them be confounded by men. But there is something in addition – we went in with the Spirit to teach a First Lesson, and if we had only partially given it, it would have left a bad impression in their minds to the effect that we weren't converted. We weren't attacking them, they attacked us and then we answered their questions boldly, with authority, in the defense of the Church. I guess the point I want to make is that the Lord protects us when we are doing His work and trouble comes.
2. It is important to have effective studies. It is extremely worthwhile for us to memorize scriptures, because they are brought to our remembrance when we are in need.
"We seem to be teaching about the same number of lessons each week now but they are just more effective."
We are so pleased to share these observations by your fellow missionaries. Each gives ideas that will be helpful to us all as we proclaim the Gospel throughout British Columbia. As you have missionary experiences or observations please send them to us so we can share them with the rest of the mission. We love you all.
--President and Sister Middleton
Remember our mission goal: 10 Gospel contacts per day per missionary outside our usual finding and teaching duties.
That includes a Gospel message to everyone you see.
"And all things, whatsoever ye shall ask in prayer, believing, ye shall receive." Matt. 21:22
Reminder: We are praying for at least one baptism per companionship per transfer –
More than one if you and your ward or branch is filled with faith.
Set your baptismal goal prayerfully as a companionship, a goal that will stretch your faith and missionary abilities.
to read past messages.
---