Vancouver Mission Star
This message was written by President and Sister Middleton. It also appears in the Vancouver Star, the weekly newsletter of the Vancouver Mission. It is sent to each companionship throughout the mission.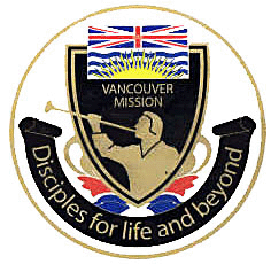 Canada
Vancouver
Mission
Newsletter
March
20, 2006
BROTHER JACK ARMSTRONG ADDRESSES THE NANAIMO/VICTORIA ZONE CONFERENCE
The combined Nanaimo/Victoria Zone Conference on February 16, 2006, featured an address by Brother Jack Armstrong, who lives in the Nanaimo Ward. Almost 90 years old and retired for several years, he achieved tremendous success in the Imperial Oil Company, rising in a meteoric career from the bottom all the way up to CEO of the company. As a young man starting out in life he was making 50 cents an hour working in a gold mine. He was urged by a fellow gold mine worker, a Swede, to get out of the mine, obtain an education and make something of himself. He took that advice, where he became a seismologist, then climbed in the company in a true Horatio Alger story. Along the way he became converted to the Church, and served in various Church capacities, including serving in a bishopric and serving in the mission presidency in Toronto, Canada.
Brother Armstrong gave a most interesting address to our missionaries, answering a number of questions. A few of the standout observations made by Brother Armstrong included:
· The secret of success is to work hard.
· The secret to happiness is found in hard work.
· Treat everyone you meet as you would be treated. Brother Armstrong noted that in the company offices (and everywhere company employees worked) he made it a point of knowing everybody's first name no matter how high their position or how low their position in the company.
· In leadership, delegate fully a given job, then get out of the way while the person who has been given the responsibility of accomplishing the job does so. He pointed out that people naturally make mistakes along the way, as they work their way through the intricacies of the task to which they've been assigned. He urged that as a leader you must support your subordinates even when they make mistakes, and give them encouragement so that they will not make the same mistake in the future. Similarly, compliment them profusely when they succeed.
· "You can't be promoted until you train someone beneath you to take your place."
All of these pearls of wisdom and advice and more, taken from Brother Armstrong's extremely successful life, are applicable to us as missionaries. That we might learn from the successful life of Brother Armstrong is our fervent prayer.
Service as a Finding Tool, by Sister Katherine Reed (and Sister Coleen Murray)
"On Tuesday we found a new investigator. The following day he committed to baptism and came to church that next Sunday! It was amazing to see it happen, and it was all due to service. A few months ago Sister Gonzalez and I started service at the Rose Wood Towers – having early morning conversation and games with some of the residents. After awhile only one person was coming – Wesley. One day we began talking about the Church. It turned out that he had received a Book of Mormon from missionaries a few years ago but hadn't been interested then in learning more about it. We kept meeting with him on Tuesday mornings, and after several weeks learned that since he'd been meeting with us had started reading the Book of Mormon. He told us last week that he knows it's true, and so we started teaching him and asked if he would like to be baptized. He said, "Yes"! This is one of the best finding experiences we have had."
Ward Missionaries Effective in Large Numbers, by Elder Stuart Young (and Elder Kyle Cluff)
"In the Vernon Ward during the last 3 months 14 ward missionaries have been called. They usually spend 2-3 hours a week (some spend more) in activation work or on exchanges with the missionaries. Ten of these ward missionaries are couples, and 2 more are sisters who work together. The old ward mission leader teaches Gospel Essentials and is also called as a ward missionary, and he works with the ward mission leader during the week. Each week the 7 "companionships" are assigned 2 or 3 names to visit (semi-active, or less-active). They report back during the next Ward Missionary Co-ordination Meeting. Ideally this is how it is supposed to work. Training and instruction is given to the ward missionaries at the co-ordination meeting."
Editor's Note: With the great success in calling many ward missionaries in the Vernon Ward and elsewhere in British Columbia, we hope every bishop and branch president throughout British Columbia is calling many members as ward missionaries. Unlike years gone by when ward/branch missionaries did little, thinking that tracting was what missionary work entailed, with the new Preach My Gospel concept they now work with assigned less-active families, many of which are part-member families, to fellowship, teach, reactivate and baptize. In areas using ESL they can be assigned to teach English as a Second Language, then invite the ESL students on a Tour of the chapel and teach them the Gospel as well.
Congratulations to each of our missionaries for working both smart and hard. Congratulations also to the dedicated B.C. members who are stepping forth with referrals of their non-member acquaintances. The quickening of the Spirit that is evident in B.C. wouldn't happen without faithful members who boldly ask - - thank them every chance possible. We love you.
--President and Sister Middleton
Remember our mission goal: 10 Gospel contacts per missionary outside our usual finding and teaching duties.
That includes a Gospel message to everyone you see.
"Go ye therefore, and teach all nations, baptizing them in the name of the Father, and of the Son, and of the Holy Ghost."
Matthew 28:19
Reminder: We are praying for at least one baptism per companionship per transfer – More than one if you and your ward or branch is filled with faith. Set your baptismal goal prayerfully as a companionship, a goal that will stretch your faith and missionary abilities.
to read past messages.
---