Vancouver Mission Star
This message was written by President and Sister Middleton. It also appears in the Vancouver Star, the weekly newsletter of the Vancouver Mission. It is sent to each companionship throughout the mission.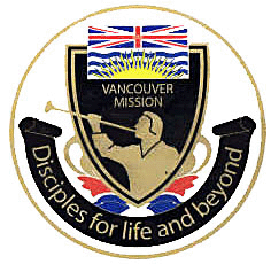 Canada
Vancouver
Mission
Newsletter
March
28, 2006
LET HIS COUNTENANCE SHINE IN YOURS
We were particularly impressed at a recent Prince George Zone Conference to hear Sister Cyndi Wellington, a Fraser Ward missionary, bear her testimony. She related that after a recent missionary encounter she went home filled with the Spirit, and remarked to her husband, "Do you see Him?" He didn't understand the question – "See whom?" And then Sister Wellington asked again, "Do you see Him in my face?" Again her husband raised the question, "I don't know who it is that you reference." Sister Wellington pointed out that she was referring to the countenance of the Lord which shone in her face as a result of her missionary activities, and then her husband fully understood.
In 3 Nephi 19: 25 we read, "And it came to pass that Jesus blessed them as they did pray unto him; and his countenance did smile upon them, and the light of his countenance did shine upon them, and behold they were as white as the countenance and also the garments of Jesus; and behold the whiteness thereof did exceed all the whiteness, yea, even there could be nothing upon earth so white as the whiteness thereof."
That glorious countenance, with the reflected light of our Lord, should shine in all of our faces as described in 3 Nephi, and as Sister Wellington so beautifully pointed out with her question to her husband. All of us as Church members and as missionaries need to carry with us that continued reflected shine from Him in our countenance!
An Amazing Member Referral, by Elder Benjamin Zufelt (and Elder Thomas Sorensen)
In November shortly after Elder Sorensen and I opened up Westbank we received a call from a Sister Mutch from Alberta, who told us about her non-member nephew, Brandon Obray, who is living in Westbank. She suggested that we invite him out to Church. We called him, and the next day he showed up in a suit! None of the members introduced themselves to him because they thought he was a member. Subsequently we taught him the Restoration Lesson, and the Spirit was strong. Our words flowed. Brandon went with us to priesthood meeting, and during that meeting a request for volunteers for the upcoming Christmas dinner was made. Brandon instantly volunteered.
Two days later we learned that his cousins, Aaron and Jaden, were Church members, Jaden being on a mission. His cousins asked Brandon to pray and ask God if the Church were not true. Brandon did so, and received a witness by the Spirit. In further conversation we discovered that one of his cousins, Aaron, was going to be playing football for B.Y.U., lockering right next to Elder Sorensen next fall.
After we taught him about repentance, he said, "Well I am going to have to go home and repent." Two days later he came to the Christmas party and afterwards helped clean up, just like a regular member. During the 3rd lesson he commented that he wanted his cousin Jaden to baptize him; however, he wasn't coming home from his mission until summer. We tried persuading him to be baptized sooner, but he didn't want to budge initially. Together we read Alma 32, and we also marked Alma 34 and asked that Brandon read it. We then proceeded to watch By Small and Simple Things. When the testimonials and the DVD came on the girl mentioned how happy Mormons are, and Brandon commented, "Yeh, that's how I feel. You guys are happy all the time."
Brandon still resisted an earlier baptism, however. I thought to speak of the temple, pointing out, "The only problem I see is if you want to get baptized in the summer it will be that much longer to be able to go to the temple. If I were your cousin, Jaden, I would much rather want to attend the temple with you than to baptize you." After we explained the purpose of temples, I stated, "You know, Brandon, it doesn't matter what we want. If it were up to us we would take you out right now and baptize you. But it is up to God, and you need to ask Him if you need to get baptized in 6 months or sooner. But it is up to Him." Elder Sorensen then said, "Let's write our questions to God." We wrote up 8 questions, including: Is the Book of Mormon true? Is Joseph Smith a prophet? Should I get baptized? and others. Then Elder Sorensen said, "O.K., what I have found works best is to have each of us say a prayer. We'll go first, then you can." We all agreed, and after I said a short prayer then Elder Sorensen did and then Brandon prayed. As he did, the Spirit came upon us. It was awesome. Brandon asked if the Book of Mormon was true, and as he did so his voice changed. He had received a witness of its truth. We then set a baptismal date for January 21, 2006, and now Brandon was very happy with this earlier date.
Many family members from all over the world attended his baptism. Some were Church members, but several were not, and several of the non-members who came are now studying the Gospel. We learned that if we keep our covenants the Lord will bless us and as we fulfill our mission God will give us success. Brandon is now a solid member of the Westbank Branch and is serving as a branch missionary.
Our prayer is that the radiance and joy shown in the countenance of both members and missionaries will draw people to the Church. We love you all.
--President and Sister Middleton
Remember our mission goal: 10 Gospel contacts per missionary outside our usual finding and teaching duties.
That includes a Gospel message to everyone you see.
"But ye are a chosen generation, a royal priesthood, an holy nation….." I Peter 2: 9
Reminder: We are praying for at least one baptism per companionship per transfer – More than one if you and your ward or branch is filled with faith. Set your baptismal goal prayerfully as a companionship, a goal that will stretch your faith and missionary abilities.
to read past messages.
---