Vancouver Mission Star
This message was written by President and Sister Middleton. It also appears in the Vancouver Star, the weekly newsletter of the Vancouver Mission. It is sent to each companionship throughout the mission.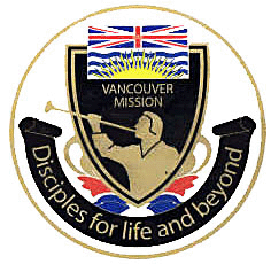 Canada
Vancouver
Mission
Newsletter
April
17, 2006
INSPIRING COUNSEL FROM ELDER RASBAND
On April 7, 2006 there was a Mission President's Seminar in Seattle for all nine of the Area Mission Presidents, which we attended. Elder Ronald Rasband who is one of the seven Presidents of the Seventies, and also is assigned to oversee our Area, presided. Many wonderful ideas were brought forth in that seminar, a few of which we will share with you. A highlight was a conference call in which we heard from Elder M. Russell Ballard and Elder Quentin Cook, both of whom are overseeing the worldwide missionary efforts of the Church.
Some excellent ideas brought forth are the following:
1. Full time missionaries should meet with the bishop or branch president weekly, in a relatively brief meeting to which they should take their Daily Planner as well as Area Book for review with the bishop or branch president. At the meeting they should find specific ward or branch issues that they need to address and also to co-ordinate their efforts to match members to the investigators for fellowshipping purposes, to assure that the investigators who are invited to Sacrament Meeting are either picked up or are joined by a member to lead them over to Sacrament Meeting, to assure that fellowshipping needs are being addressed properly.
2. Zone Leaders should meet with the stake or district president monthly. The issues discussed should be similar to those mentioned above with ward or branch leaders.
3. Work vigorously to see that stake, district, ward and branch members write a dynamic Mission Plan, which has the characteristics outlined by our stake presidents – simple and short, involve every member, and with measurable goals.
4. Have the bishop or branch president give second interviews of investigators when required according to the PMG criteria so that they can better know them prior to baptism. In the Handbook it suggests that the mission president or counselor in the mission presidency give the second interview which, in many instances, is not physically possible here in B.C. because of the distance involved. A better idea in every instance is to have the interview done by the local Church leader for the reasons mentioned above.
5. Go over Chapter 13 of Preach My Gospel in ward council and missionary correlation meetings, to be sure that all ward and branch leaders understand their role in making missionary efforts successful.
6. Welcome strangers to each ward or branch meeting. Reports are repeatedly heard of individuals unknown to ward or branch members attending a Church service and never being welcomed or greeted by anybody. Continually remind in PEC, ward council and other meetings of the critical importance of proper welcome.
7. Be sure that each ward or branch has a dynamic insightful Mission Leader. It was shared with us the solution that Elder Tom Perry of the Quorum of the Twelve suggested to insure that the Mission Leader be the proper individual - that each bishop or branch president release the First Counselor and then make him the ward or branch Mission Leader. While that probably isn't necessary in most cases, it underlines the importance the Brethren place on having the most capable individuals to head the ward or branch missionary efforts.
8. Comply with the directions of Preach My Gospel in order to keep the missionary work simple. Elder Ballard made a strong point that when local leaders write intricate, lengthy and complex missionary suggestions or Plans that all they do is confuse the members; then the basic and simple work doesn't get done. He urged also that we use the short well-done lesson pamphlets, which tie into each of the lessons in PMG to reinforce the basic message we bear to investigators.
9. Elder Ballard urged that the "wall" that seems to have crept in between members and full time missionaries through the years is a creation of Satan, and must be broken down at all costs. He urged that missionaries and members must be seamlessly integrated into a single effective missionary effort.
10. As PMG urges, missionary companionships should aim toward a minimum of 15 lessons per week, and should include all 4 of the first lessons among that number. There is no better method for giving compelling inviting lessons than to simply be giving them repeatedly, according to Elder Ballard, something we strongly urge all companionships to accomplish.
11. When missionaries have the investigators pray, it would be helpful to ask the investigator to "pray for the missionaries as well as to know that the lesson we've learned is true." By inviting the investigator to pray for each missionary companionship it invites them to understand that they and their referrals are part of the important finding and conversion process.
12. Elder Ballard urged that the model for training outlined in PMG be used, and used repeatedly. That model should be used by Zone Leaders every time they do exchanges, by District Leaders every time they have district meetings. It consists of explaining what a lesson should look like, then demonstrating the lesson, then having the missionary companionships practice giving the lesson, and then evaluate how they did, looking toward improvement. All Zone Leaders and District Leaders should do exchanges for no less than 24 hours, so that all aspects of the missionaries' habits and obedience are properly evaluated.
13. Elders Ballard and Cook made an important observation that every time a missionary companionship teaches an investigator they should ask for a referral, and should do so with every lesson they give. The dialogue should be something to the effect, "Who else would you like to have here with you in a lesson?"
14. Observe that President Gordon B. Hinckley has called for there to be a doubling of the number of baptisms yearly. When asked how that would occur, he responded that, "When the faith of the leaders and members equals that of the Prophet the baptisms will double." Clearly members and missionaries alike must step forward, and must step forward boldly and together. There is no question that the old statement that "united we stand, divided we fall" is extremely appropriate to successful missionary work.
That we all might heed the inspired sound advice of the General Authority leaders who have given it to us, that we might step forth boldly and with faith to accomplish the goal that our Prophet has given us that we double our baptisms is our constant prayer. We love you and love working with you.
--President and Sister Middleton
FROM THE ASSISTANTS – ELDERS SORENSEN & RHOADS
We would like to thank each of you for your faith and loyalty to the Lord and His Kingdom. Your diligence is an inspiration to all who know you. The Lord has asked that we be a clean and a pure people. He asks that we bring the sacrifice of a broken heart and a contrite spirit that we may be sanctified by the Holy Ghost. If faith truly does precede the miracle, then let us put it into action and turn away from those things that would keep us from being effective missionaries. Then will we see the promise made to Joshua of old come to pass in our own lives, "Sanctify yourselves, for to morrow the LORD will do wonders among you." Joshua 3:5
WELCOME TO THE NEW MISSIONARIES
Sister: Dionne Oliver (ON)
Language Elders: Taryn Collins (UT), Jordan Elmore (MI), Brian Huo (CA), KOREAN
FAREWELL TO THE FOLLOWING
Elder Luke Beachley
"Go to work or go to hell." –Brigham Young
Elder Kyle Webster Cluff (Cluffy)
"It is good to have an end to journey towards; but it's the journey that matters in the end." --Ursulak Leguin I know that my Redeemer lives, for he has walked with me. I know His Gospel is true and that it changes lives. This has been an unforgettable journey. I am glad to have shared it with you all. Thank you. No dice!
Sister Liem Thanh Doan
"And as surely as Christ liveth, bear testimony of him."
Moroni 7:26, 31 I love this sentence in these verses because I know that He lives and I want to be Christ like. When you serve one another, you'd better forget yourself. He will always give you confidence in His work. "Ye shall be patient in long-suffering and afflictions, that ye may show forth good examples unto them in me." Alma 17:11
Elder Luke Edvalson
I may not see any of you again in this life, but I love the Gospel which eliminates good-byes through eternal friendship. Take good care, and work hard at everything you do.
Sister Emily I. Hansen
"Let us labor diligenty…for we have a labor to perform whilst in this tabernacle of clay…." Remember that it is the strongest that the Lord gives the most challenges. God loves us. Jesus Christ is our Savior. How blessed I have been to serve in the BEST mission in the world! I will never be the same. "Courage, brethren (and sisters); and on, on to the victory!"
Elder Travis Nemrow
I love being a missionary! I truly believe in Nephi's testimony given in 2 Nephi 4:20-21: "My God hath been my support: He hath led me through mine afflictions in the wilderness; and he hath preserved me upon the waters of the great deep. He hath filled me with His love!" I only hope and pray that I will continue to be filled with the love of God as I continue in the Lord's great work!
Sister Michelle M. Ruge
Remember that this work is not yours and mine alone; it is the Lord's work. When we are on the Lord's errand, we are entitled to the Lord's help. Remember that whom the Lord calls, the Lord qualifies. "He who gives money gives much; he who gives time gives more, but he who gives of himself gives all!" –Pres. Thomas S. Monson Remember to give it your all!
Elder Thomas C. Sorensen
"As we demonstrate our devotion to God by our daily acts of righteousness, He can know where we stand." –Pres. James E. Faust. I pray that my service here in B.C. has been acceptable in the eyes of the Lord. I hope He knows where I stand.
Elder Eric Transtrum
We have seen many great things through the time we have to serve the Lord. We all have our low times and have seen the worst. (Romans 8:38-39) But we know that through Jesus Christ we can accomplish what He has for us to do. So let the Lord mold us into the men and women we are to become. (2Nephi 33) Much love to all until we meet again.
Elder Jorell Young
"Did you see the sunrise?"—Thomas Sullivan Magnum
Elder Weldon & Sister Donna Kitchen
It has been a privilege to serve with such high caliber missionaries under the direction of President and Sister Middleton. Many people are being led to us for the purpose of accepting the gospel. We feel that missionary work is on the verge of exploding here. We are grateful to have been part of its beginning. We know without a doubt that this gospel is true!
UPCOMING ZONE CONFERENCES FOR APRIL - MAY
Apr 27 –Vancouver/Language May 4 –Surrey/Abbotsford May 11 –Nanaimo/Victoria May 17 –Vernon May 19 Prince George
Remember our mission goal: 10 Gospel contacts per day per missionary outside our usual finding and teaching duties.
That includes a Gospel message to everyone you see.
"And now, if your joy will be great with one soul that you have brought unto me into the kingdom of my Father, how great will be your joy if you should bring many souls unto me!" D & C 18:16
We are all praying for at least one baptism per companionship per transfer –
more than one if you and your ward or branch is filled with faith.
Set your baptismal goal prayerfully as a companionship, a goal that will stretch your faith and missionary abilities.
to read past messages.
---