Vancouver Mission Star
This message was written by President and Sister Middleton. It also appears in the Vancouver Star, the weekly newsletter of the Vancouver Mission. It is sent to each companionship throughout the mission.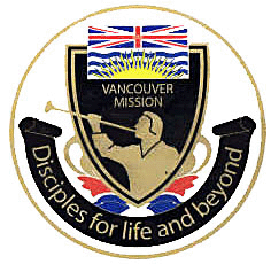 Canada
Vancouver
Mission
Newsletter
May
2, 2006
OBSERVATIONS BY OUR MISSIONARIES
Our missionaries are sharing with us insightful and very helpful observations regularly, several of which we share with you below. Their excellent ideas might be used throughout the mission.
Burnaby Ward Creates a Simple, Direct Mission Plan, by Elder David LaSalle (and Elder Christopher Eckman)
"We taught 39 lessons this week! I just love being a missionary! Burnaby has never been close to the potential it has and I really feel like Burnaby is going to take off. Our main focus has been implementing a Ward Mission Plan. We've been working closely with our Ward Mission Leader and it looks like our Ward Mission Plan will be to have every member bring 3 people on a Tour during 2006. So, 3 Tours with a non-member. Simple!
"Another great thing happened is that we took our whole Ward Council on a "silent" Tour of our Church in Burnaby. We wanted the whole Ward Council to understand the importance of the Tour, but also see that our Church building needed a lot of work. It is very dull and the rooms need to be spruced up with more pictures and visuals along the halls. While trying to figure out what to do to explain these problems, it hit me! A "Silent Tour!" So we took 15 minutes to silently make a Tour. The only sound was footsteps. Afterwards they all realized that the rooms don't express themselves. The halls are dull and things could be a lot better. President, as you would say, "The members are getting on board." And when they are all on board this area will boom! It is great to see the progress."
Importance of Teaching Full Lessons, by Elder Daniel Roy (and Elder Soukson Praxaybane)
"President, I feel that ever since we've begun to teach the full lessons, our investigators have made significant progress and the Lord has been truly blessing this area. We have a whole new area now with 3 investigators who want to be baptized very soon, plus our old ones are close to making the commitment to be baptized."
Importance of the Baptismal Service, by Elder Joel Asay (and Elder Shane Hohman)
"Bonnie Burton was found at the baptism of Chris Kozak last year. They are good friends. Wanting to learn what the Church meant, Bonnie took the discussions. Ultimately she wanted to change her life and be baptized. Her initial baptismal date, however, was 1 year in the future. She told us she wanted to be baptized in 3 weeks. The baptism went forth, and we had a great time contacting all her friends who came to the service.
"Since her baptism she has referred another 6 people to come on Tours!! She is, and will continue to be, a great example to her non-LDS and LDS friends alike.
"Trevor Arnsworth was contacted through our less-active/part member work. The family consists of Trevor, his formerly less active member wife, Michelle, and their 2 children. The first time we met with them Michelle intended to tell us not to return. After feeling the Spirit, however, she desired another lesson. We returned, shared another lesson, and Michelle then realized Trevor was actually learning and feeling the Spirit. They asked if we would bless their children, and after asking the Bishop, were allowed to do so under his enthusiastic eye. We started meeting twice a week. Trevor smoked and drank much coffee when we first met, but once he felt the Spirit he only wanted to be baptized and he quickly complied with the Word of Wisdom.
"We fasted and prayed with him. He set the date of Feb. 3 for baptism and then was baptized with much enthusiasm and excitement. Since baptism he has expressed intense interest in progressing so that he can one day baptize his own children and be sealed to his family. Seeing a non-member progress toward baptism with an eye single to God's glory and with an eternal family has been the best experience of my life."
Importance of Full Lessons, by Elder James Corey (and Elder Paul Ackerson)
"I would like to thank you for having us keep track of how many full lessons we have taught. I feel much more successful striving for 10 full lessons. Spiritual thoughts are great, but don't lead to much life-changing things other than following up with members. Anyway, I'm happy to say Elder Ackerson and I worked quite hard this week getting 13 full lessons.
"We're finding the best way to improve our teaching skills is to teach full lessons and teach a lot of them. They are more vital than any personal or companion study can be because of the unknown variable of the third person thrown in."
Sister Sheman, Model Member Missionary, by Elder Travis Nemrow (and Elder Joshua Haren)
"Sister Sheman has become an exemplary member missionary. She has captured the vision that Sister Ma has realized in the past, and has truly embraced the vision of taking her friends on Tours of the Church. She lives in the Burnaby Ward.
"Sister Sheman told me when we were preparing for her Tour that at night she lays in bed and stares at the ceiling pondering who she will bring on a Tour next! While on the Tours she bears a strong testimony about how the Church has changed her life! It made me understand how much more effective it is when a member brings a friend and bears his/her testimony – 100 percent more effective!"
We love sharing your ides. Please keep sharing them with us. We love all of you.
--President and Sister Middleton
Remember our mission goal: 10 Gospel contacts per day per missionary outside our usual finding and teaching duties. That includes a Gospel message to everyone you see.
"Ye are a chosen generation, a royal priesthood, an holy nation, a peculiar people." (Peter 2:9)
We are praying for at least 1 baptism per companionship per transfer – more than 1 if you and your ward or branch is filled with faith. Set your baptismal goal prayerfully as a companionship, a goal that will stretch your faith and missionary abilities.
to read past messages.
---