Vancouver Mission Star
This message was written by President and Sister Middleton. It also appears in the Vancouver Star, the weekly newsletter of the Vancouver Mission. It is sent to each companionship throughout the mission.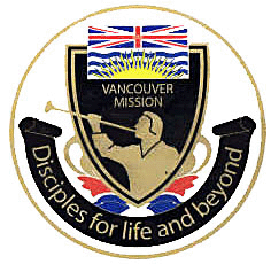 Canada
Vancouver
Mission
Newsletter
May
16, 2006
BLESSINGS, WORK !
We have been thrilled to see that the members of the Church in British Columbia are stepping forward as member missionaries! Our increasing number of baptisms, up 43% over 2005 year to date, are due to increasing member referrals. More and more members are setting a specific date by which they will have at least l of their acquaintances come with them on a Tour or for some other Church activity, which can be coupled with a Tour. The members are learning that they need to keep asking their acquaintances until someone agrees to go on a Tour, and they might need to ask 5 or 10 or more until someone comes on a Tour. One out of 7 who do so go on to baptism, as our experience in British Columbia demonstrates.
Missionary Efforts Must be Redoubled
There is a natural tendency on the part of missionaries as they see the members stepping forward increasingly with member referrals of their non-member acquaintances to slacken up some and wait for the members to make a referral. We strongly urge that missionaries not succumb to this natural human tendency. The members will be diligent and will be working vigorously to find referrals to give to those full time missionaries whom they see are worthy of referrals. They will not be inclined to refer those precious friends and acquaintances to missionaries they perceive as less than diligent. Therefore, to be certain that member referrals are forthcoming each full time missionary must be anxiously engaged 24/7 in his or her work. Do not sleep in – 6:15 is the latest anybody should arise in the morning. The weekly key indicators from this point on will be shared with each bishop and branch president as well as with stake and district presidents. In the weekly meetings between the missionaries and the bishop or branch president we have asked that the key indicators be a focus to give them that level of assurance that the missionaries are indeed working diligently. Bishops and branch presidents know that each companionship is striving for 10 or more full lessons weekly, and 15 or more total lessons. The key indicators also indicate the levels to which members are stepping forward with member referrals, with the column on referrals being an important part of the weekly evaluation. If member referrals need to be increased plans can be made at that meeting with the bishop or branch president to how that could be accomplished.
President Ezra Taft Benson made an extremely important observation when he noted, "I have often said one of the greatest secrets of missionary work is work! If a missionary works, he will get the Spirit; if he gets the Spirit, he will teach by the Spirit; and if he teaches by the Spirit, he will touch the hearts of the people and he will be happy. There will be no homesickness, no worrying about families, for all time and talents and interests are centered on the work of the ministry. Work, work, work – there is no satisfactory substitute, especially in missionary work." (Pg 121 PMG)
Dedicated Effort Needed by Members and Full-Time Missionaries Alike
May we echo the sound advice and wisdom given by President Benson. Hard dedicated work is necessary on the part of each and every one of our full time missionaries as well as members to achieve the growth of the Church here in British Columbia which was prophesied by Elder Henry B. Eyring in March of 2005. You may recall his prophetic vision when he stated, "I am clear that the Lord is going to build the Church in this area in a powerful way and beyond what you might expect. This will come, for the Lord will build great strength in the Church in this area and substantial growth is before us. I can't give you a timeline, but by my human judgment it will be a miracle."
We are seeing that miracle! To effectively have that miracle play forth as Elder Henry B. Eyring prophesied it will require that each and every one of us dedicate ourselves to spending each and every moment of our mission working vigorously, prayerfully, and faithfully.
That we might so demonstrate our love for our Father in Heaven, and our gratitude to our Father in Heaven for entrusting us with this sacred calling of proclaiming the gospel to the people of British Columbia, is our prayer. We love each and every one of you.
--President and Sister Middleton
Remember our mission goal: 10 Gospel contacts per day per missionary outside our usual finding and teaching duties. That includes a Gospel message to everyone you see.
"There is a law, irrevocably decreed in Heaven before the foundations of this world, upon which all blessings are predicated. And when we obtain any blessing from God, it is by obedience to that law upon which it is predicated." (D & C 130: 20-21)
We are praying for at least 1 baptism per companionship per transfer – more than 1 if you and your ward or branch is filled with faith. Set your baptismal goal prayerfully as a companionship, a goal that will stretch your faith and missionary abilities.
to read past messages.
---