Vancouver Mission Star
This message was written by President and Sister Middleton. It also appears in the Vancouver Star, the weekly newsletter of the Vancouver Mission. It is sent to each companionship throughout the mission.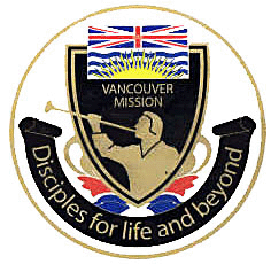 Canada
Vancouver
Mission
Newsletter
May 23, 2005
HELP MEMBERS BE MISSIONARIES
We know that the key to successful Church growth in British Columbia lies in members understanding how to be member missionaries. To estimate how valuable member missionaries are, consider that if every active member brings 3 non-member acquaintances yearly on a Tour of their chapel, and if 1 in 7 who goes on a Tour joins the Church (which is our BC average), we estimate that we will see about 1500 convert baptisms yearly, up from the under 300 yearly we have seen in recent years when our full-time missionaries have had to rely on tracting primarily! More than just numbers, the 1500 souls we seek yearly are our Father in heaven's children, whose salvation depends upon us to do His work here on earth.
Lovingly Help Members Understand How
In recent years members have gotten into the habit of relying on full-time missionaries to both find and teach investigators. A schism has inadvertently grown between members and full-time missionaries with a mind-set on the part of the members that the full-time missionaries will do the finding while the members support them mostly with meals. As Elder Ballard has recently observed, that schism between our members and missionaries is effectively a product of the devil. That schism dramatically impedes the growth of the Church.
Members must be taught lovingly but unmistakably that it is a commandment that each member be a finding missionary. Through the prophet Joseph Smith we were instructed in 1832 that each member should become a missionary when the Lord said, "Behold, I sent you out to testify and warn the people, and it becometh every man who has been warned to warn his neighbor. Therefore, they are left without excuse and their sins are upon their own heads." D & C 88:81. That commandment is unambiguous. Coupled with the recent admonition by our prophets that every member must become a missionary, the commandment is clear.
For too long members have equated being a missionary with going tracting, and that prospect understandably frightens members. Most members are not equipped by training or disposition to tract, and most know that tracting in BC is not very productive. We must assure members now and repeatedly that they are not being asked to tract to fulfill their missionary obligations.
Teach Members How to Invite for a Tour
Instead, members need to be taught how to invite their acquaintances on a Tour. They need to be taught the "language of faith". They need to learn that an invitation to an acquaintance given with the language of faith should start with the phrase, "Will you…", instead of a phrase like, "You wouldn't be interested in … would you?" If the invitation is made lovingly, positively, it will be quite unlikely that the acquaintance will be offended or think any less of the Church member who asked them, even if they choose not to go on a Tour just then.
Break the Year into Manageable Parts
If a member consents to bring 3 (or 4 in the case of the Vancouver Stake) investigators yearly, they will not likely achieve their goal unless they break the year into manageable parts. Human nature would lead many of our best-intentioned members into procrastinating finding someone to come on a Tour until late in the year, and the chance of finding 3 for a Tour between December 1st and the end of the year is not great. Instead, if a member breaks the year into 3 separate parts, 4 months each, the task of finding 3 per year becomes fairly easy. In essence, the member will use the Set-A-Date program advocated for many years by Elder M. Russell Ballard and the rest of the Brethren, by which they will Set-A-Date with faith, then let the family members, bishop and full-time missionaries know what that date is. Then they need to covenant with the Lord regarding achieving their goal, and ask for the Lord's help in doing so. Once they know what the date is the full-time missionaries can then help the member by calling weekly to inquire how they are doing and offer to help them in any way possible to find someone who will come with them to the Church on a Tour. We need to help members understand that it is in the nature of missionary work that they may need to ask 5 or 10 or more acquaintances before one joins them on a Tour. Reassure them, and don't let them become discouraged.
K.I.S.S. (Keep It Simple, Saints)
The above acronym we understand originated with Sister Linda Walker of the Vancouver Stake, whose husband is President Thomas Walker, the stake president. In teaching members how to find, we urge that we focus on inviting non-member acquaintances on a Church Tour, or to a Church activity such as a baptismal service, dinner, Family History Center visit, etc. which can then be coupled with a Tour. A Tour allows us to reach the investigator during that all-important first impression by teaching doctrine through missionaries giving the Restoration Lesson during the Tour, but also during that Tour letting the investigator see our beautiful buildings and at the same time explain the important role of each Auxiliary Organization in the everyday life of our members (a "by their fruits ye shall know them" look at the Church).
Chapter 9 in Preach My Gospel, "Finding People", lists 22 different ways to find investigators. To present all 22 to a member will likely be not only confusing but overwhelming, and the training will not be successful. By contrast, by focusing on just 1 of the 22 methods mentioned in PMG, the Tour, a member can be taught how to successfully invite their non-member acquaintance, with loving boldness, in one training session. A successful member training idea, tried with excellent success by Sisters Lindsey Leavitt and Julianna Little at the request of Bishop John Russell in the Nanaimo Ward, consisted of running a Tour through the Church building for 10 or 15 members in one group and instructing them during the Tour on how they can succeed in bringing 3 investigators per year back on a Tour. Members need to know that to be a member missionary really is not difficult.
Training our members how to be missionaries will be critical to the success of our missionary efforts in British Columbia. That we might accomplish that goal quickly but with love is our prayer. We love you, and pray for your safety and success multiple times daily.
--President and Sister Middleton
Reminder: ask for a referral in every conversation with a member or non-member alike…."Will you bring an acquaintance on a Tour, and when?"
Remember our mission goal: 10 Gospel contacts per day per missionary outside our usual finding and teaching duties. That includes a Gospel message to everyone you see.
"Learn of me, and listen to my words; walk in the meekness of my Spirit, and you shall have peace in me." D & C 19:23
We are praying for at least 1 baptism per companionship per transfer – more than 1 if you and your ward or branch is filled with faith. Set your baptismal goal prayerfully as a companionship, a goal that will stretch your faith and missionary abilities.
to read past messages.
---