Vancouver Mission Star
This message was written by President and Sister Middleton. It also appears in the Vancouver Star, the weekly newsletter of the Vancouver Mission. It is sent to each companionship throughout the mission.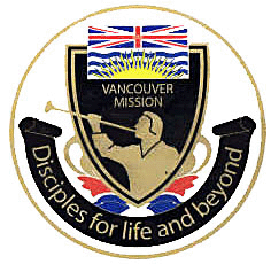 Canada
Vancouver
Mission
Newsletter
June 6, 2005
ASSIST MEMBERS IN DEVELOPING A WARD OR BRANCH MISSION PLAN
To help members to function well as member missionaries, Preach My Gospel notes that an effective ward or branch Mission Plan is extremely helpful (PMG, pg 220). Many wards and branches throughout B.C. have developed a Mission Plan which brilliantly meets the inspired counsel of our B.C. stake and district presidents to be 1) simple and short, 2) to establish measurable goals for both members and the ward or branch, and 3) to involve every member as member missionaries. Some wards and branches are still working on writing their Mission Plan. We offer in this STAR a few observations on Mission Plans.
Wards and Branches are developing Inspired Mission Plans
Sister Middleton and I were invited to speak in Sacrament Meeting on May 28, 2006, in the North Shore Ward of the Vancouver Stake, and we spoke later that day in the Vancouver 4th Branch (Spanish). We were so pleased to feel the remarkable missionary Spirit which has developed in that ward and branch, and we noted that each has produced a truly inspired Mission Plan. Each of their Mission Plans is sufficiently simple and short that it is easily contained on a 4" x 6" card, and each has been printed and has a magnet placed on the back so that when distributed to each ward and branch member it will sit prominently on the refrigerator to give a daily or multiple-time daily reminder on how to go about being an effective member missionary. Members will realize by looking at their Mission Plan on the refrigerator that to succeed as a member missionary they need to be thinking throughout every day about inviting their friends and acquaintances to go on a Tour with them or to a Church activity which can be coupled with a Tour.
The Mission Plan of the North Shore Ward calls for bringing a non-member on a Tour every 3 months, or 4 referrals of an acquaintance per year. The Vancouver 4th Branch Mission Plan calls upon members to bring 5 of their non-member friends or acquaintances on a Tour per year. In the case of the North Shore Ward each member will have to personally Set-A-Date every 3 months, setting a date 3 months off by which they will have completed the task their leaders, inspired by the Lord, have asked them to do, of bringing an acquaintance on a Tour. In the case of the Vancouver 4th Branch (Spanish) each member will use a personal Set-A-Date every 2 ˝ months to bring 5 non-member acquaintances per year. There is no question that these Mission Plans, which have been developed by the ward and branch Mission Leaders and the bishop and branch president in conference with the full time missionaries and the Ward Council, are truly inspired and are precisely what is needed to grow their respective ward and branch. It will work!
Idea on how to help Wards and Branches Rapidly Develop Their Mission Plan – the Victoria 4th Branch Experience
At the Zone Leaders Council held May 25, 2006, the Mission Plan for the Victoria 4th Branch, the Singles Branch, was shared with us by Elders Tyler Bailey and Tron Graham. Theirs is a simple but direct Mission Plan which has been laminated and designed to be distributed throughout the branch, and it too calls for each branch member to bring 3 non-member acquaintances per year on a Tour.
The Victoria 4th Mission Plan was initially created by the full time missionaries and the Branch Mission Leader, Glenn Keyes, then was presented to the branch president, Grant Gainor, and full Branch Council where modifications were made to create the final Mission Plan. The creation of the plan was accomplished in only one week, and if this accelerated approach will work for wards or branches which have not yet been able to create their Mission Plan, this approach may be well worth trying.
There is no question but what the Mission Plan for each ward and branch, as so beautifully outlined in the inspired Preach My Gospel, is the will of the Lord, and will allow members to understand how to truly become thoroughly engaged as member missionaries, as our Church leaders have asked us all to become.
Successful Less-active Missionary Work, by Elder Richard Ashton (and Elder Jeff Allen)
"At the beginning of last transfer it became our goal to visit every less-active found in our Ward Directory. It was on one of these visits that we met Danielle Strate, an 18-year-old daughter of a less-active member. When talking to her, we discovered that she had been going to Church every once-in-a-while for the past 2 years, was almost half-way through reading the entire Book of Mormon, had a few friends who were members of the ward, and was very interested in taking the lessons. Within the next couple of weeks she had a baptismal date. Just last week she finished reading the entire Book of Mormon, which is an incredible accomplishment in itself, and has been baptized. This experience has helped me realize how key and effective working with less-actives really is.
"Also, we picked up a number of other investigators doing less-active work. About 6 weeks ago, we stopped by a house that previously had been vacated by a less-active member. We spoke with the current resident of the household, and discovered that she was the mother of 6 young children. Since then, we have taught the family a couple of lessons, have been on a couple of hikes with them, have performed service in their yard, and sat next to them during a session of General Conference. They are very family oriented, and strongly encourage religious values in their household. At the moment they do not seem too interested but we will continue to work with them to strengthen that first relationship that is so key. We are very enthusiastic about their future. Once again, this experience proves how imperative less-active work is in the mission field."
We love you, and love working with you full time missionaries and our wonderful inspiring members, who are beginning to step forth boldly in ever-increasing numbers to become true member missionaries.
--President and Sister Middleton
Reminder: ask for a referral in every conversation with a member or non-member alike…."Will you bring an acquaintance on a Tour, and when?"
Remember our mission goal: 10 Gospel contacts per day per missionary outside our usual finding and teaching duties. That includes a Gospel message to everyone you see.
"Let us run with patience the race that is set before us." Heb 12:1
Reminder: We are praying for 3 baptisms (or more) per companionship per transfer. When all companionships achieve 3 baptisms with each transfer there will be 1500 baptisms per year in B.C. which we know that, with faith and every active member referring 3 acquaintances per year, we can achieve.
to read past messages.
---