Vancouver Mission Star
This message was written by President and Sister Middleton. It also appears in the Vancouver Star, the weekly newsletter of the Vancouver Mission. It is sent to each companionship throughout the mission.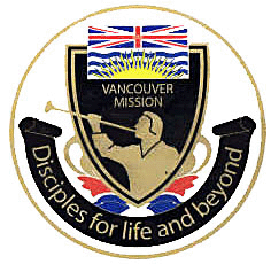 Canada
Vancouver
Mission
Newsletter
June 20, 2005
THE PRICE FOR MISSIONARY SUCCESS
President James E. Faust made a most insightful observation in what it takes to achieve success as a missionary:
"My dear young friends, there is another great truth that you young men must learn. It is that everything has a price. There is a price to pay for success, fulfillment, accomplishment, and joy. There are no freebies. If you don't pay the price that is needed for success, you will pay the price of failure. Preparation, work, study, and service are required to achieve and find happiness. Disobedience and lack of preparation carry a terrible price tag. As priesthood holders of this Church, part of the price we need to pay is by living differently from the world. We are the possessors and custodians of these commanding powers which can and do roll back the power of Satan on the earth. With all my heart I urge you to please help us push back the world. We must stand against the wind. Sometimes we must be unpopular and simply say, 'This is not right.' ("The Devil's Throat", Ensign, May 2003)
As President Faust so beautifully states, if we don't pay the price that is needed for success, we will surely "pay the price of failure". While his comments were written for young men, clearly the advice applies equally to our sister missionaries and senior couples. What does it mean when President Faust states that, "preparation, work, study, and service are required to achieve and find happiness"?
Clearly exact obedience is at the heart of missionary success. Exact obedience is necessary in every facet of the work. To report that you were up at 6:15 A.M. means that you were up, not dozing in bed listening to a talk. To report that you have given a "full lesson", as Elder Kikuchi asked us to aim for 10 or more times weekly, it must truly be a full lesson, taking 30 minutes or more to deliver. If you report that "Companion Study" was achieved, it means that a full hour of focused study with your companion was achieved. We expect, the Lord expects, honest reporting on the Key Indicators. Anything less assures lack of success in the missionary effort, in our opinion.
Suggestions for Effectively Using Multiple Ward (or Branch) Missionaries
Both the Vernon and Fraser Wards have called 14 ward missionaries, and the Kamloops 2nd Ward is shortly to do the same. Most of these ward missionaries hold other callings as well, many in the leadership of their priesthood or auxiliary organizations. Brother Burnham in the Vernon Ward serves as a ward missionary as well as being on the Vernon Stake High Council. The ward missionaries meet in Co-ordination Meeting weekly under the direction of the Ward Mission Leader (as outlined in PMG), where they report on how their assignments went during the previous week. They are not asked to tract (a common misconception of members regarding what they would do if called to be a ward missionary). Their duties, at least in the Vernon Ward, are outlined below in this report by Elders Stuart Young and Shawn Swapp:
"The Vernon Ward Missionaries have been used in multiple functions. Here is a list of ways Bishop Smith and Brother Schmidt (WML) have used the ward missionaries:
1) Teaching New Member Lessons: The full time missionaries teach the first New Member Lesson. The Ward Missionaries (one couple is assigned to a recent convert) teach lessons 2 – 5 plus 2 additional lessons the ward mission leader has created.
2) Reactivation and Part Member Families: Each couple not participating in New Member Lessons is given 2 or 3 names of less-actives or part-member families to visit. The intent is to try to make weekly follow-ups to help the less active become active, or to ask a non-member spouse or children to take the lessons. Some couples involved in the new member lessons still take 1 or 2 less-active family names during the week to visit.
Editor's Note: as noted above, multiple ward missionaries can be extremely helpful to a bishop or branch president. Not only do they help accelerate the ward or branch finding, but they also serve an important role in fellowshipping and teaching new members as well as less-actives. Ward missionaries also are used in exchanges with the full-time missionaries, and are asked to find a non-member acquaintance to bring to the chapel on a Tour the night of the exchange. In the case of the Fraser Ward missionaries they have established a goal of bringing 6 non-member acquaintances per year on a Tour, twice as many as is the goal for the rest of the ward members. It has worked well in some wards to have an assistant from the high priest's group leadership, a counselor from the elders quorum presidency, and a counselor from the various auxiliary organizations also called as a Ward Missionary, to meet with the Ward Mission Leader in the weekly missionary co-ordination meetings (PMG, pg. 218 and 219) and serve as ward missionaries. If the concept would work in your ward or branch we would urge you to explore its adoption.
It is so much fun to be a missionary in British Columbia now, to be a part of the quickening of the Spirit which is evident all around us. The announcement by President Hinckley of our new temple, coupled with the inspired tools given us missionaries by Preach My Gospel, added to the new understanding by our faithful members of how to be true member missionaries makes this the most exciting mission in the world!
We love each of you, and pray constantly for your welfare and success.
--President and Sister Middleton
Reminder: ask for a referral in every conversation with a member or non-member alike…."Will you bring an acquaintance on a Tour, and when?"
Remember our mission goal: 10 Gospel contacts per day per missionary outside our usual finding and teaching duties. That includes a Gospel message to everyone you see.
"Teach ye diligently, and my grace shall attend you." D & C 88:78
As weekly goals are set for each Key Indicator, pray for inspiration, and set goals that are lofty yet achievable. Our ultimate long-term goal is for at least 3 baptisms per companionship per transfer.
to read past messages.
---