Vancouver Mission Star
This message was written by President and Sister Middleton. It also appears in the Vancouver Star, the weekly newsletter of the Vancouver Mission. It is sent to each companionship throughout the mission.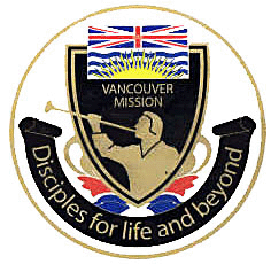 Canada
Vancouver
Mission
Newsletter
July 4, 2005
MY PURPOSE AS A MISSIONARY
In his training for us missionaries, Elder H. Bryan Richards focused on Page 1 in Preach My Gospel where it succinctly states our purpose as missionaries:
"Invite others to come unto Christ by helping them receive the restored Gospel through faith in Jesus Christ and His Atonement, repentance, baptism, receiving the gift of the Holy Ghost, and enduring to the end."
Elder Richards then pointed out that some missionaries mistakenly focus on certain aspects of missionary work such as being "better" or "most obedient" or "more spiritual" than all of the other missionaries or "more knowledgeable", and lose sight of their main objective of bringing souls to Christ. They become so focused on an area of self-perfection that they become ineffective missionaries.
In receiving feedback from some of our missionaries I find that the intent of Elder Richard's point has been misinterpreted by some of our missionaries to mean that emphasis on the points of obedience can be ignored, and instead a missionary should only pay attention to the statement of "our purpose" quoted above. Nothing could be farther from the truth.
To Achieve Our Purpose Requires Exact Obedience
To successfully "invite others to come unto Christ" requires that each of us incorporate all of the inspired advice and teachings of Preach My Gospel into our lives. Elder Richards' inspired counsel warned us against dwelling compulsively on one aspect or another of missionary self-preparation to the point where we lost sight of our ultimate purpose of bringing souls to Christ. But he pointed out repeatedly that our inspired instruction manual in how to achieve our purpose of bringing souls to Christ lies in PMG in its entirety. Our urgent plea to all of our missionaries is to be exactly obedient and anxiously engaged at all times. Then and only then will the Lord bless you with baptisms.
The Difference in Vernon, Then and Now, by Elder Magnum Morgan
"I started my mission off in Vernon and am now back in Vernon as a Zone Leader with Elder Shane Hohman. I served here from October, 2004, to February, 2005. The weather here is very cold during the winter months, and at that time so was the work 'COLD'. However, since the change in proselyting with an emphasis on members stepping forward boldly as member missionaries, the work has rapidly increased. Now missionary work is a whole different experience. The weather now is hot and the work is even 'HOTTER'. I feel that the Vernon Ward/Stake is truly getting on board. When the baptisms scheduled for the stake are completed we will have already surpassed the number of baptisms in all of 2005. To be a part of this work is very exciting and a blessing."
The Exciting 50/50 Language Program, By Elders Austin Graff (and Nathan Seegmiller)
"The 50/50 program is a real aide in finding new investigators among those who come to ESL (English as a Second Language) to learn English. We promise 30 minutes of conversation and then share a special 30-minute Gospel message. The 30 minutes of conversation helps us "build relations of trust" (BRT). We don't know how effective it will be to bring them to baptism yet, but our teaching pool is pretty full. We work mainly with college age students who are here to learn English."
The Amazing Conversion Story of Roger Leamis, by Elders Mark Barber (and Jeff Allen)
"The story of Roger Leamis is every missionary's dream. One day Roger walked into the Port Coquitlam chapel to inquire about the Church. Luckily Elders McKenna and Firth were in the chapel and were pleased to give him a Tour. Although he lives within the boundaries of the Burnaby Ward, he went to the nearest L.D.S. chapel he could find, which was the Port Coquitlam building, to inquire.
"As the missionaries gave Roger a Tour, the Burnaby Bishop, Bishop Harry McLean, was being taken on a Tour of that same building by the Port Coquitlam bishop, Bishop Ray Swartzberg, and the two bishops saw to it that Roger was steered toward the Burnaby building, which was closer to his home after they had taken him on a Tour of the building.
"On his follow-up visit, an exchange appointment had already been set up so Elders Firth and Barber could teach him the Second Lessons. Elder Barber committed Roger to a baptismal date three weeks from then. It was very easy to teach Roger, as he had already been prepared for some time. He had been found by missionaries through tracting years before, and on his own had read the Book of Mormon and knew it was true already. As the lessons were taught he accepted all the commitments, and asked Elder Barber to accomplish his baptism on the last Sunday before being transferred to the Vernon Zone. His baptism was amazing in that the whole ward turned out, and the baptismal program was excellent. Interestingly, his last name, Lima, means lemon in Portuguese, where his roots lie. My middle name is Lemon as well, which is my mother's maiden name."
Happy 4th of July for all of our missionaries from the United States, and we hope all of our missionaries had a happy Canada Day on July 1st. We love each of you.
--President and Sister Middleton
Reminder: ask for a referral in every conversation with a member or non-member alike…."Will you bring an acquaintance on a Tour, and when?"
Remember our mission goal: 10 Gospel contacts per day per missionary outside our usual finding and teaching duties. That includes a Gospel message to everyone you see.
We believe that governments were instituted of God for the benefit of man; and that he holds men accountable for their acts in relation to them, both in making the laws and administering them, for the good and safety of society." D & C 134: 1
As weekly goals are set for each Key Indicator, pray for inspiration, and set goals that are lofty yet achievable. Our ultimate long-term goal is for at least 3 baptisms per companionship per transfer.
to read past messages.
---